---
RE: Wu! Wraps work done by me! check it out! - Wu! Wraps - 04.27.2012 10.30 PM

finally got my car parts done, lol... rewrapped all the parts on my car that were initially wrapped in 3m di-noc in the new 3m 1080. i'm gonna leave my engine bay with the 3m di-noc tho... everything came out great! hardest part to wrap was the damn mirror caps!... not fun. also got the roof wrapped up. Wu!Wraps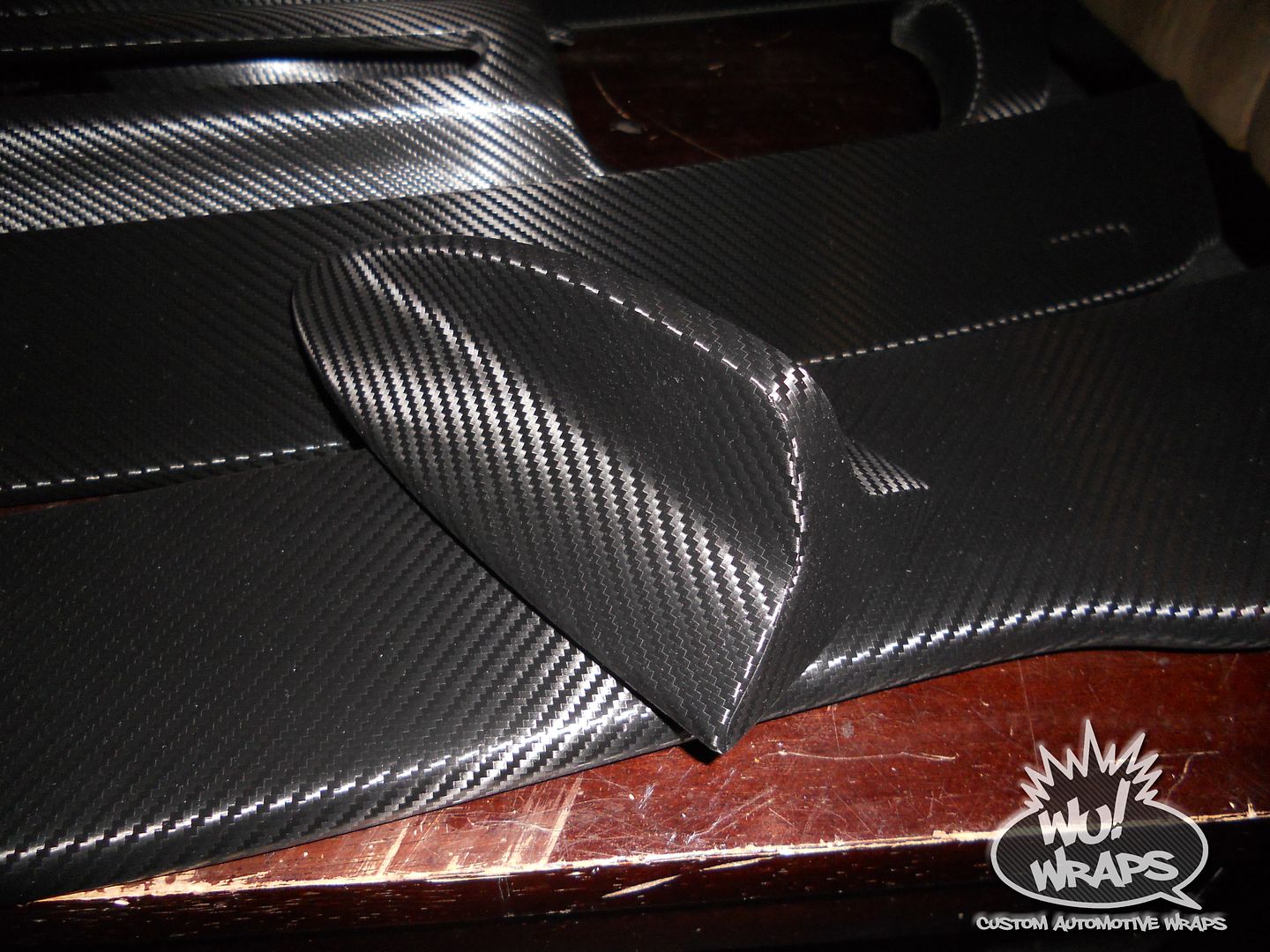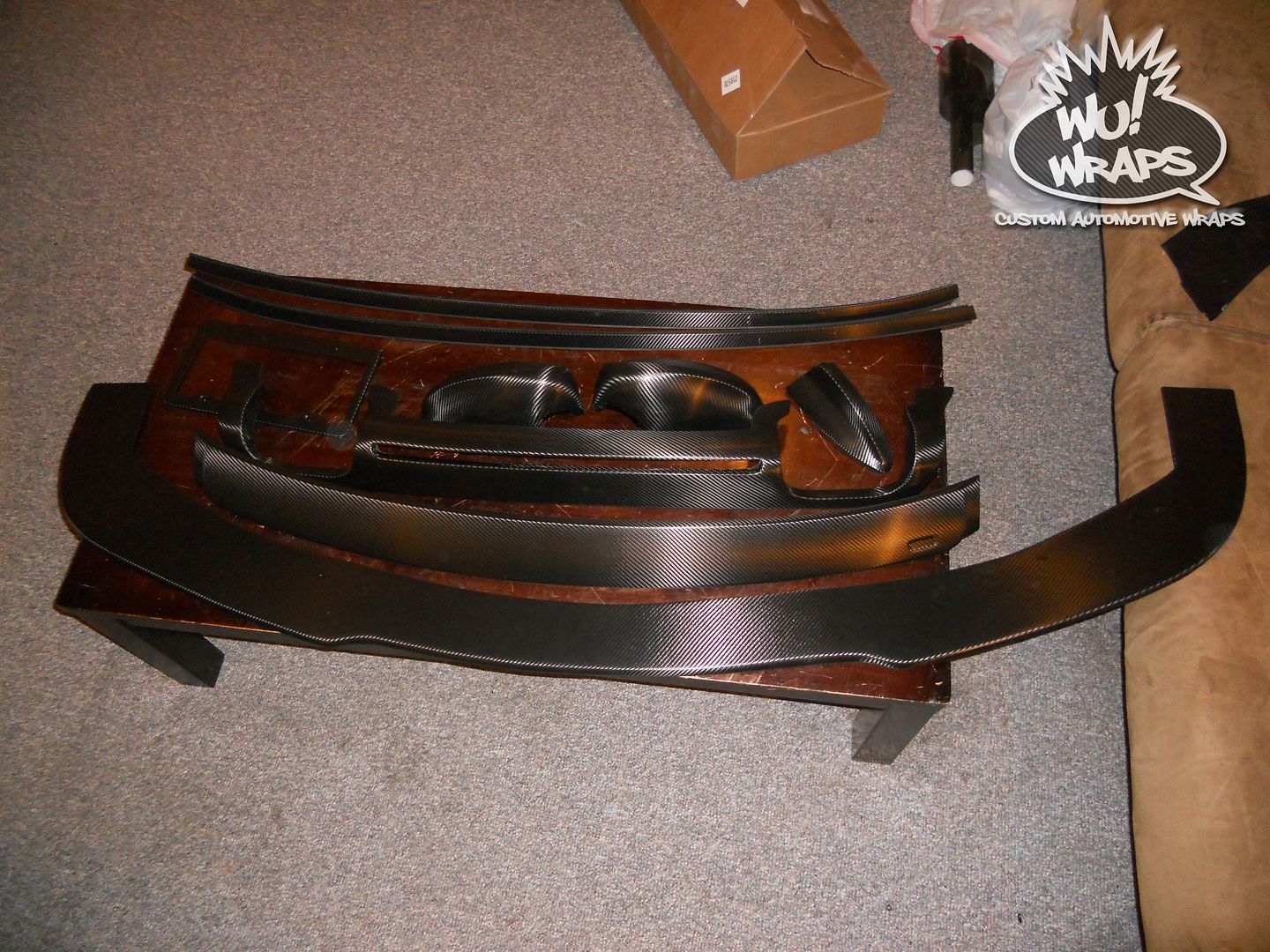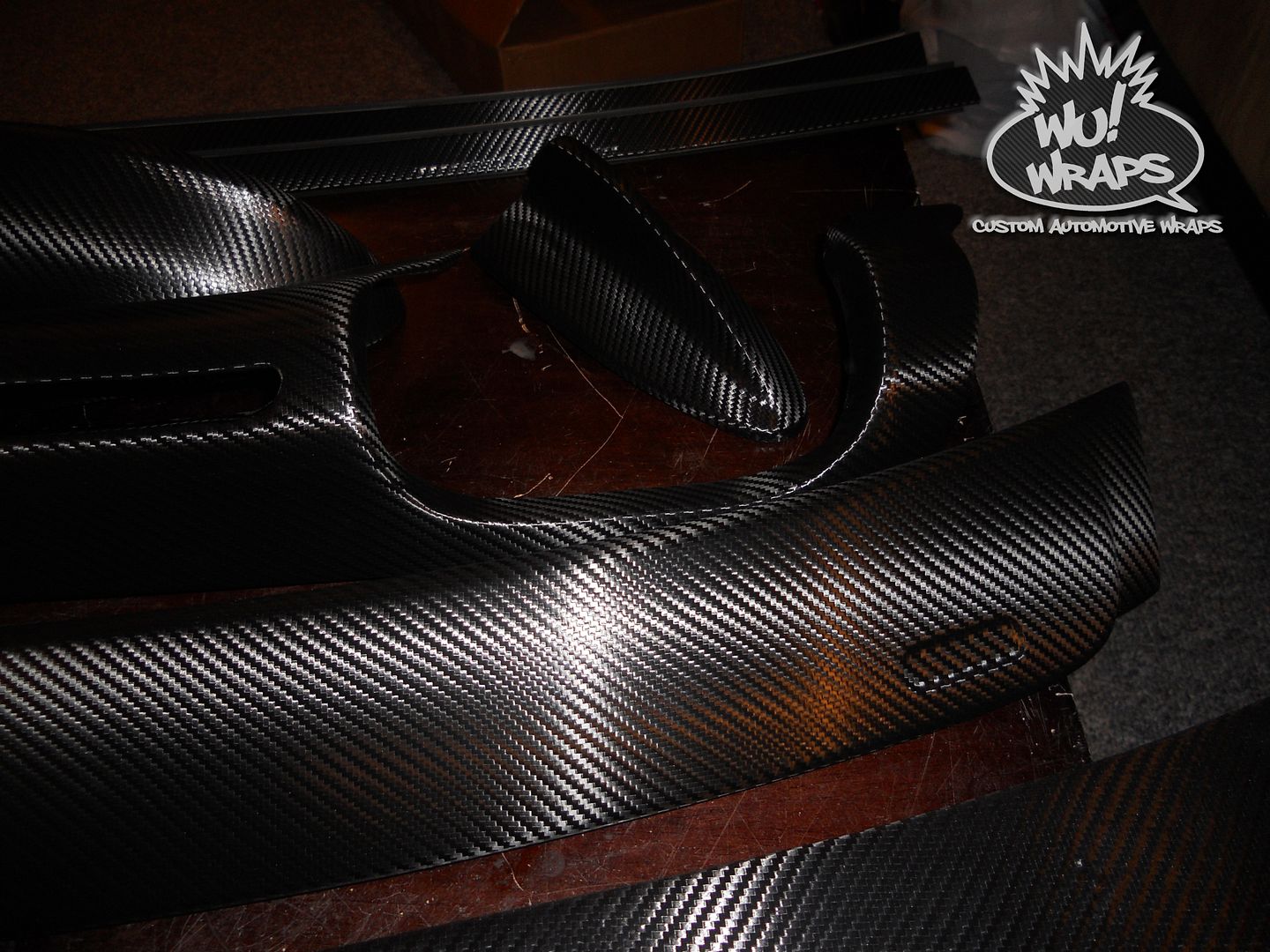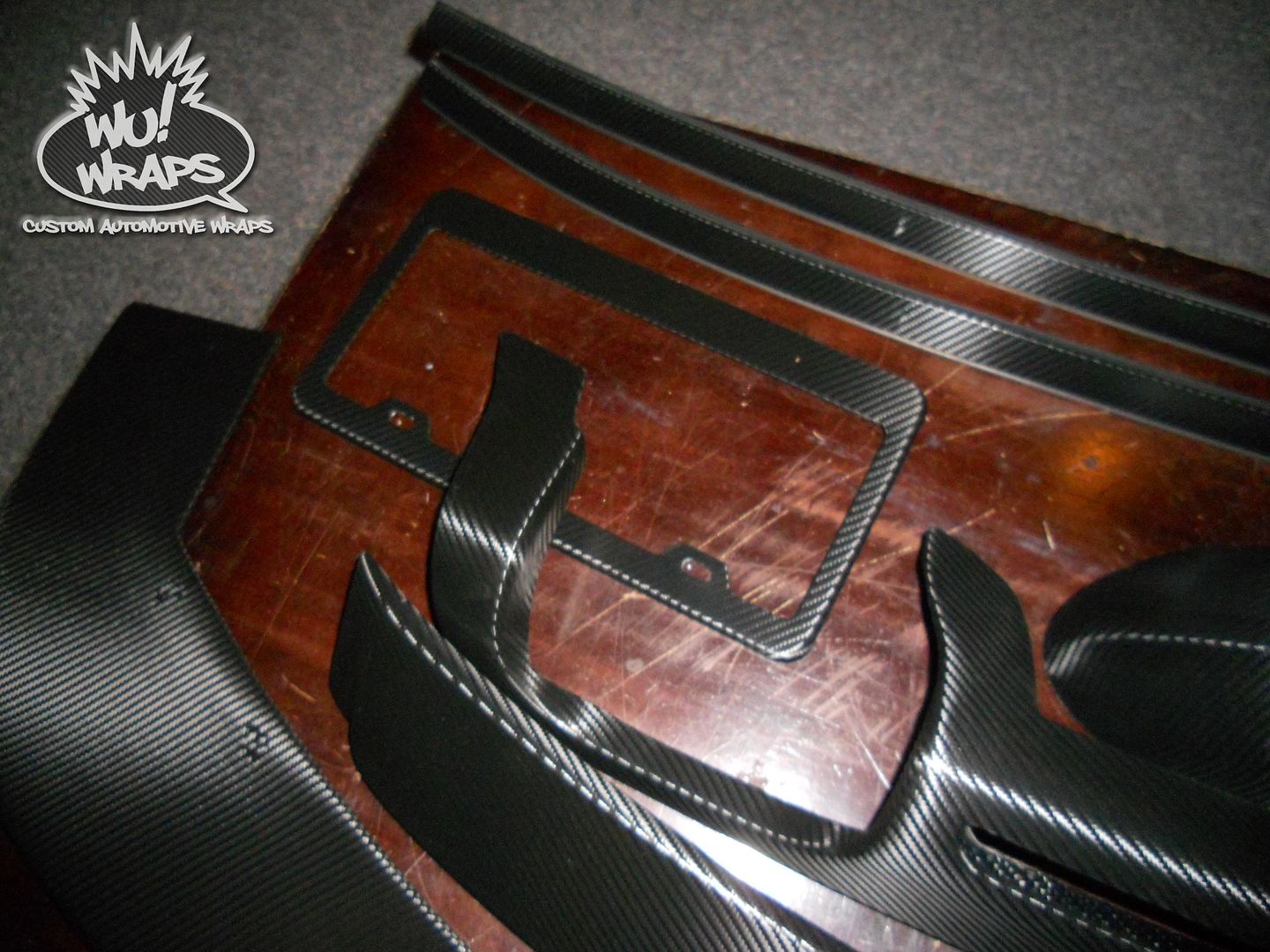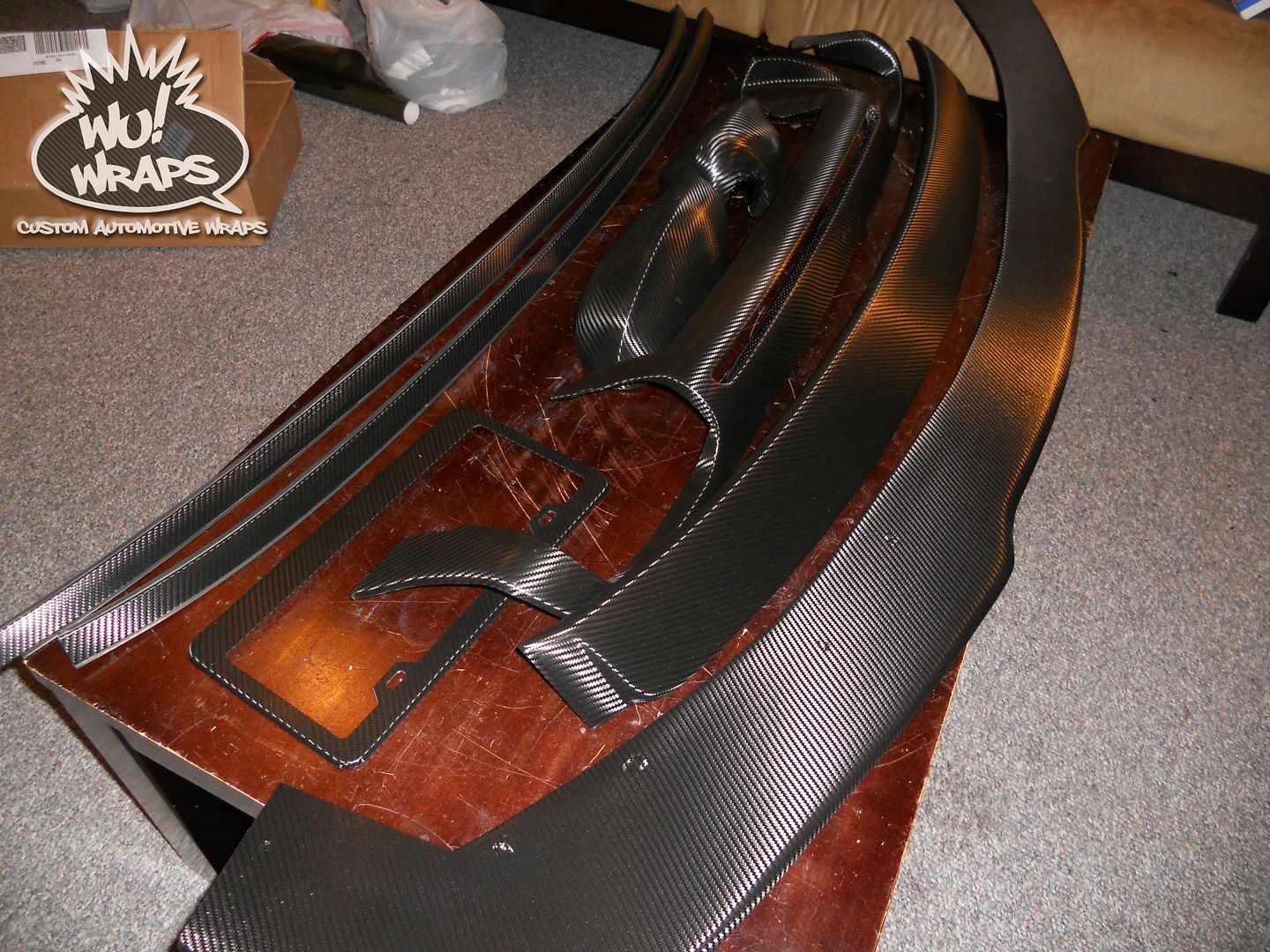 ---
RE: Wu! Wraps work done by me! check it out! - Wu! Wraps - 04.27.2012 10.33 PM

yellow carbon fiber on some aluminum gauge ring bezels for a dodge viper. came out great! owner had painted a couple of the rings yellow and i can see why he didn't like the finish. the paint was not consistant and some had a couple bubbles in them... hard to see the detail of the cf in the pics. this is the chinese brand vinyl, no prob with wrapping thesse shapes. these will be mailed back to GA, another out of state job! Wu! Wraps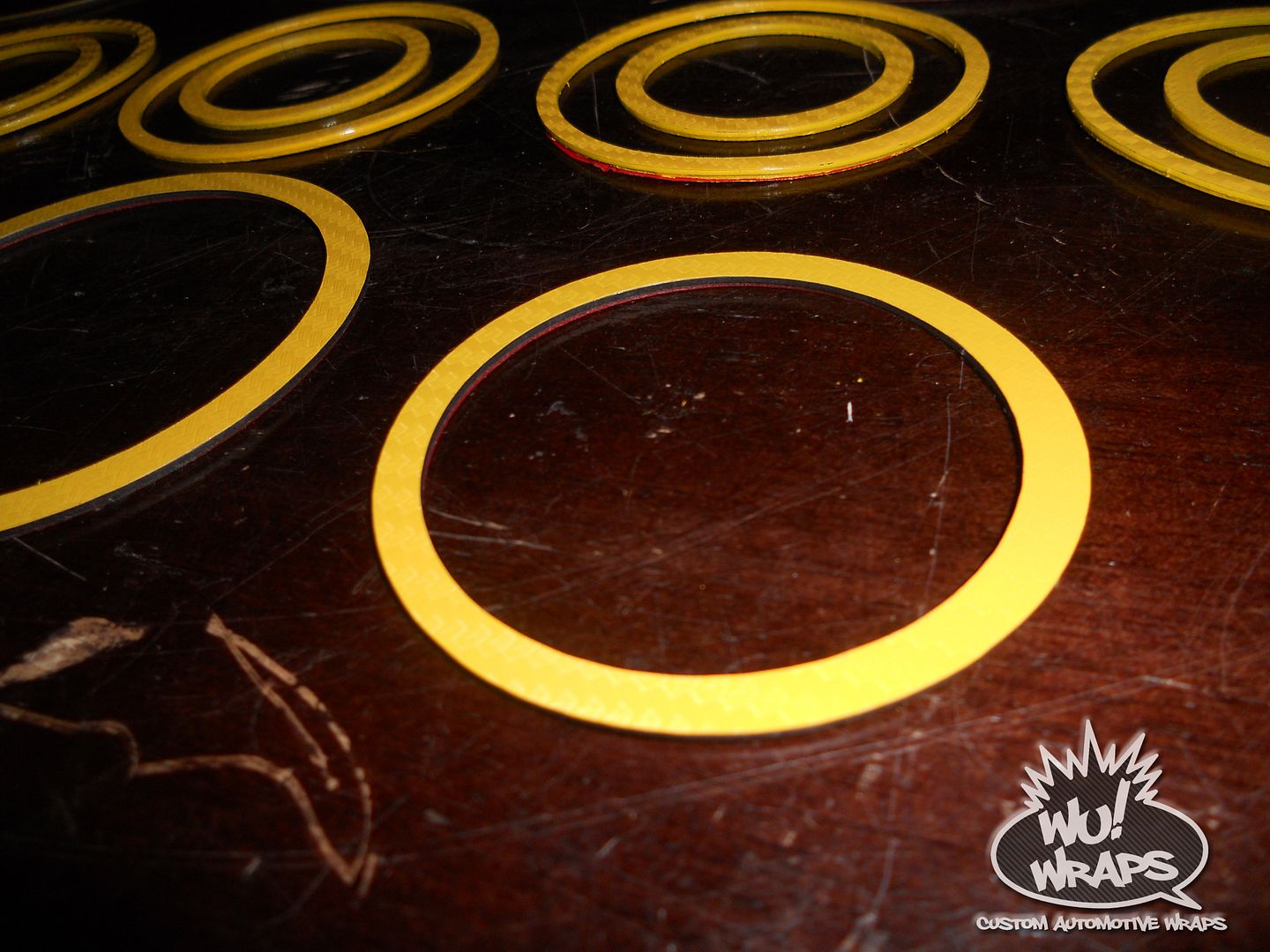 ---
RE: Wu! Wraps work done by me! check it out! - Wu! Wraps - 04.27.2012 10.39 PM

another CNC job in Bellevue Wa. infinity g37xs 3m 1080 matte black front grill, foglight bezels, and trunk hatch trim. came out great! owner has been buggin tha guys to get this done for some time now. caught me at the right time/right place. grill was not as complex as it looks, was done with 2 pieces of vinyl ( top rib of the grill was 1, the rest was the 2nd). the hardest thing was the damn infinity logo... didn't come out perfect, but is still acceptable within the constants of the vinyl. would be best to plastidip/ paint/ buy a black emblem. but all in all a dope look! owner is very happy with the overall look! Wu! Wraps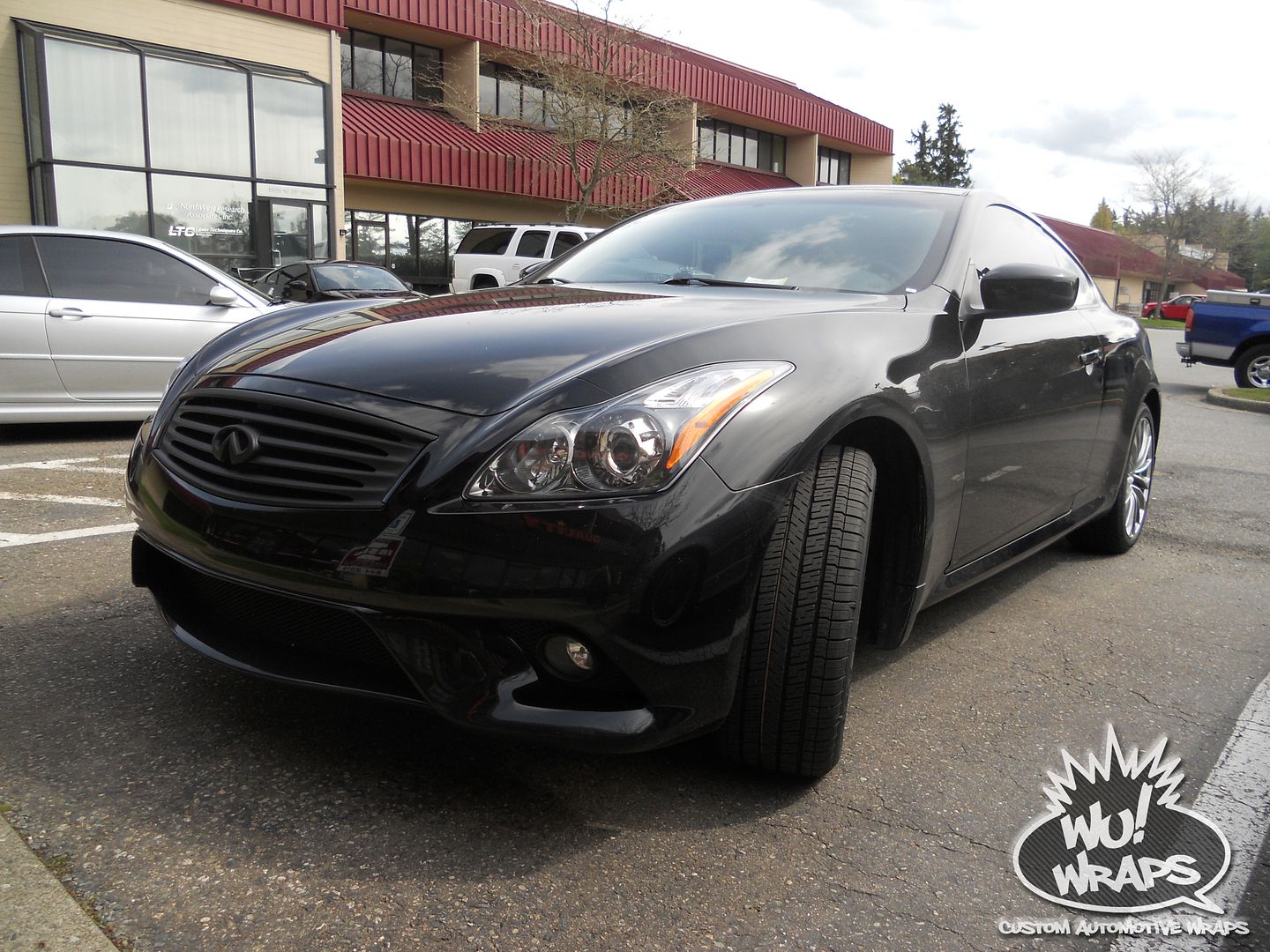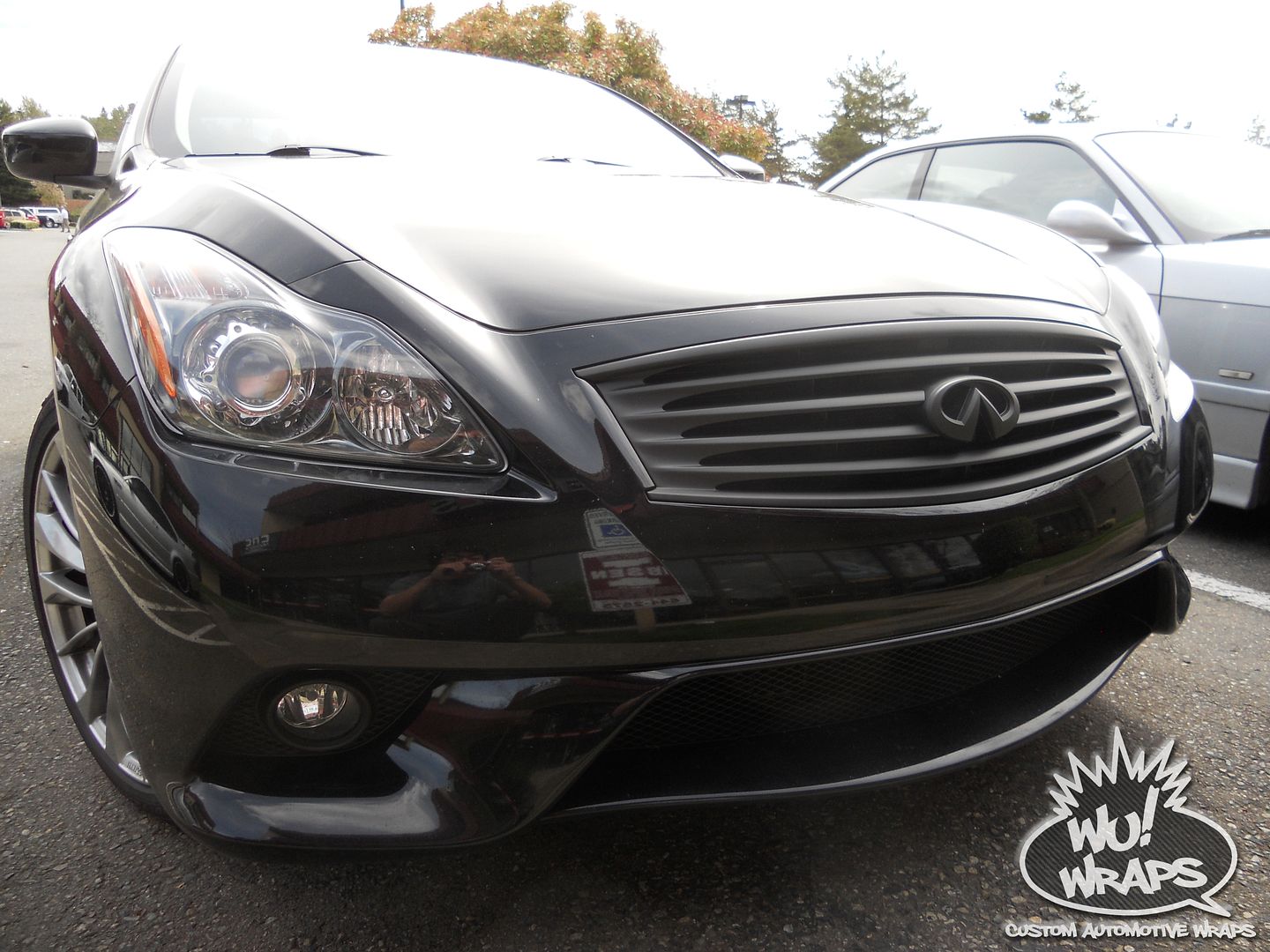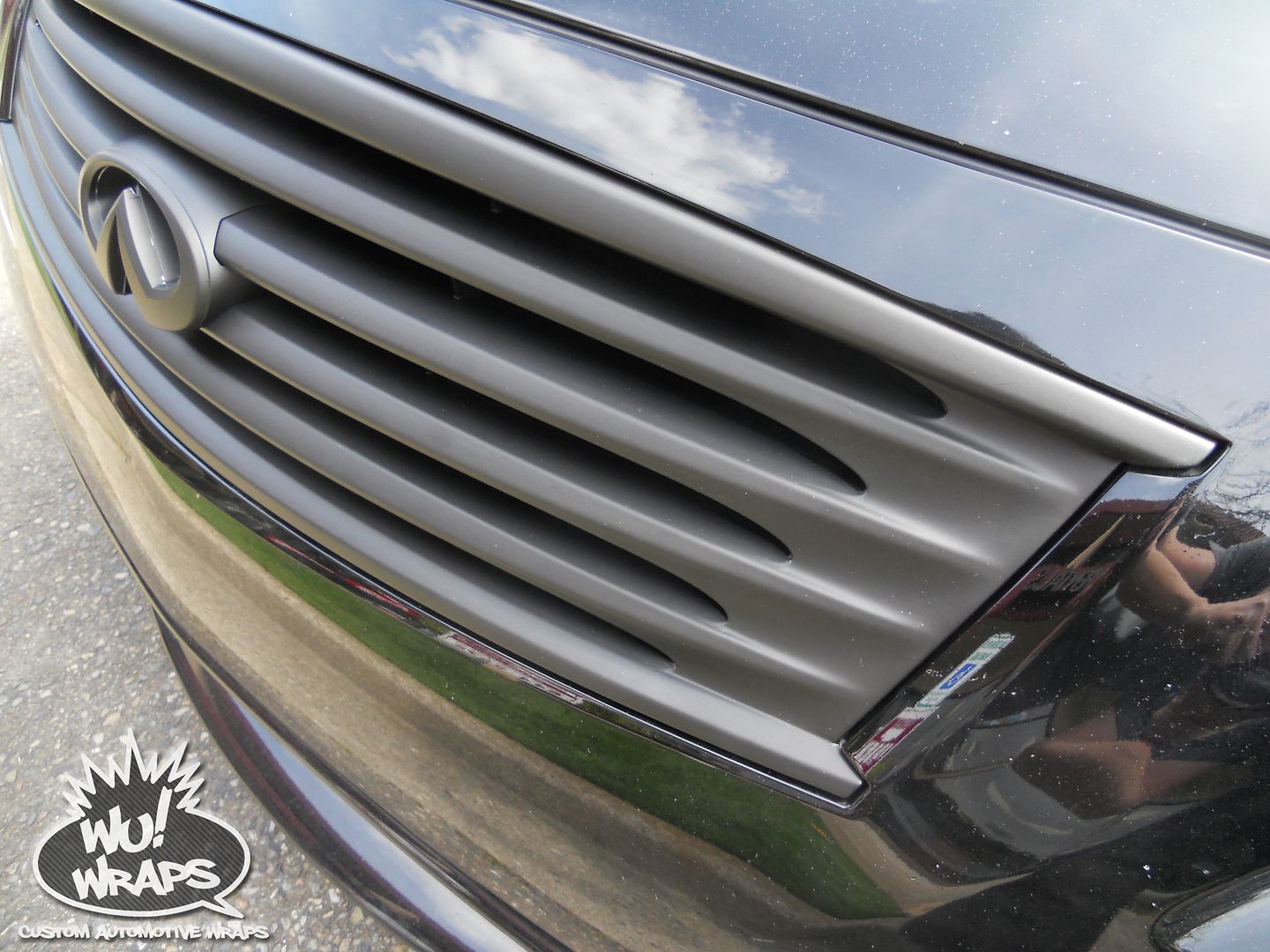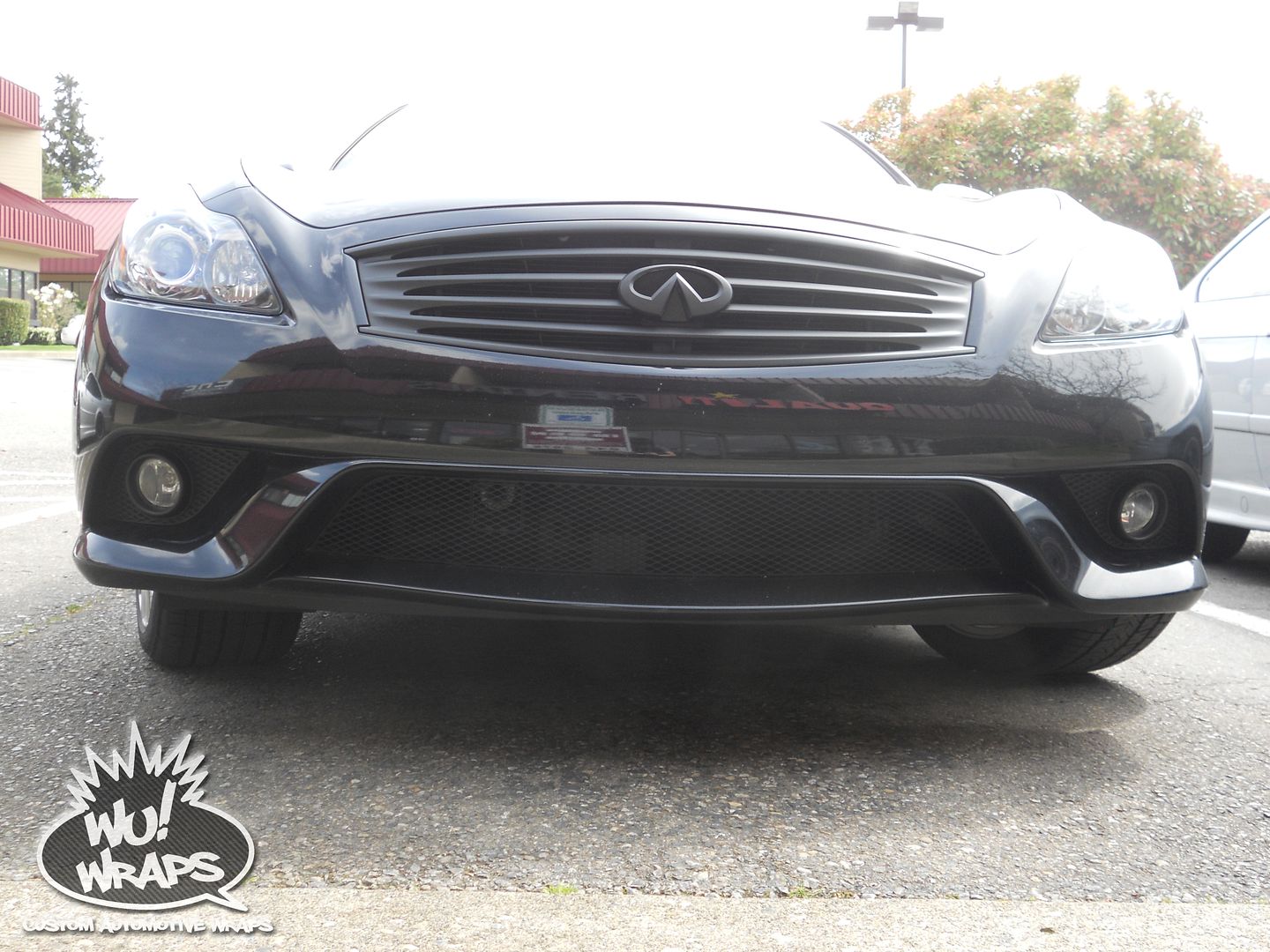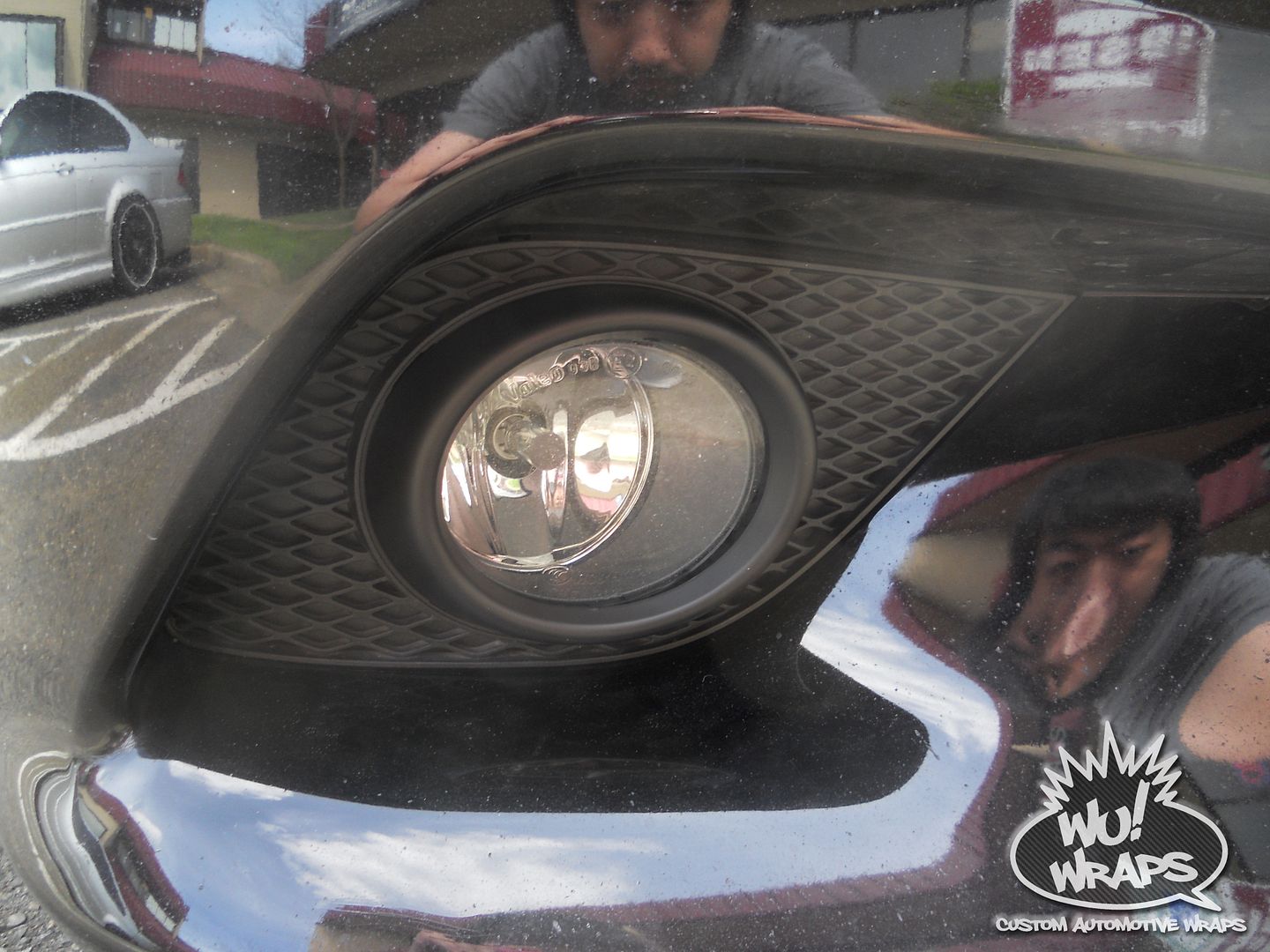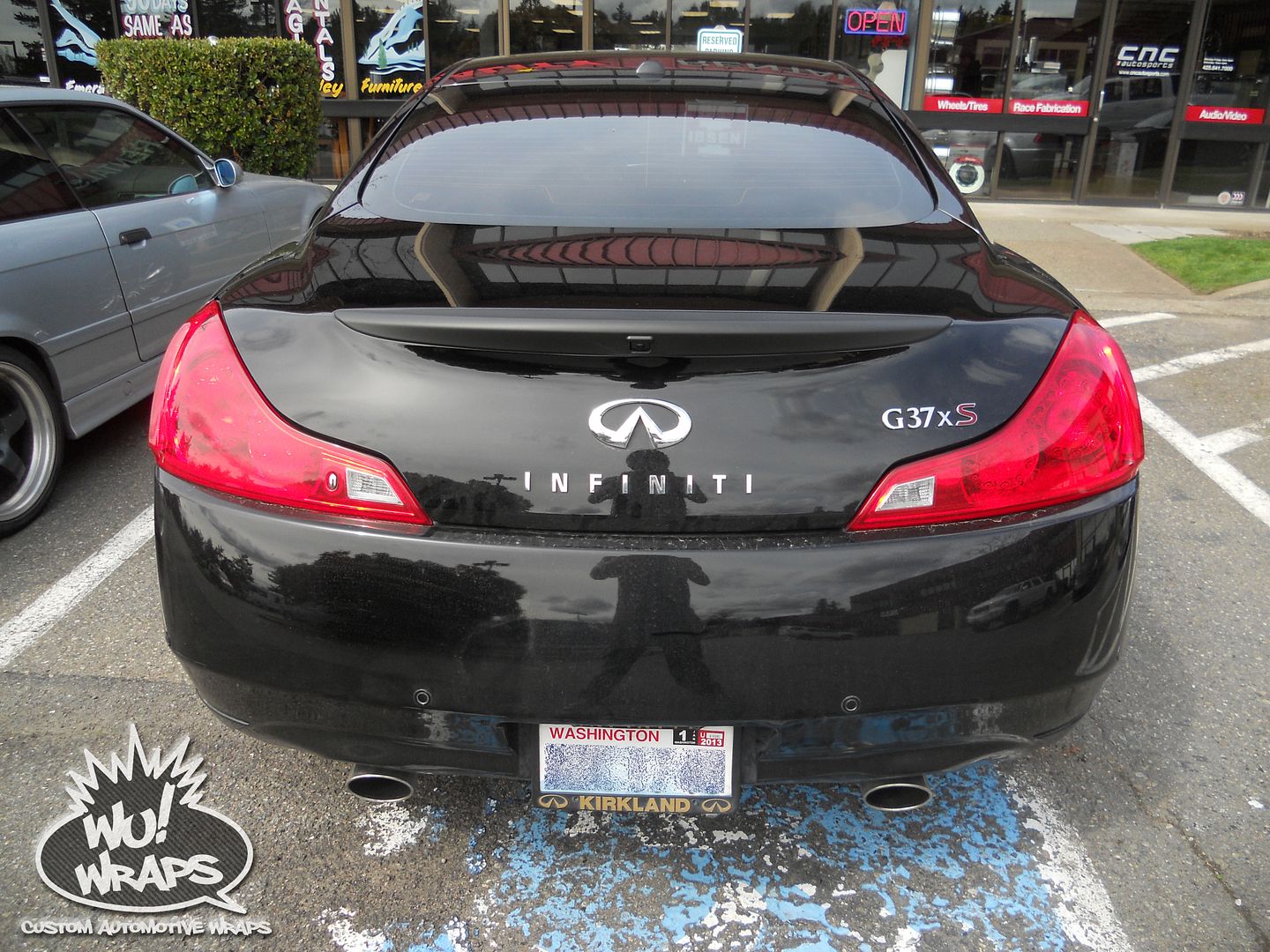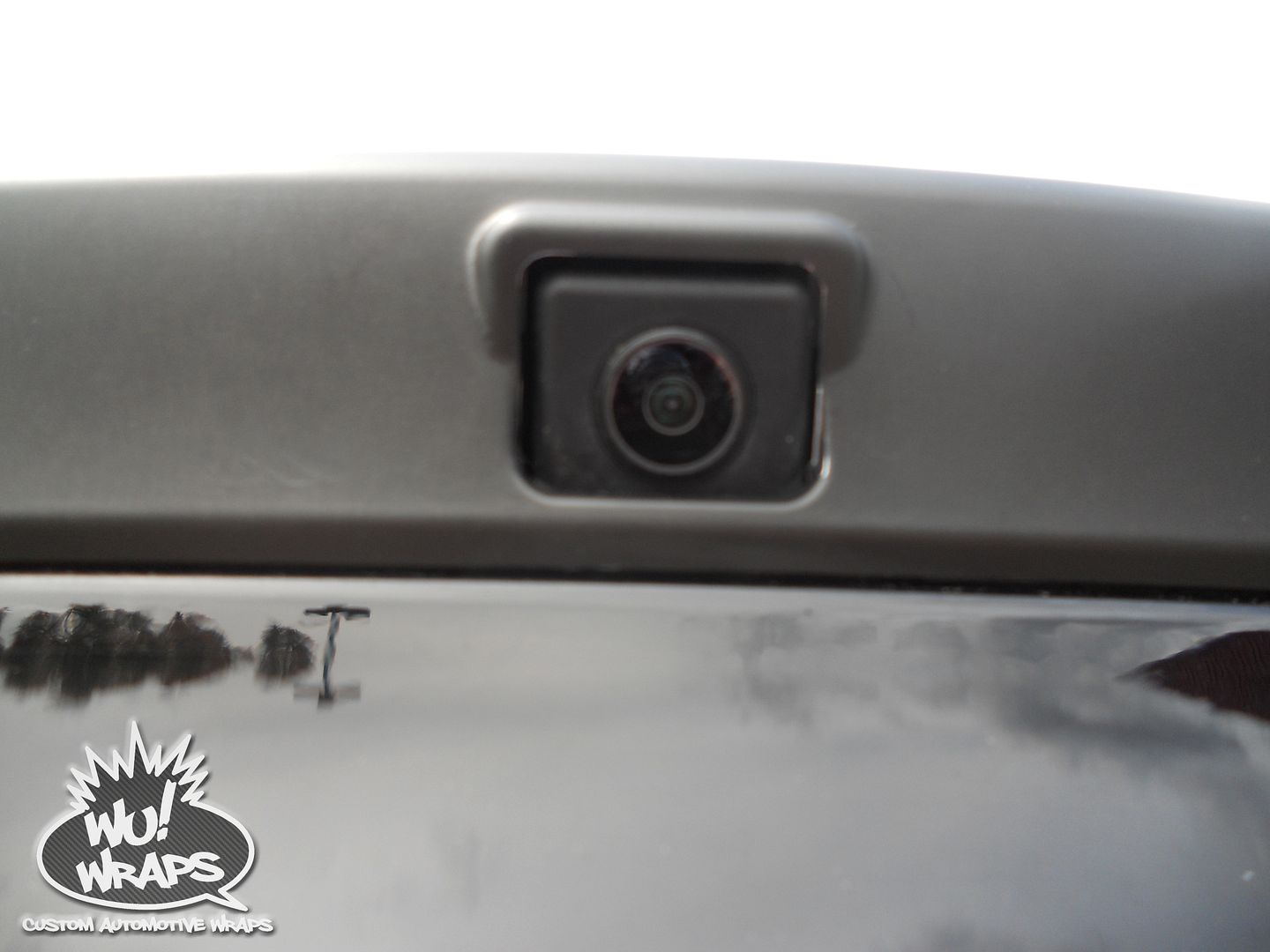 ---
RE: Wu! Wraps work done by me! check it out! - Wu! Wraps - 04.27.2012 10.43 PM

couple more parts wrapped for the 350z i worked on a while back. looks great! owner wanted to get rid of most of the silver parts in the car so i wrapped them in black 3m 1080 cf, and blue hexis cf. Wu! Wraps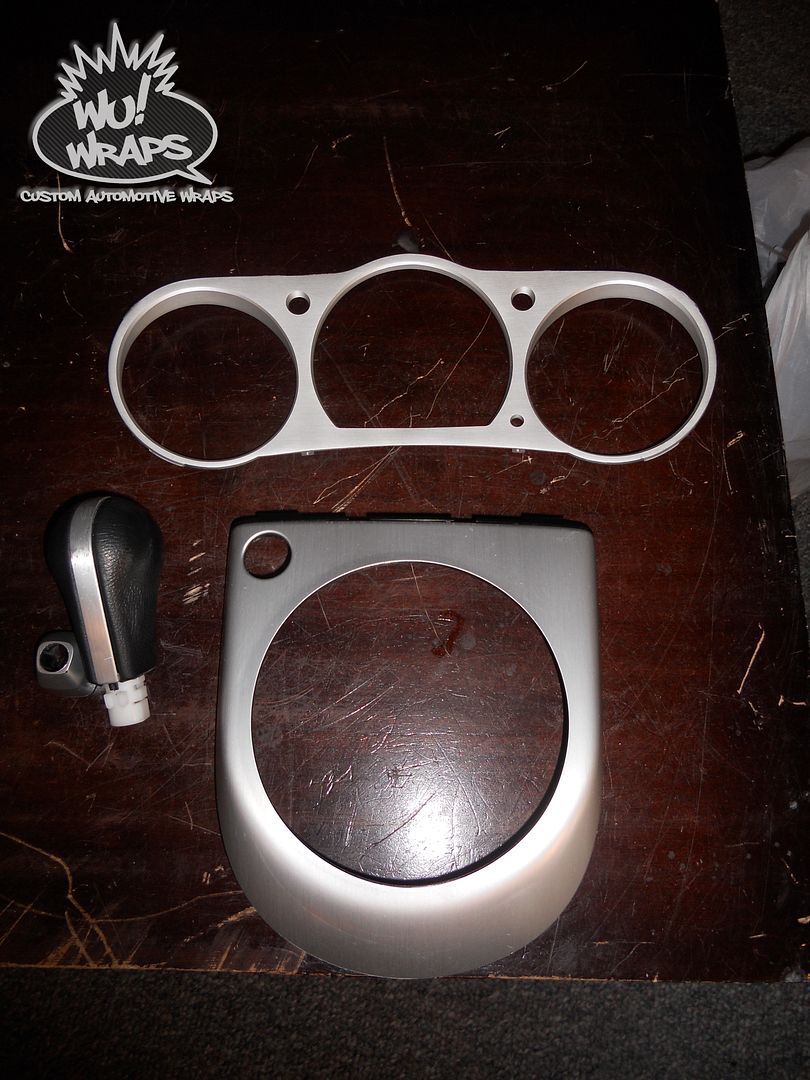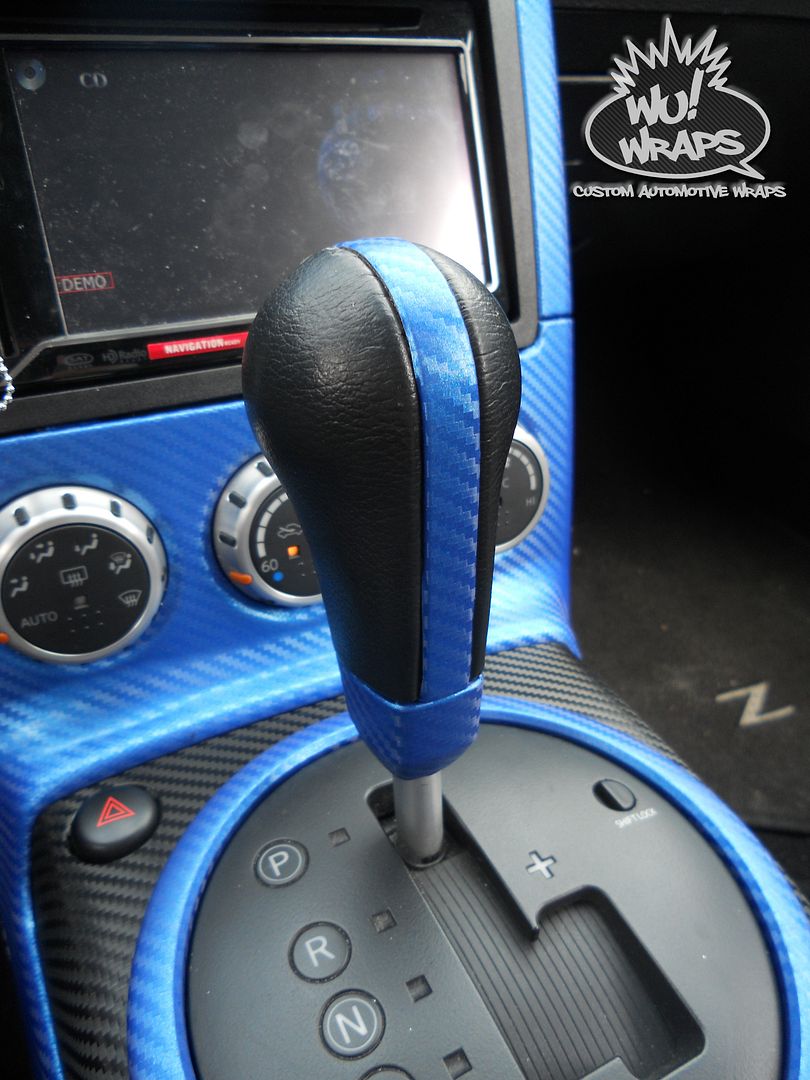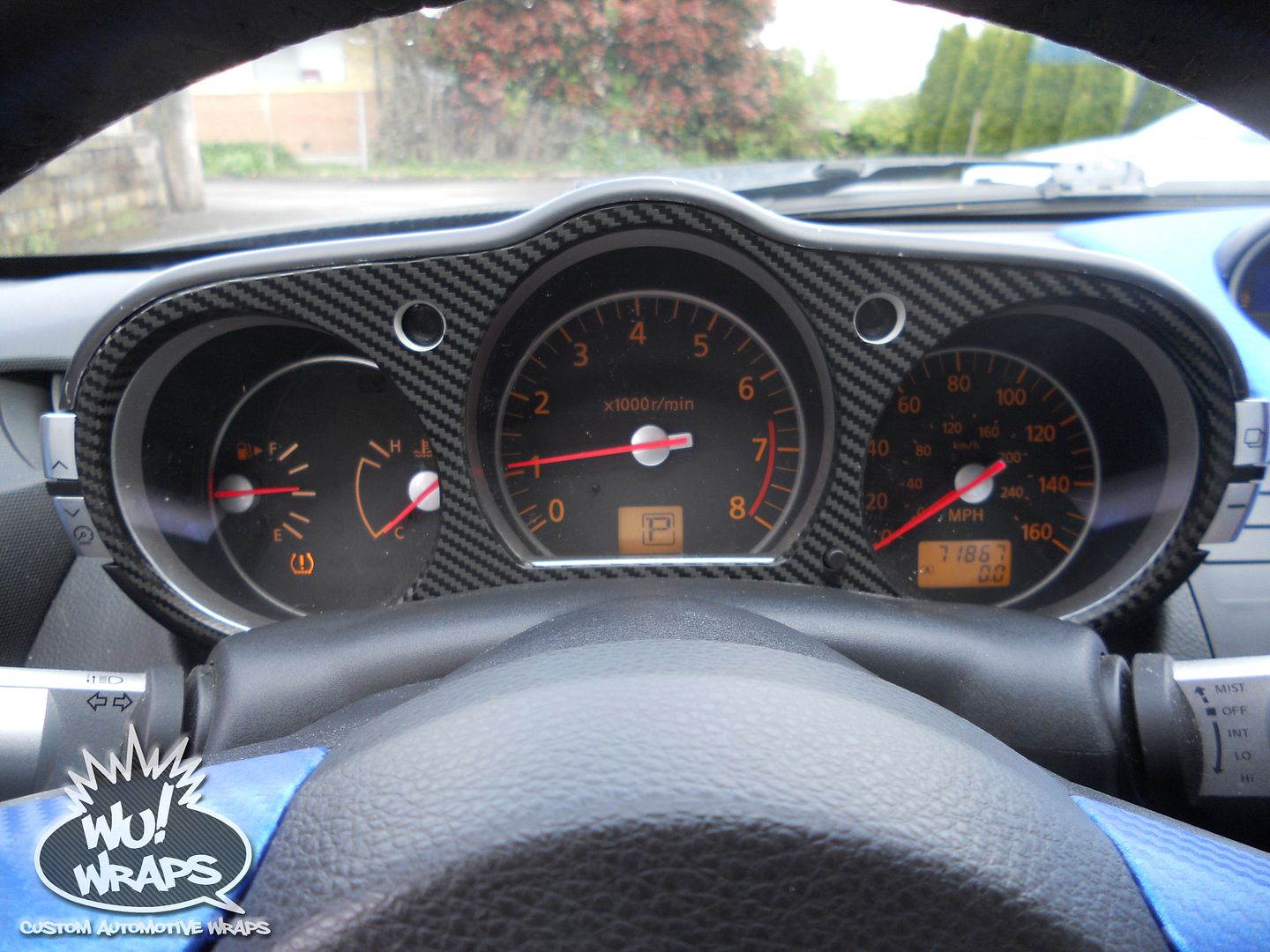 ---
RE: Wu! Wraps work done by me! check it out! - Wu! Wraps - 04.27.2012 10.51 PM

another CNC job in Bellevue Wa. Jeep SRT-8 all chorme trim done in 3m 1080 matte black vinyl. includes all window trim, front grills (7 total), foglight bezels, and rear bumper accent. came out great! car is on jackstands awaiting powdercoated oem wheels. this is a Mariners player car, lots of things getting done to this, but i got my hands on it 1st! this is probably the nicest jeep built! lots of bmw/mercedes styling/interior cue's in this whip! dunno what owner thinks yet, but this was on a long list of mods for his jeep! Wu! Wraps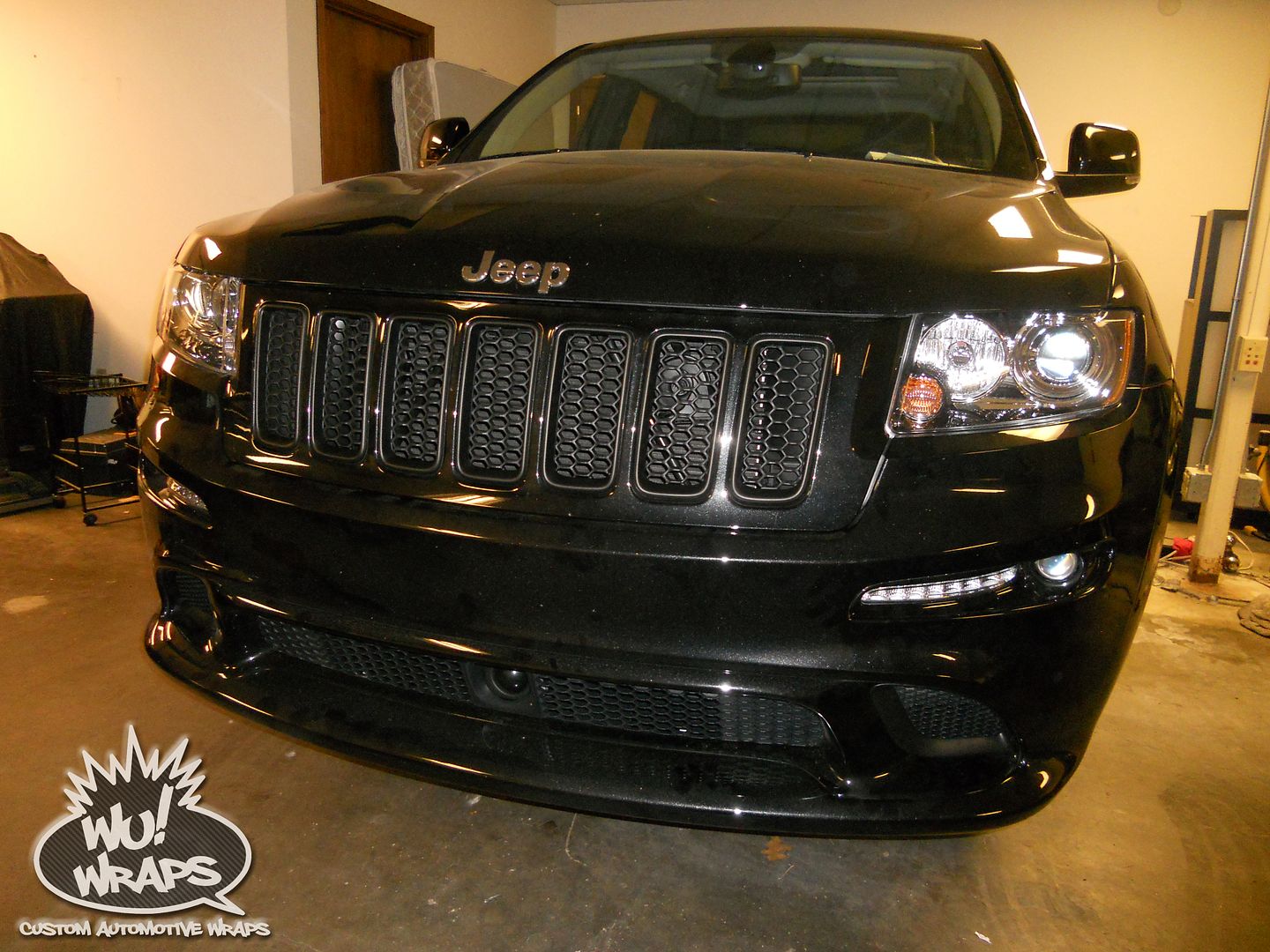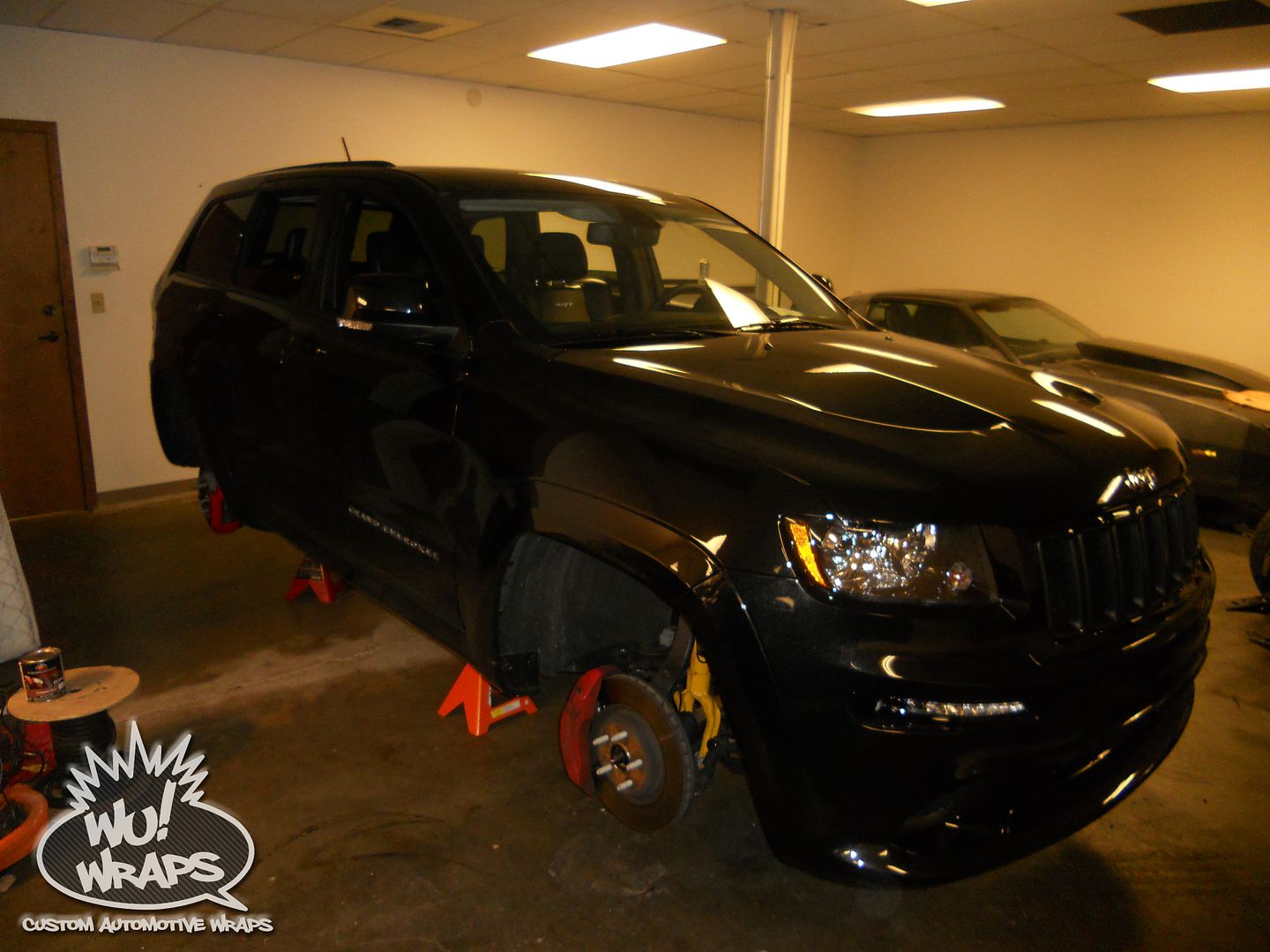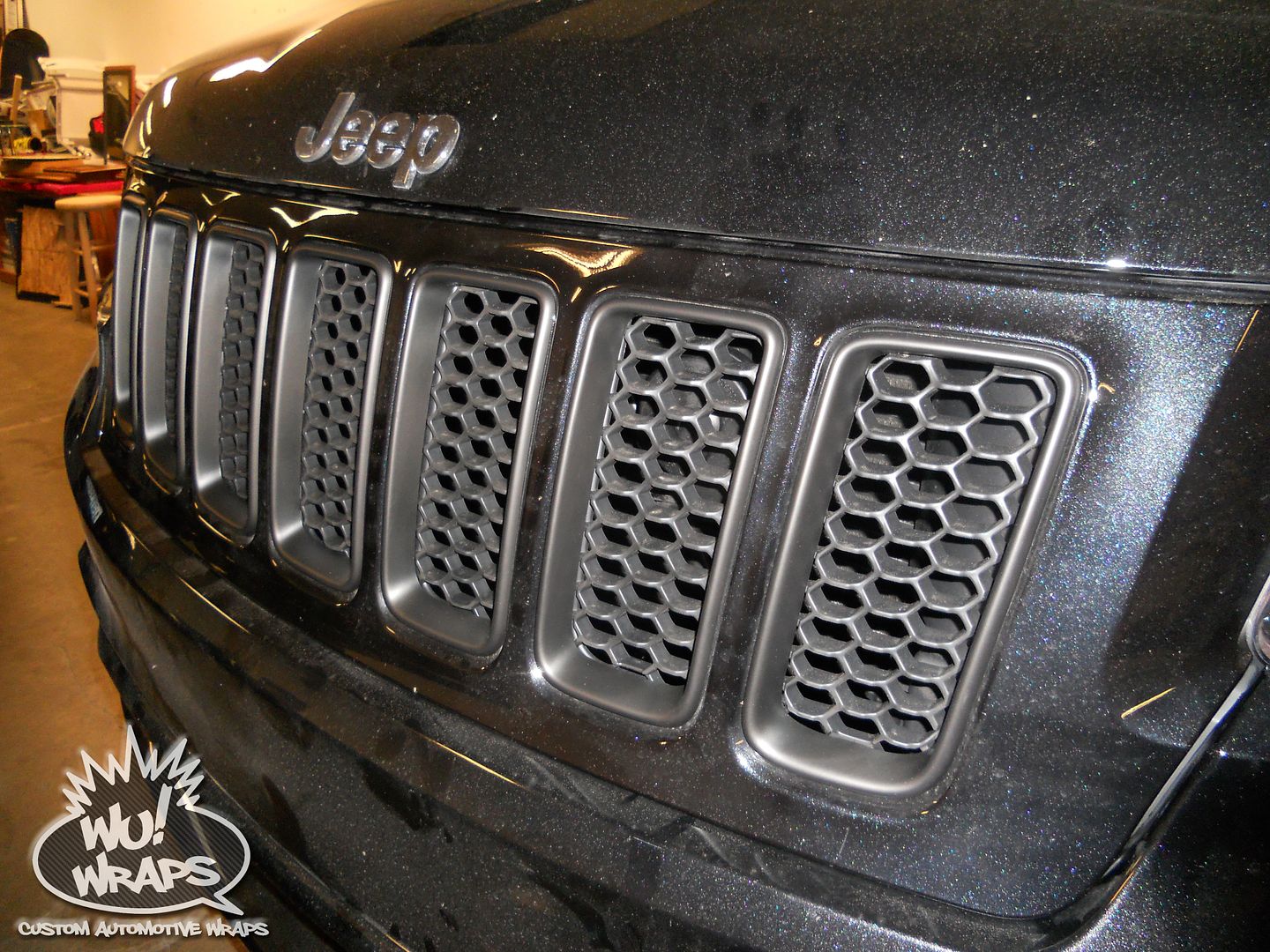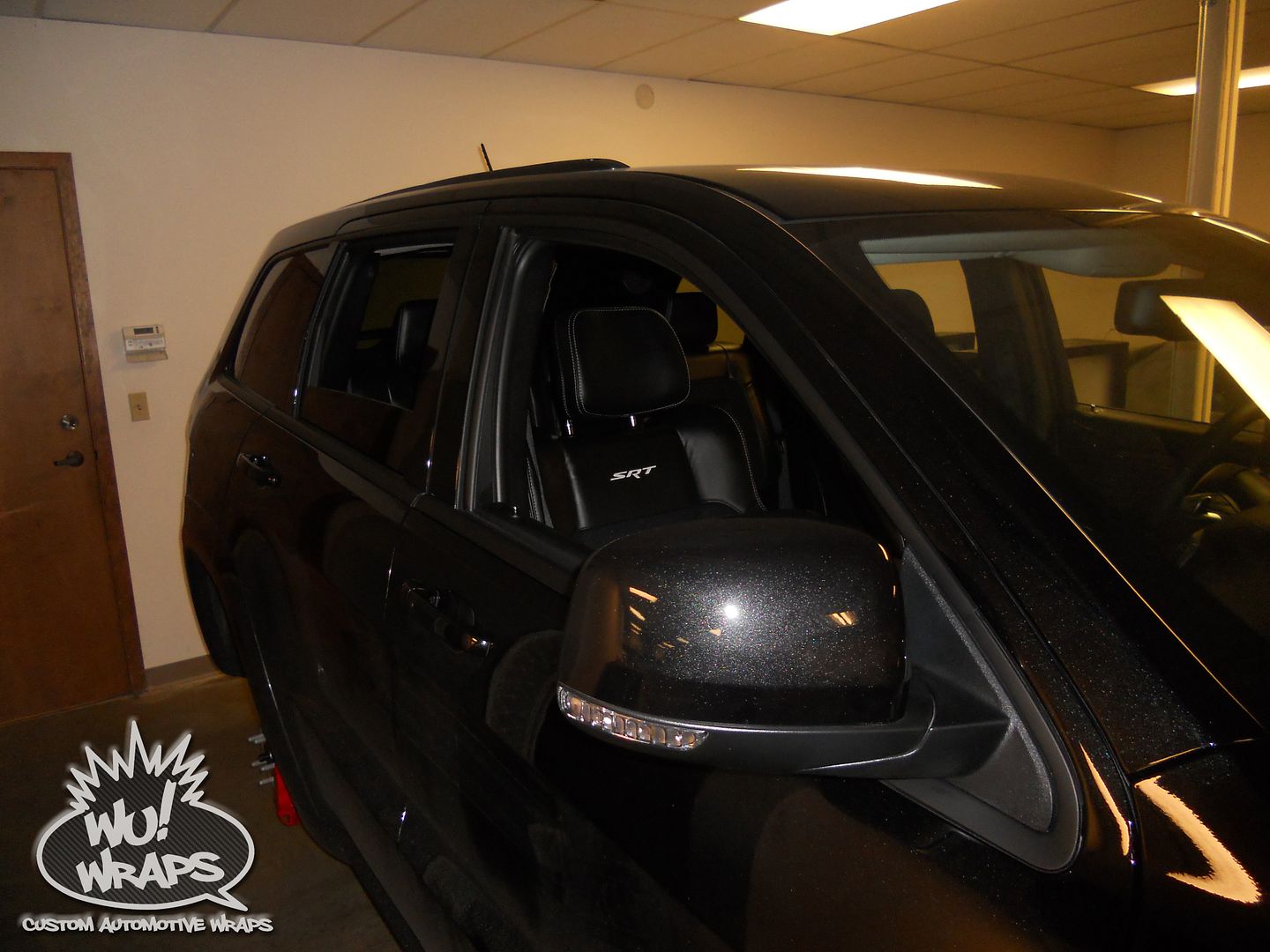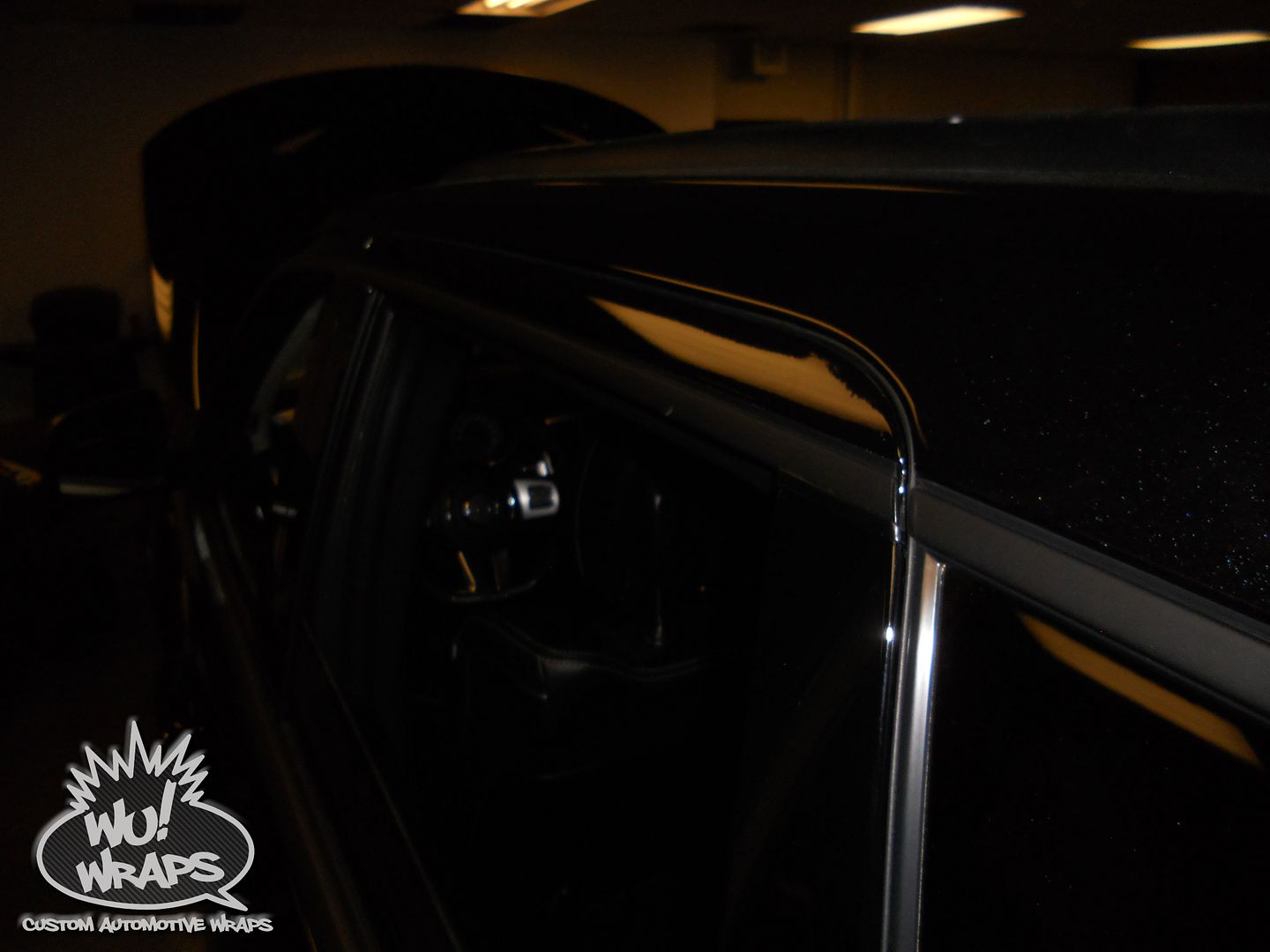 ---
RE: Wu! Wraps work done by me! check it out! - Wu! Wraps - 04.29.2012 10.31 AM

sup everyone. if you are free may 12th (sat) come check me out at the EAS annual charity event at Griot's Garage in Tacoma 12-4pm. I will have a booth and lots of samples for ya'll to see in person! I will also have a bunch of samples to give out so you can see what's out there. will have my 335i & 645ci there, along with the full matte black porsche, full wrapped nissan s13, and many more cars that i have worked on.

info found here:
http://www.facebook.com/events/324709197586368/

thanks again for lookin!


---
RE: Wu! Wraps work done by me! check it out! - Wu! Wraps - 05.04.2012 10.17 AM

omething quick and easy. dodge truck foglights done in yellow. 1 had a crack in it so this film will seal it up nicely, hopefully this will stop water leaking into the cracked one. came out great! should look good on the truck! Wu! Wraps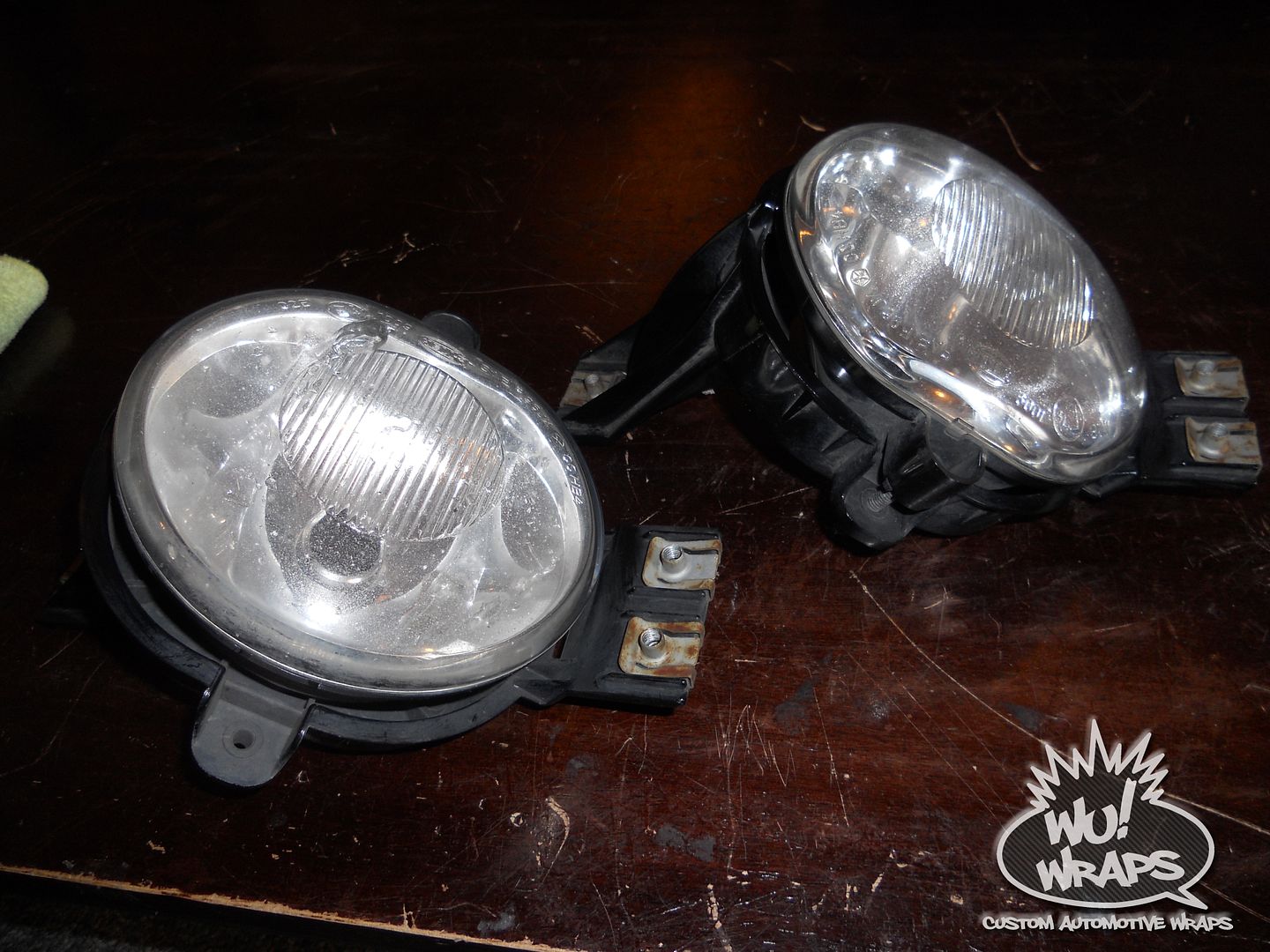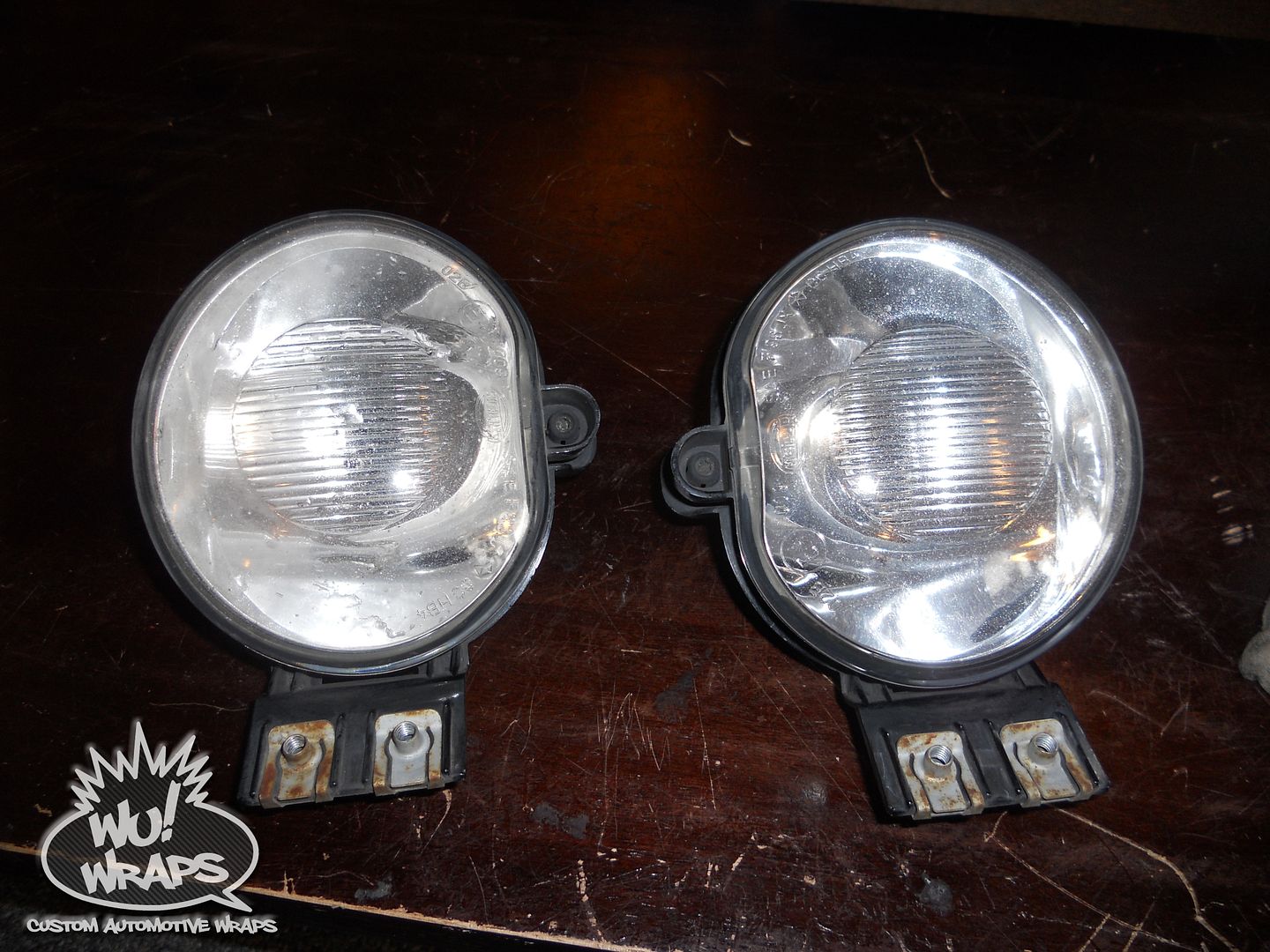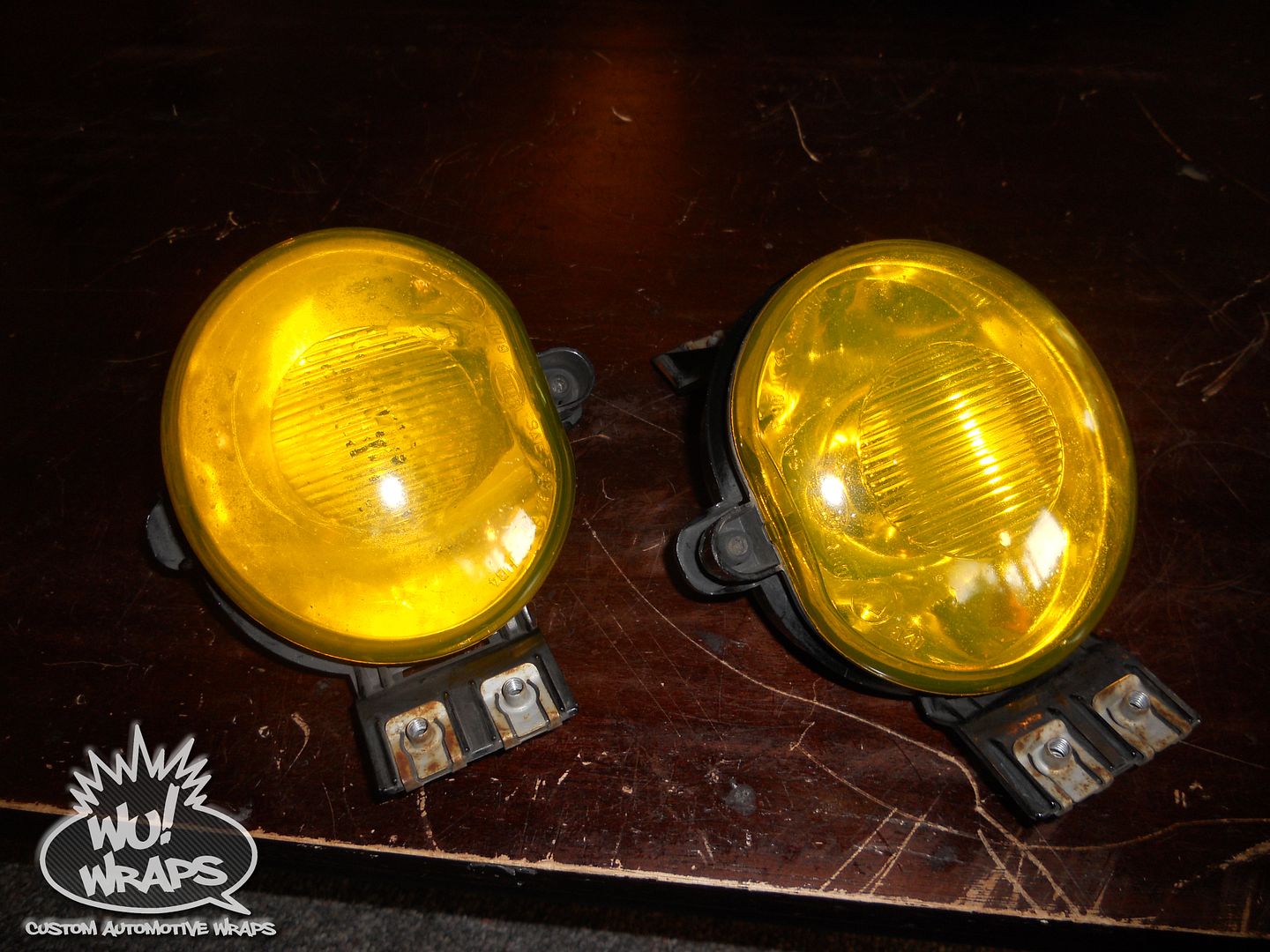 ---
RE: Wu! Wraps work done by me! check it out! - Wu! Wraps - 05.04.2012 10.21 AM

just did some more work onthe g37. smoke taillights & yellow fogs with oracal 8300. this is the one that i matte blacked the trunk trim, foglight bezels & front grill. might be doing the lower air dam on the front bumper in matte black soon! should look even more stealth! owner is diggin tha new look! thanks again! Wu! Wraps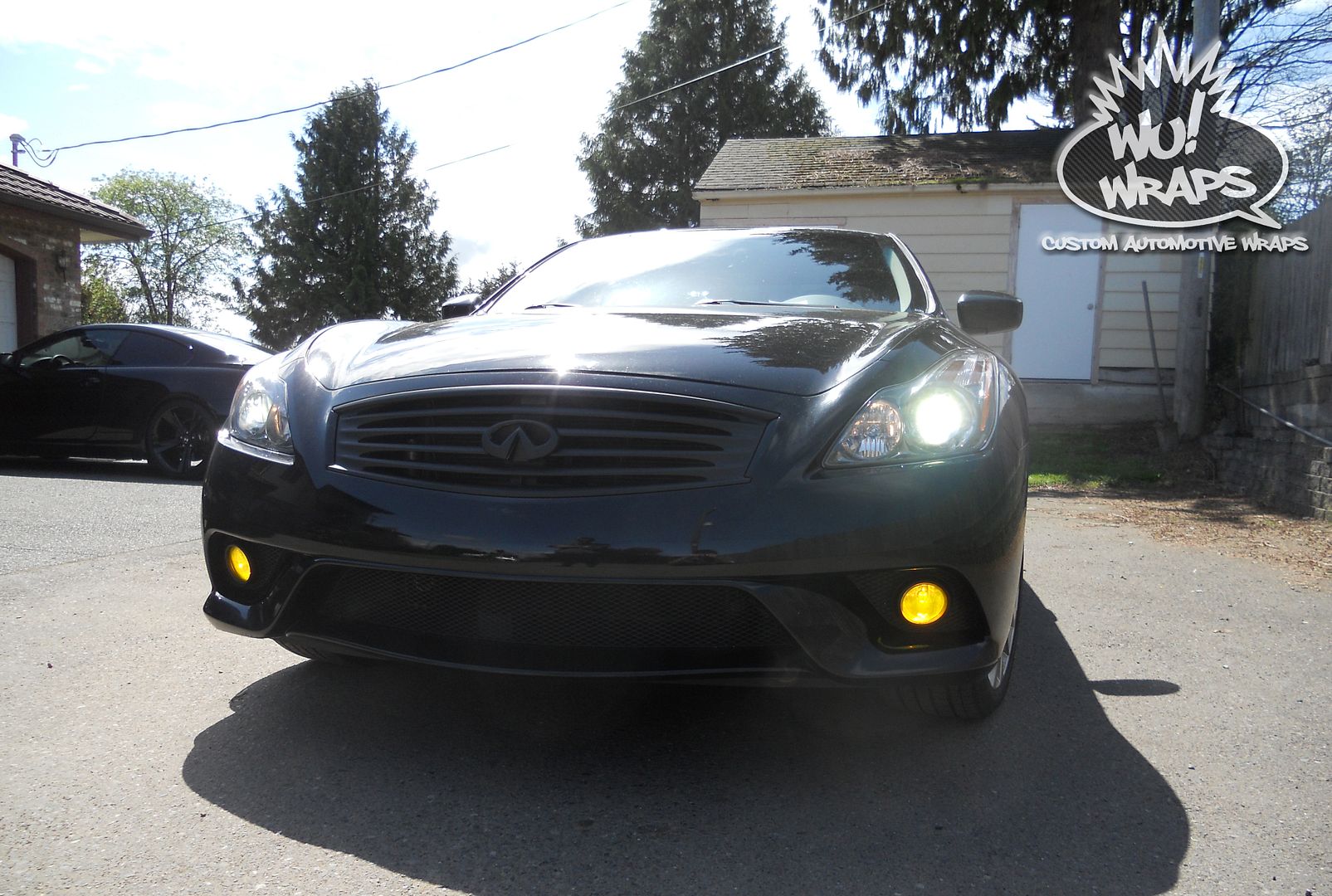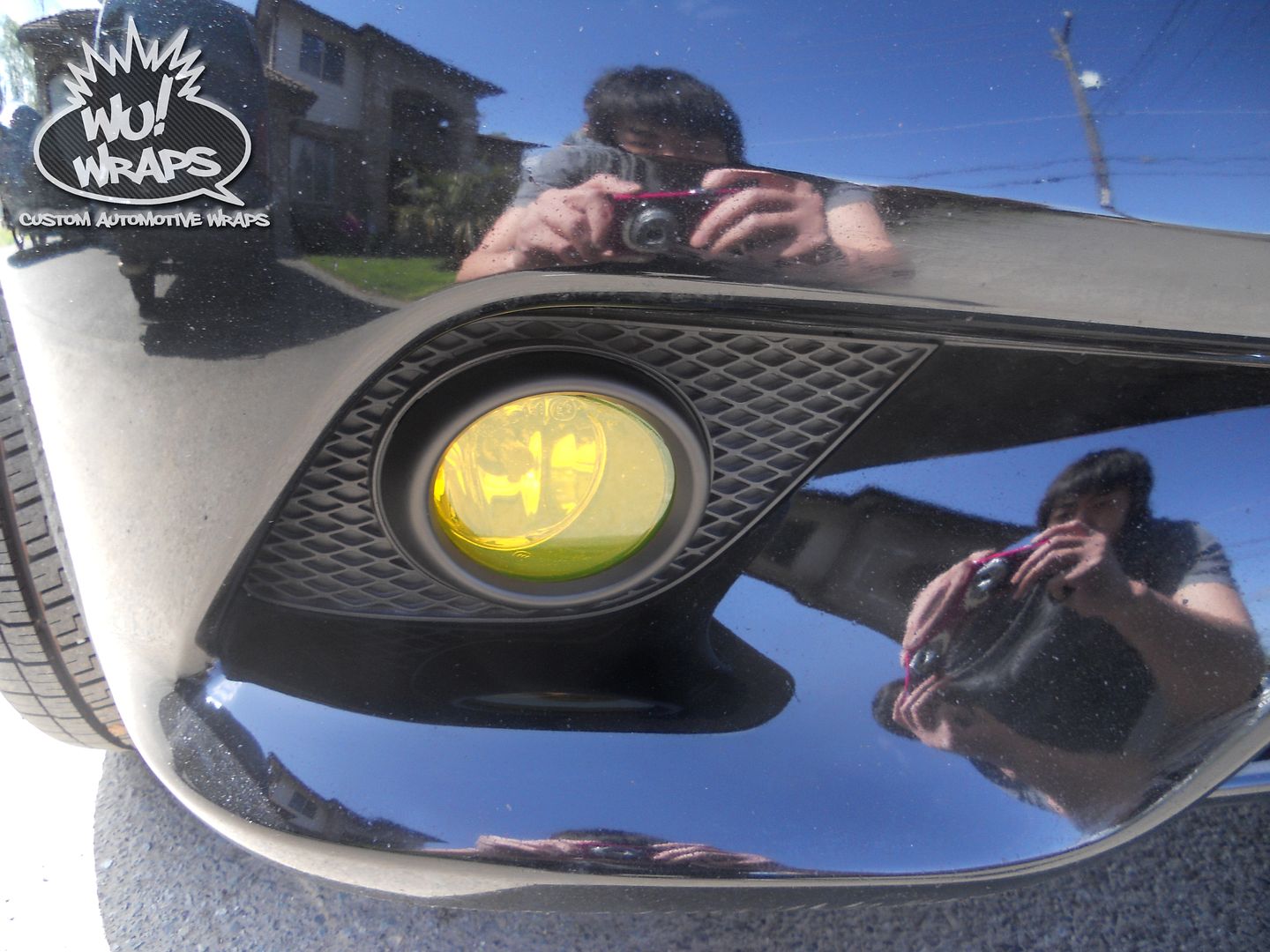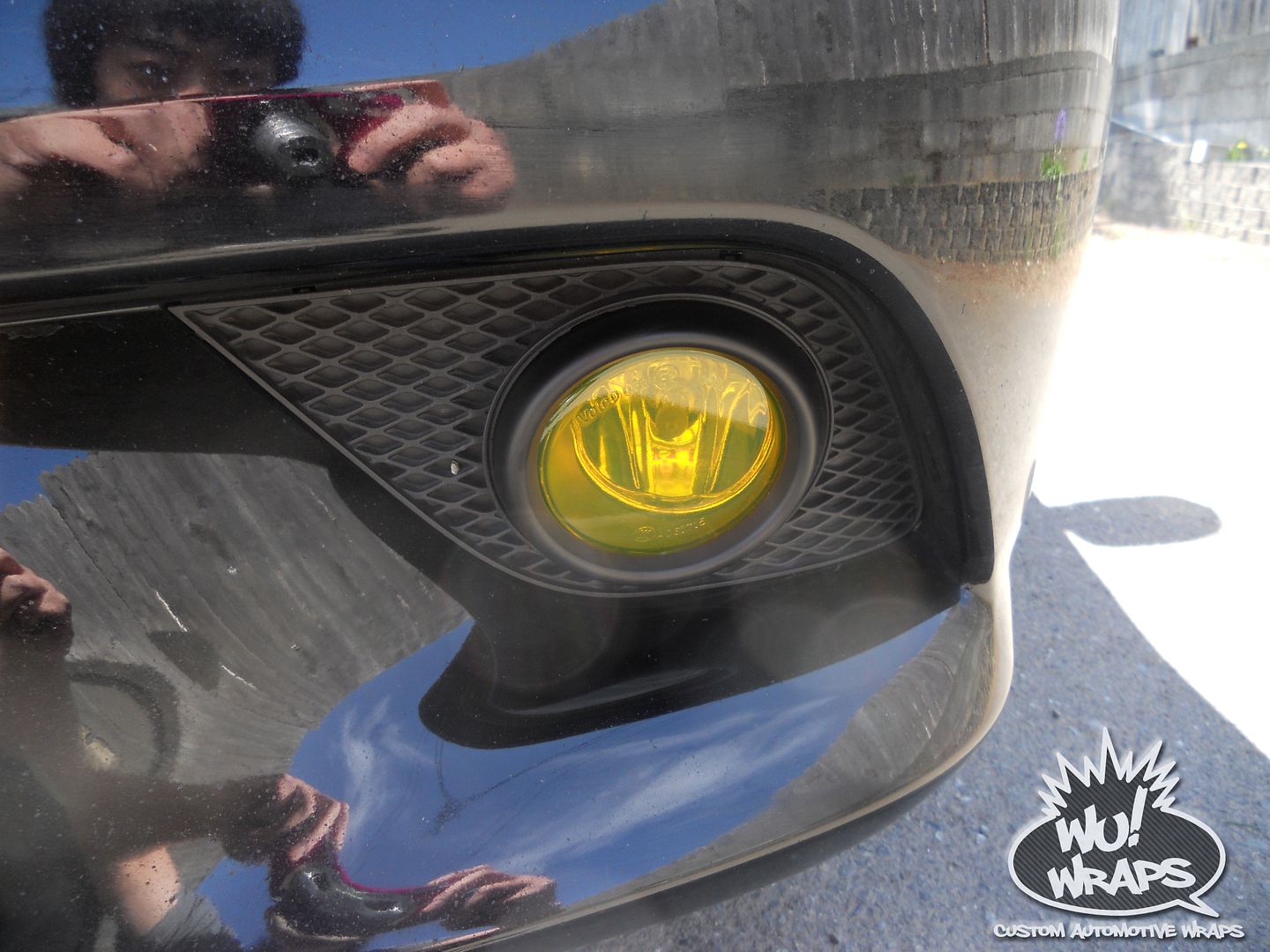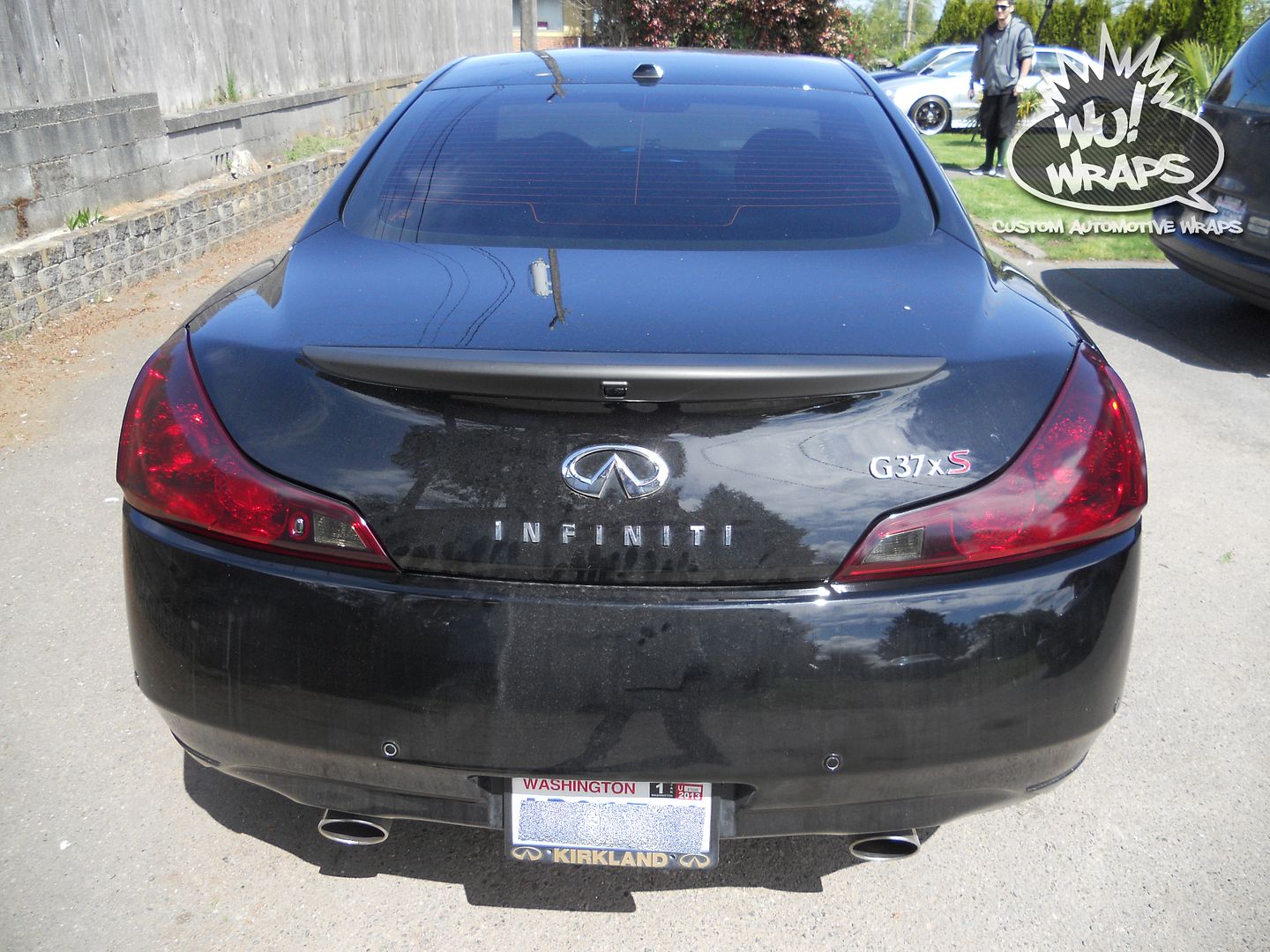 ---
RE: Wu! Wraps work done by me! check it out! - Wu! Wraps - 05.04.2012 10.26 AM

bmw 328i e46 cf hood & mirrors with 3m 1080 cf. came out great! got around the kidney grills without needing a seam! will be doing the roof, top of trunk lid & smoking all lights soon! owner is diggin tha new look! Wu! Wraps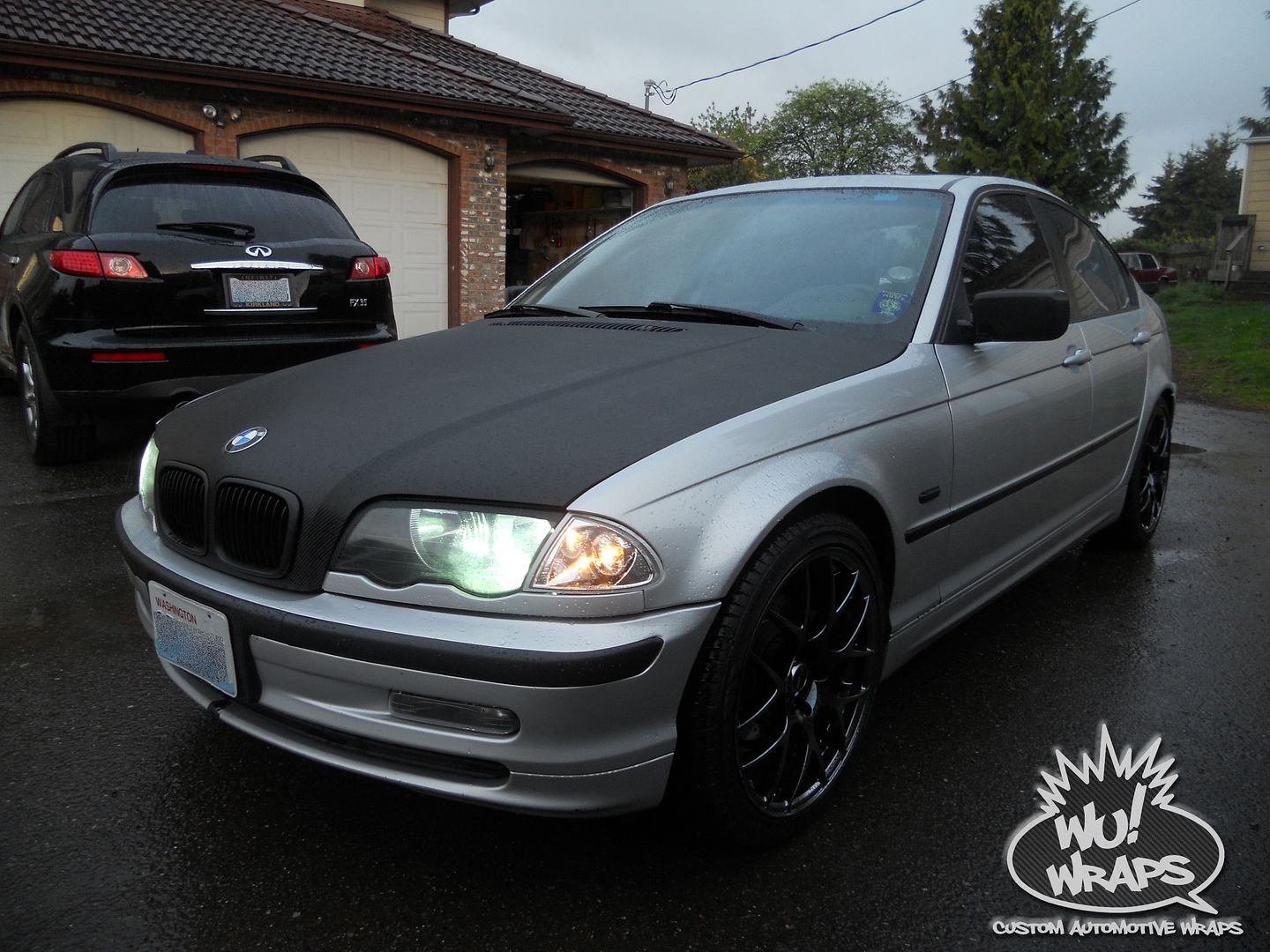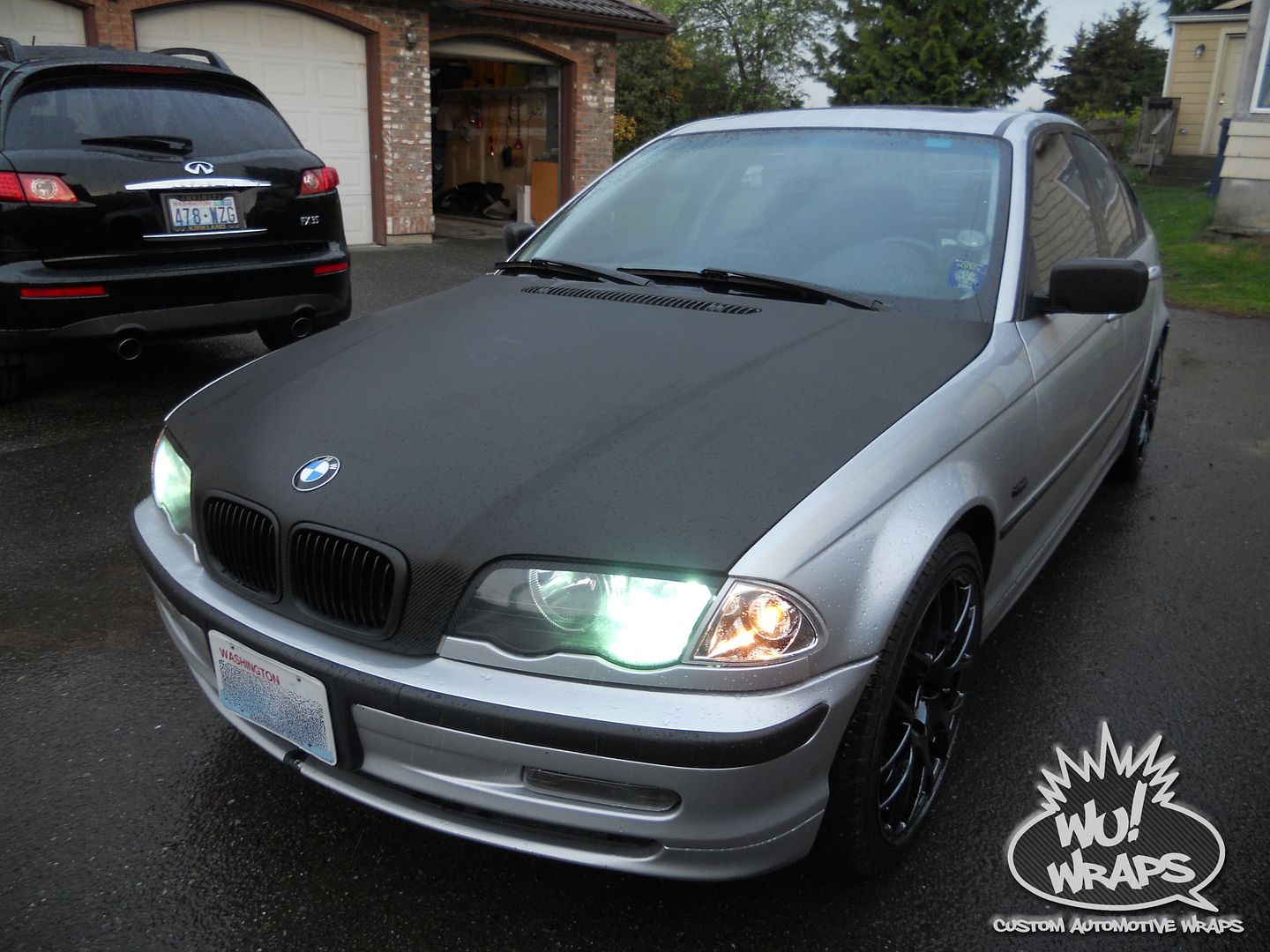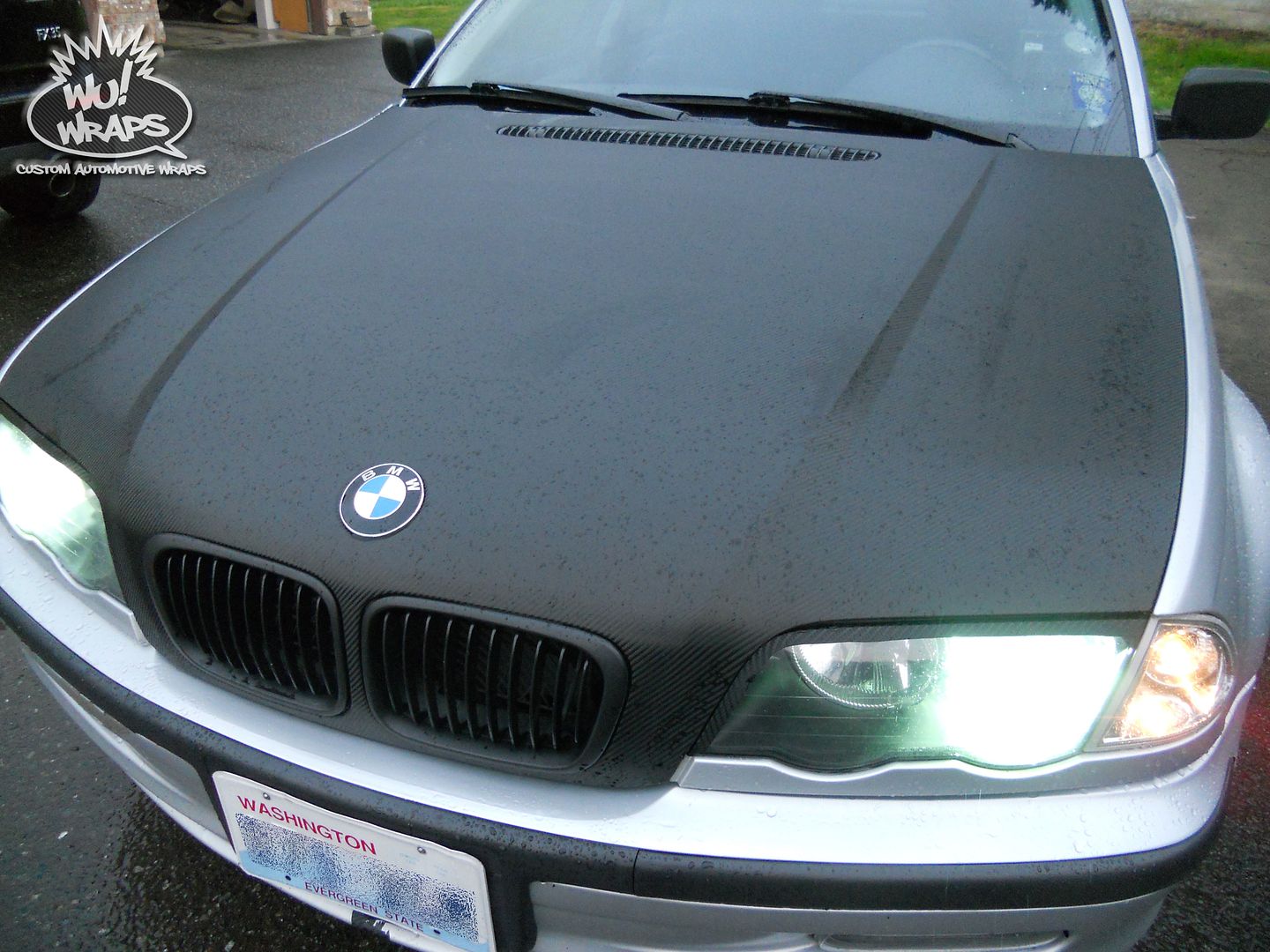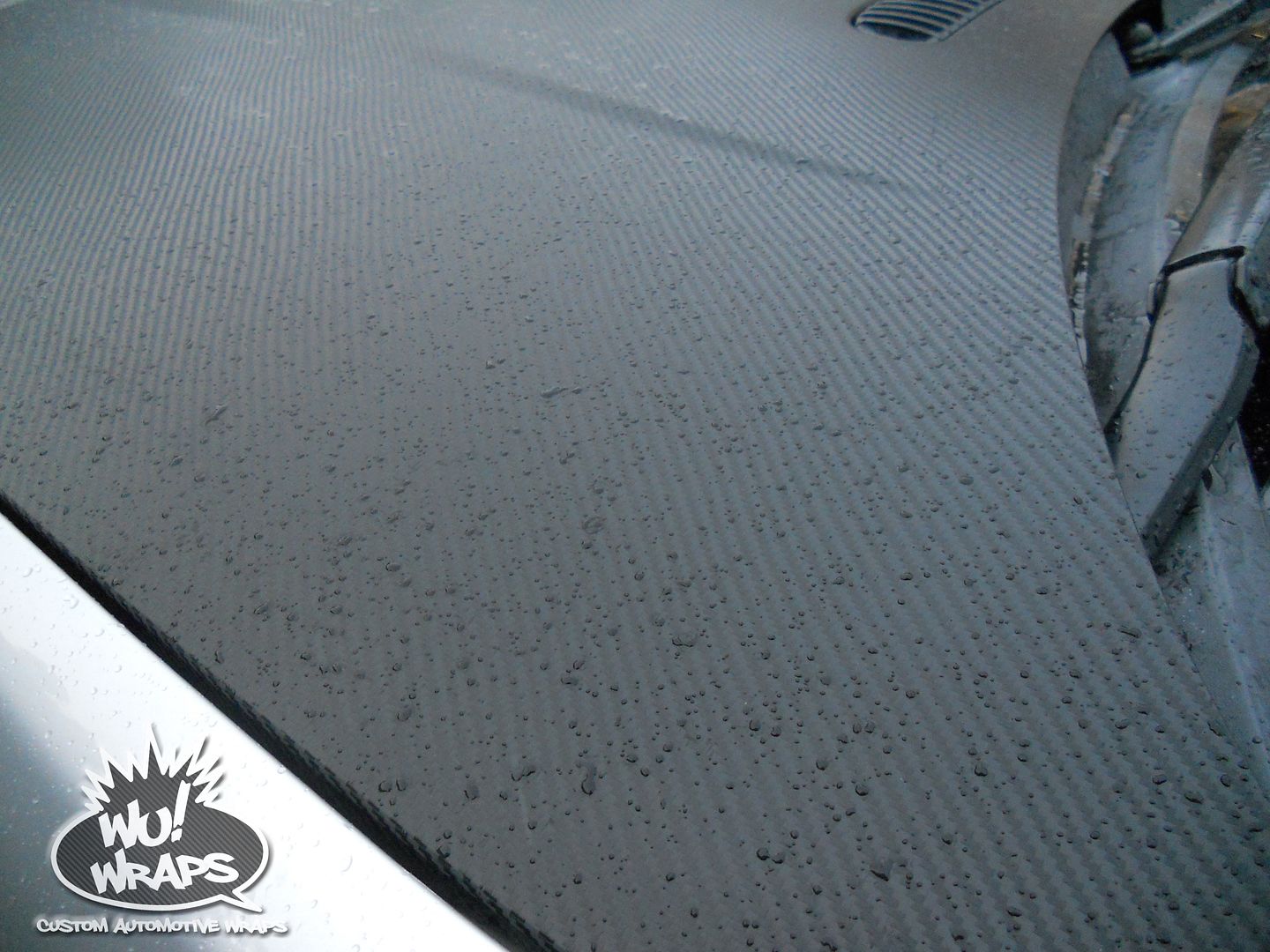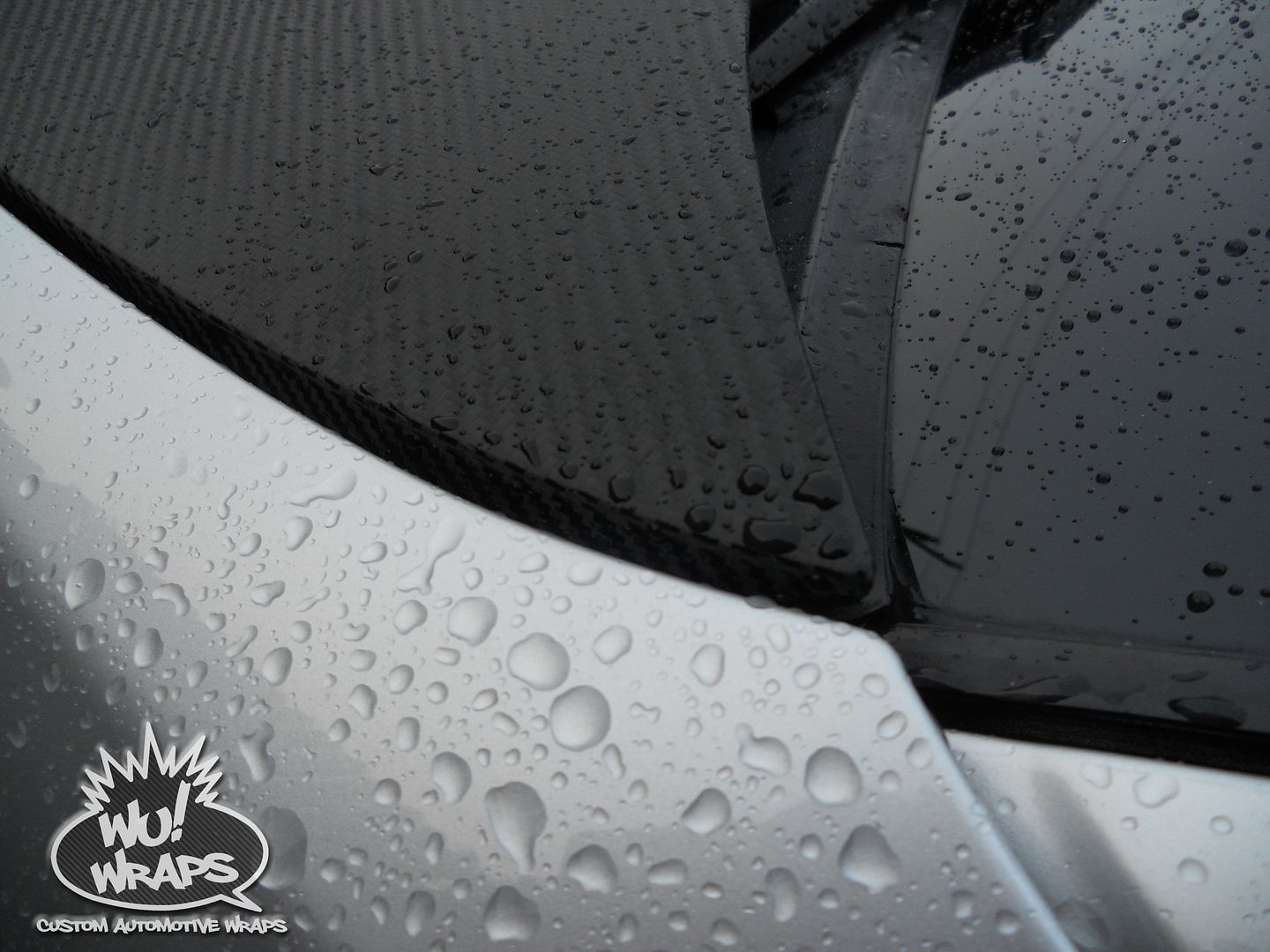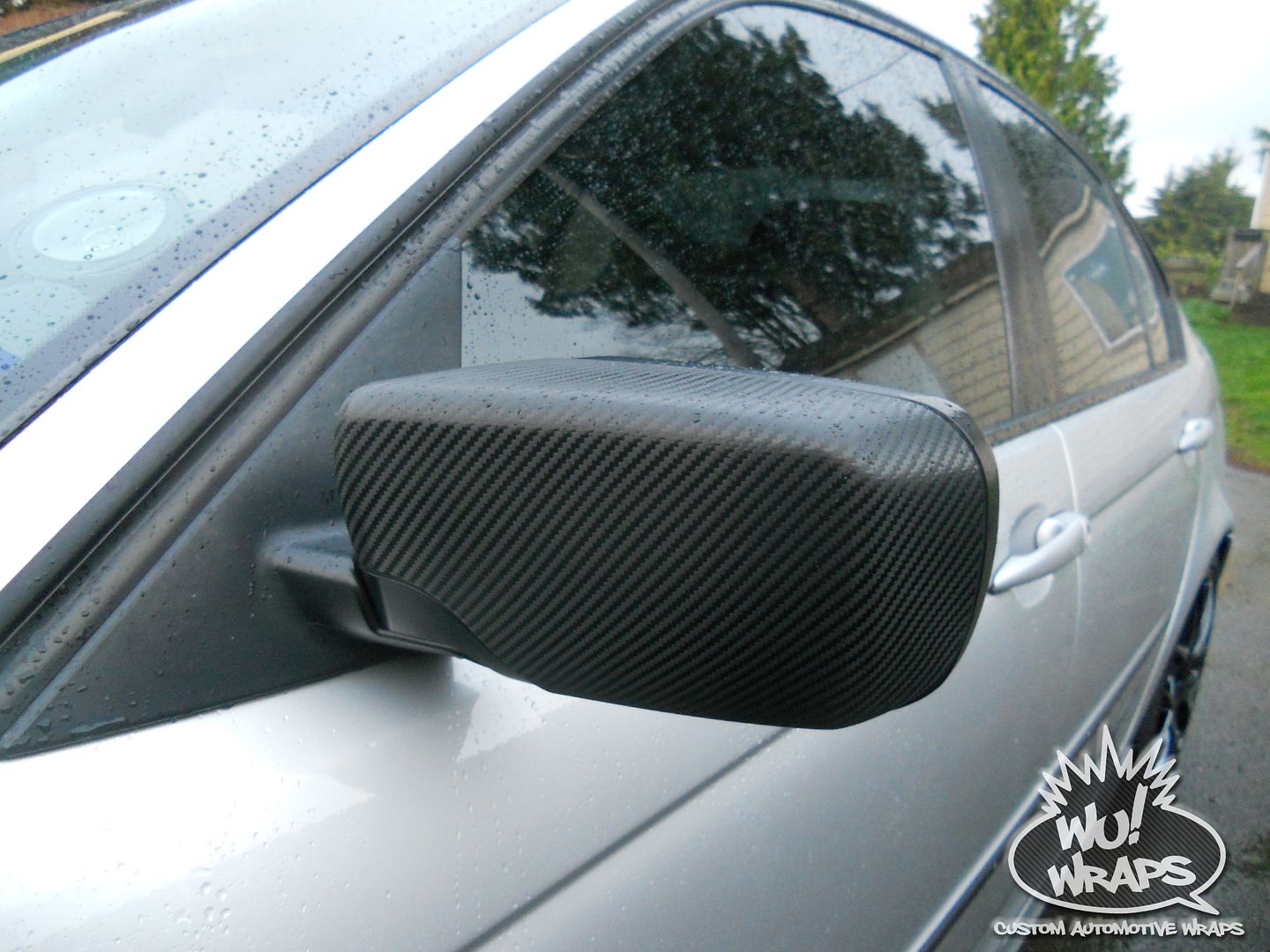 ---
RE: Wu! Wraps work done by me! check it out! - Wu! Wraps - 05.07.2012 09.38 PM

this is CNC in bellevue Wa. go getter car. vw jetta wagon window trim & chrome grill slats done in 3m 1080 matte black, vw emblems done in 3m 1080 carbon fiber, and front amber reflector smoked with matte smoke film from China (has no brand). everything came out great! disregard the crack in the front bumper, car is getting kitted up soon. Owner is very happy with how everything came out! Wu! Wraps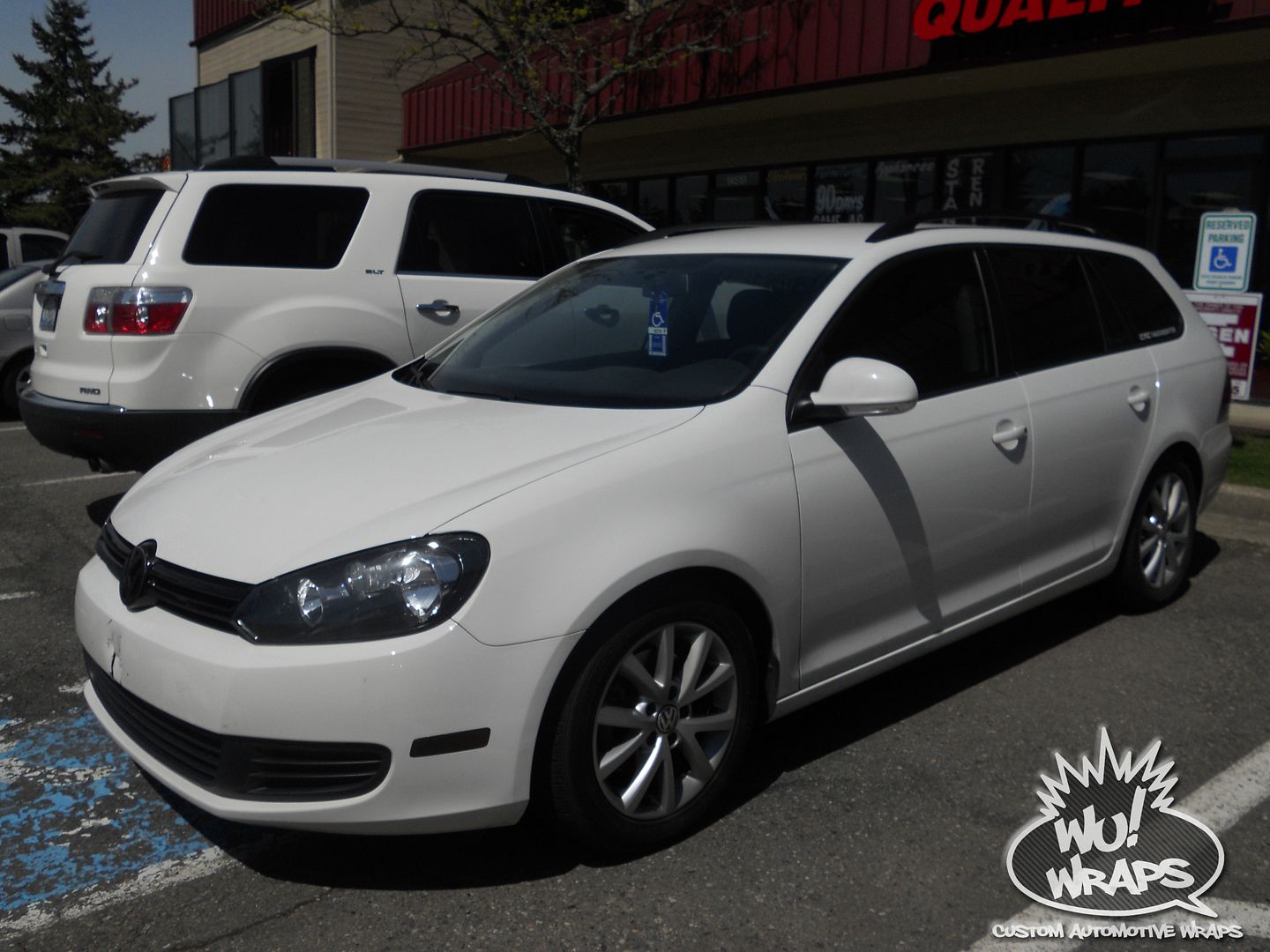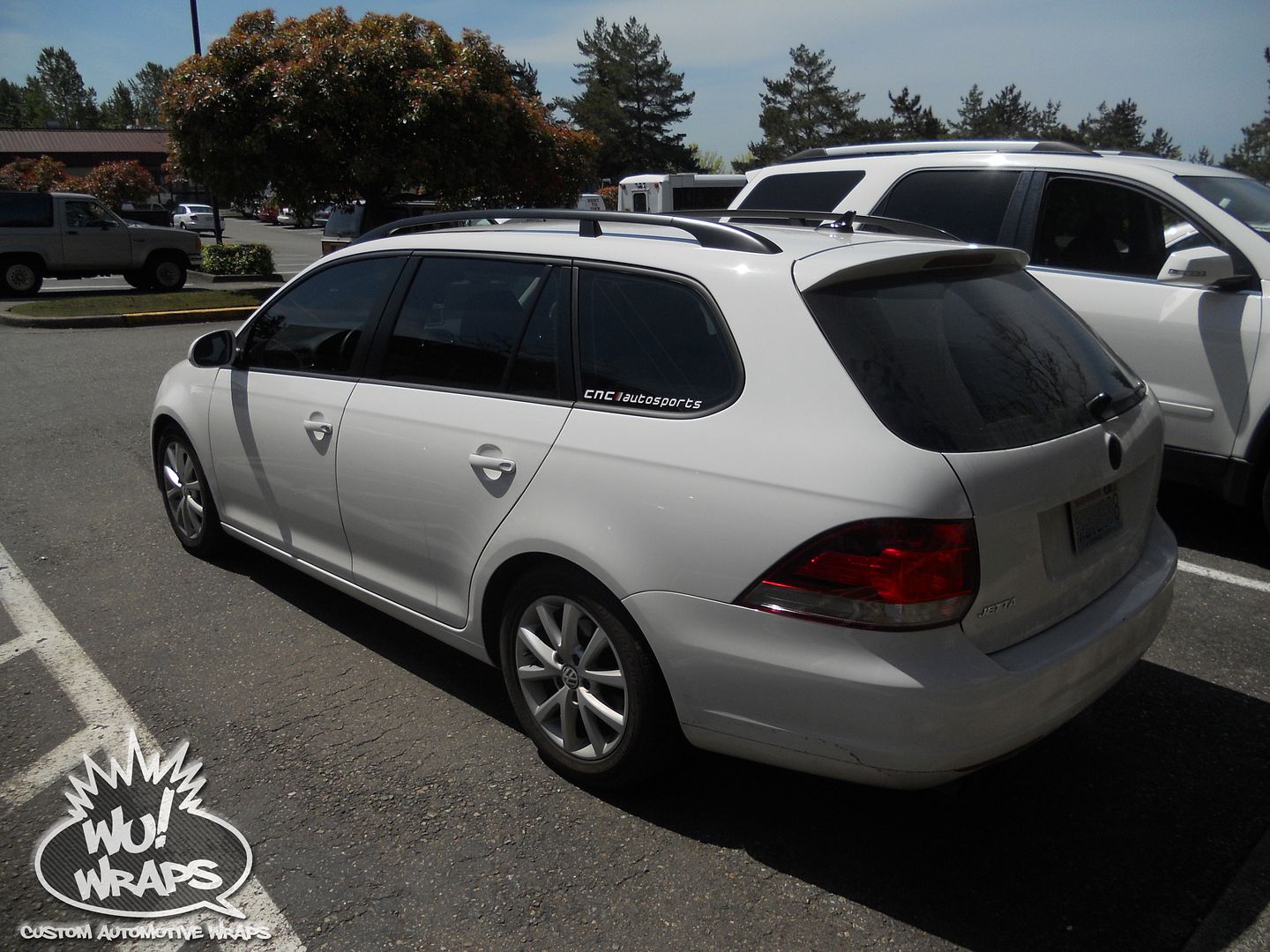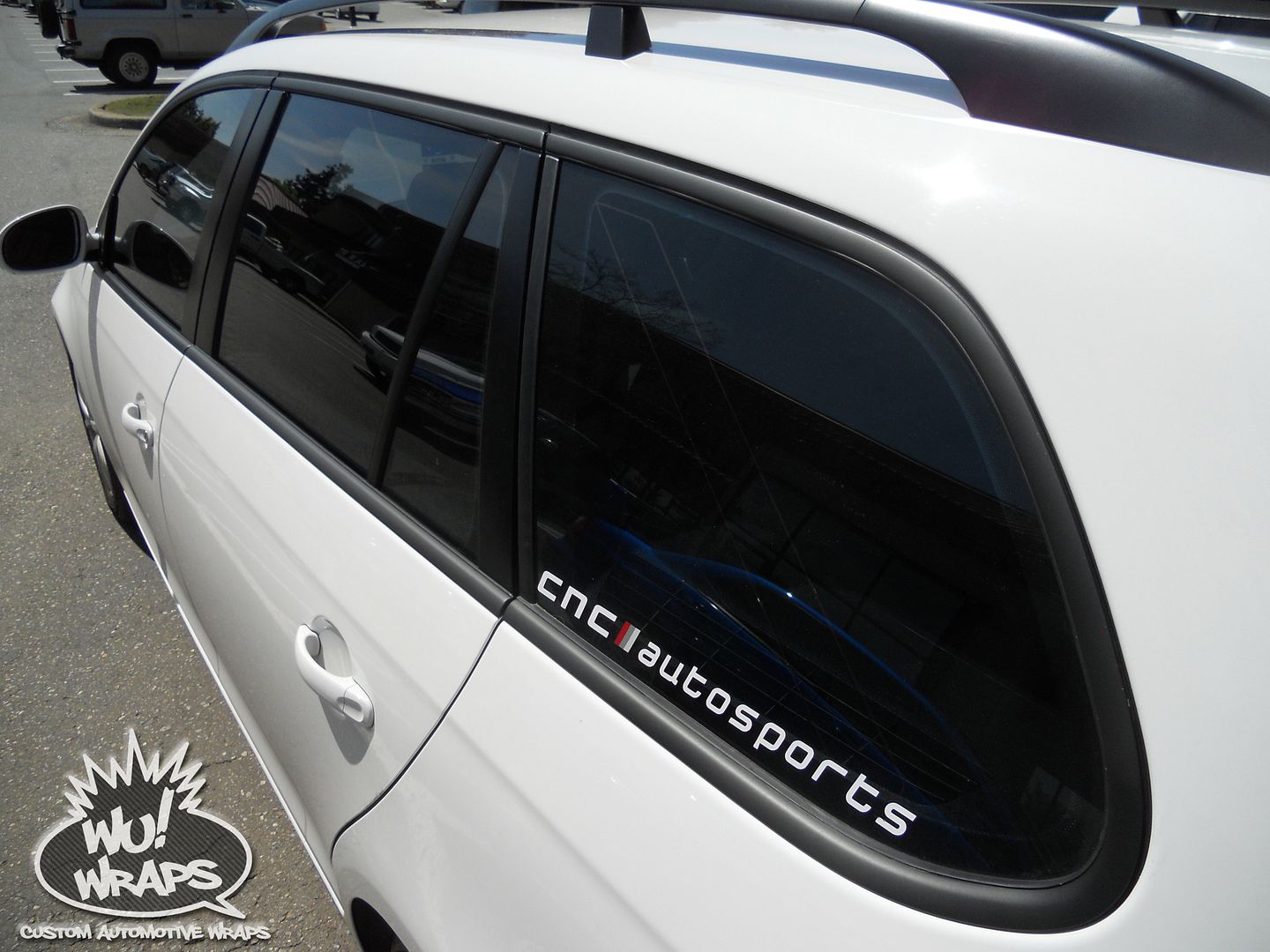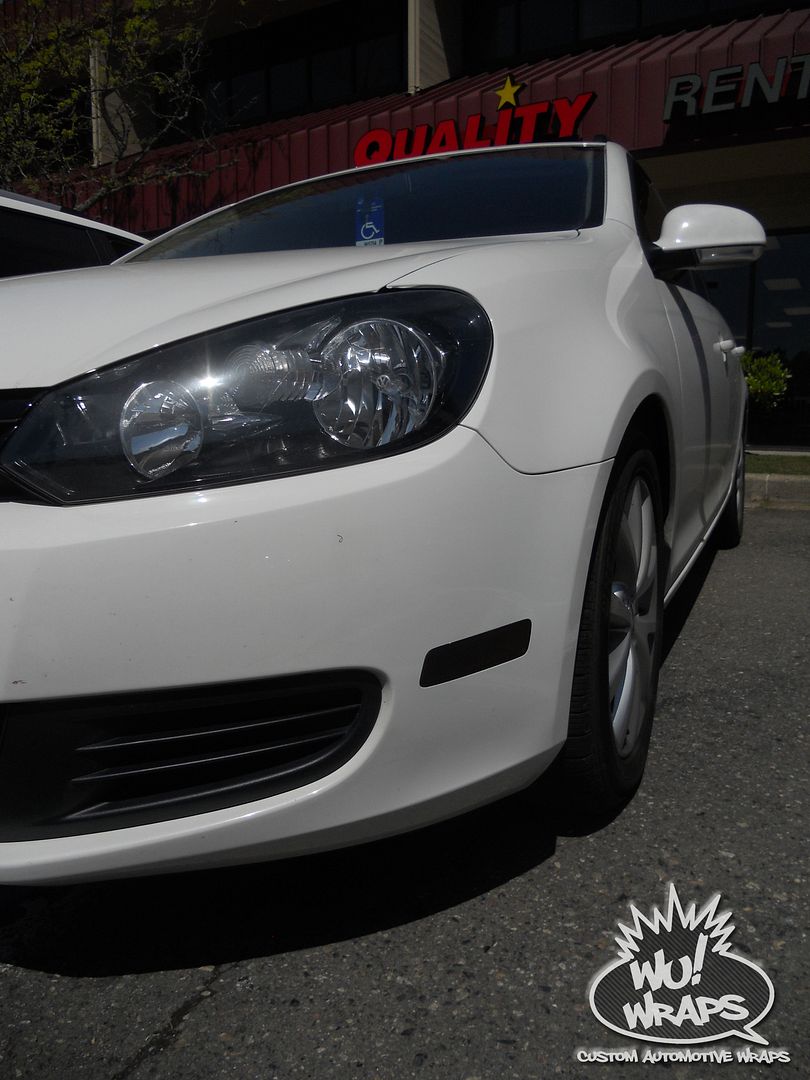 ---
RE: Wu! Wraps work done by me! check it out! - Wu! Wraps - 05.07.2012 09.40 PM

audi s4 b5 3m 1080 carbon fiber hood & trunk. everything came out as planned. hood is always a bit tricky with the extra part under the grill. lots of bending/ moving wrinkles around/ heating to get it all smoothed out! trunk was done in 2 pieces, the top portion was laid down 1st, then the lower back part second. got to use the knifeless tape again to make a super clean cut line right at the inset part of the oem body line! love that stuff! also got the underside of the license plate trim as well. owner is very happy with it. hood had some minor digs/rock chips that covered up very well & trunk had some weird clearcoat issues that were also covered up very well. will be doing the roof as well soon! Wu! Wraps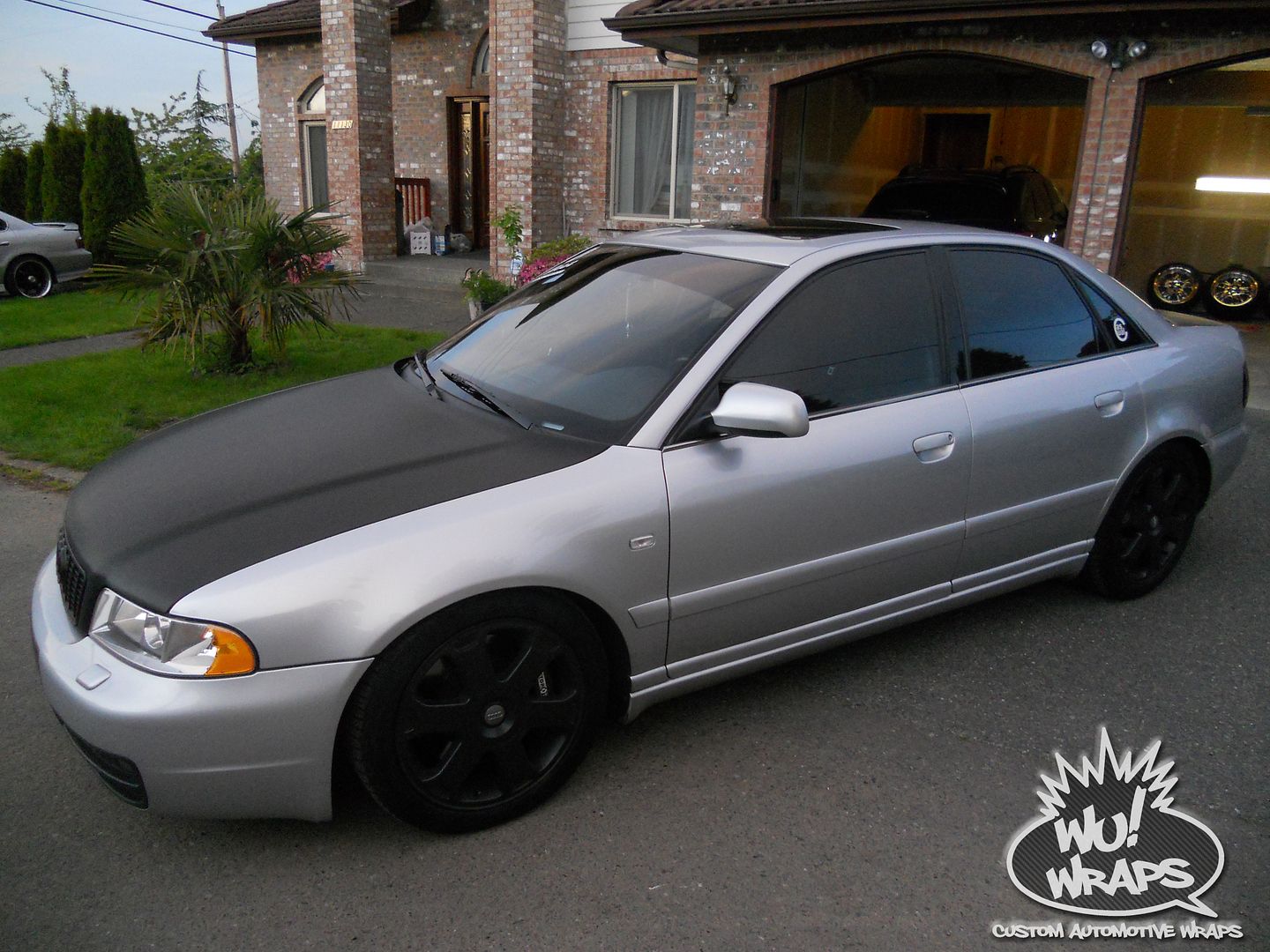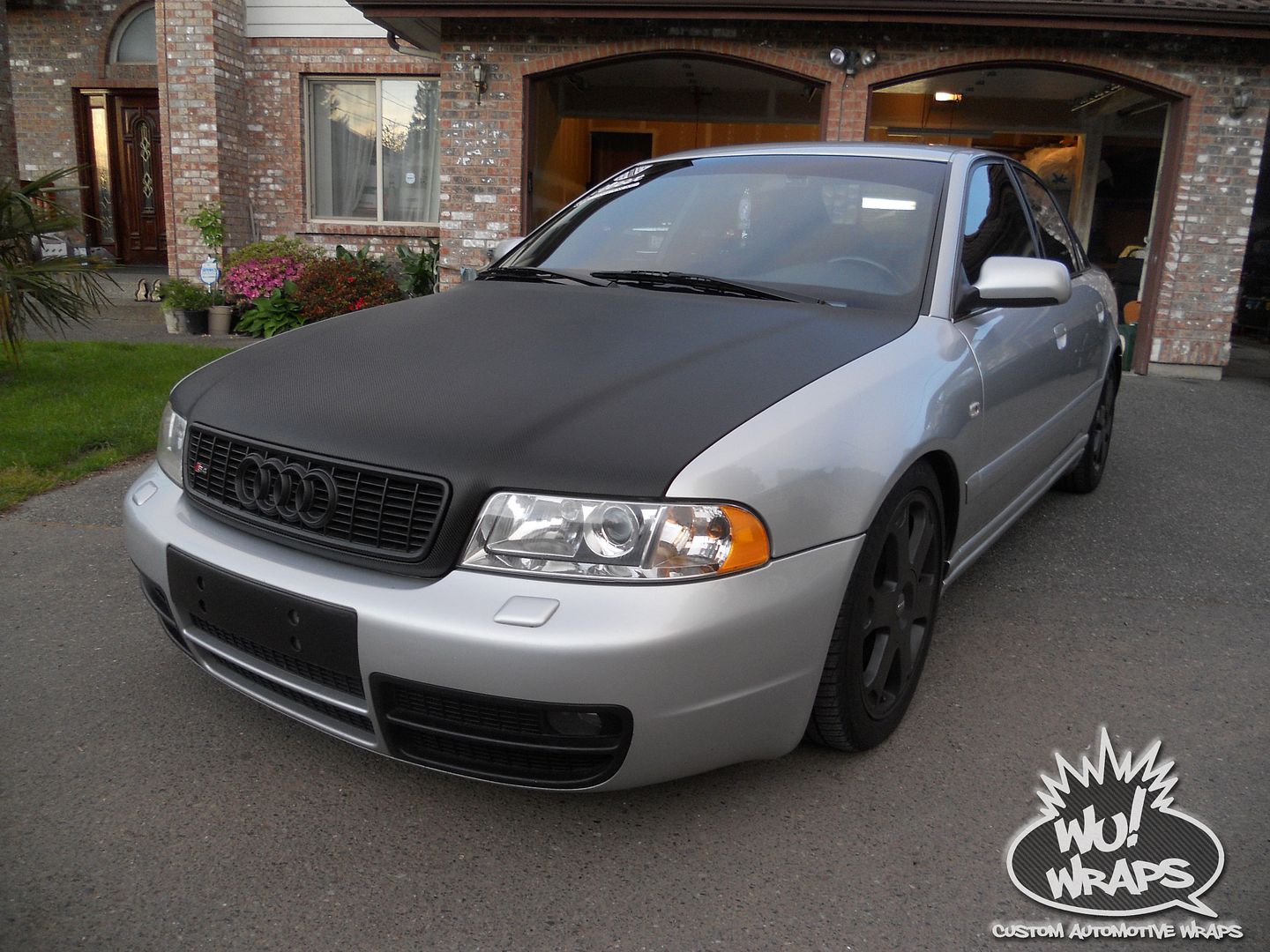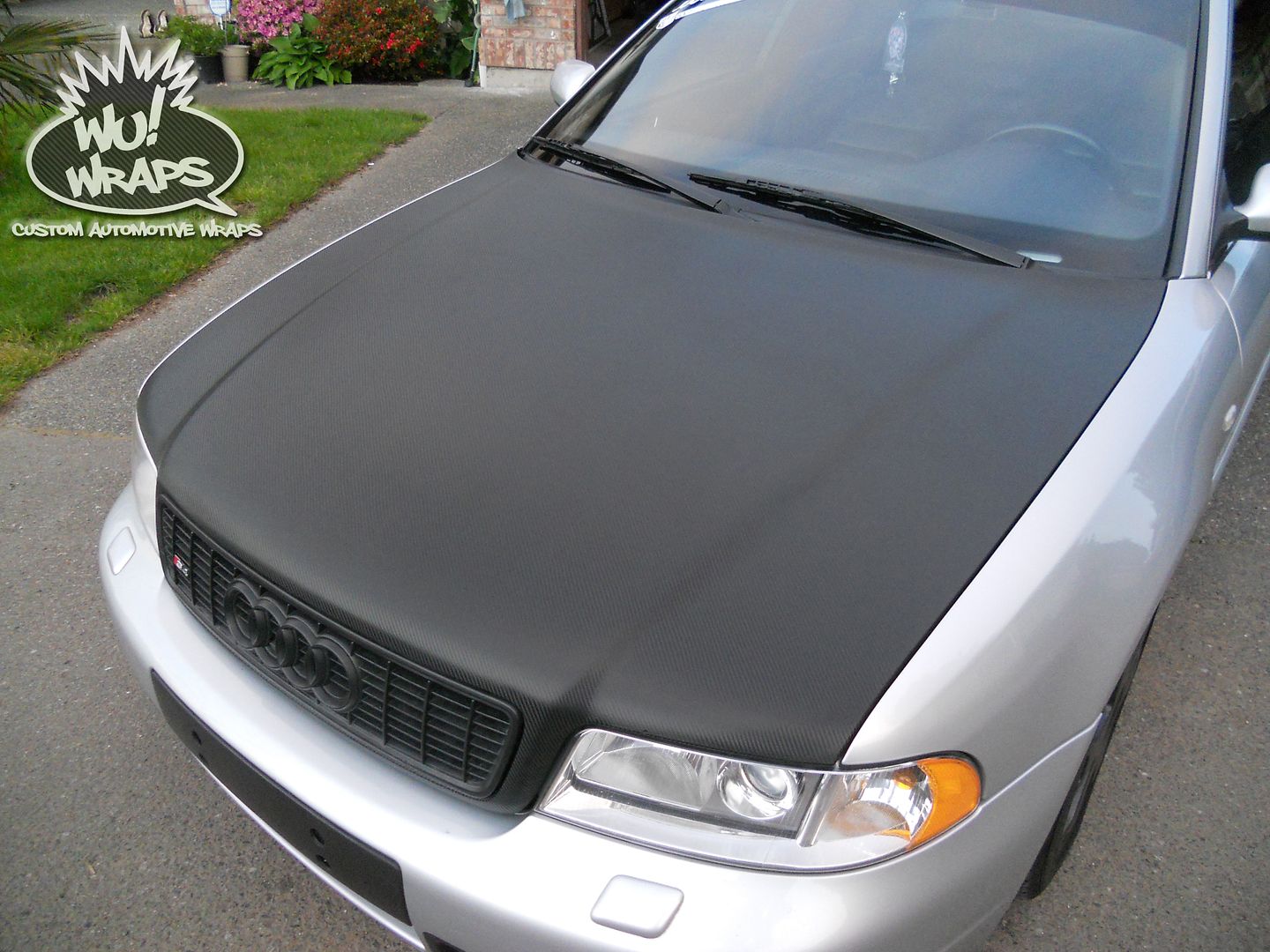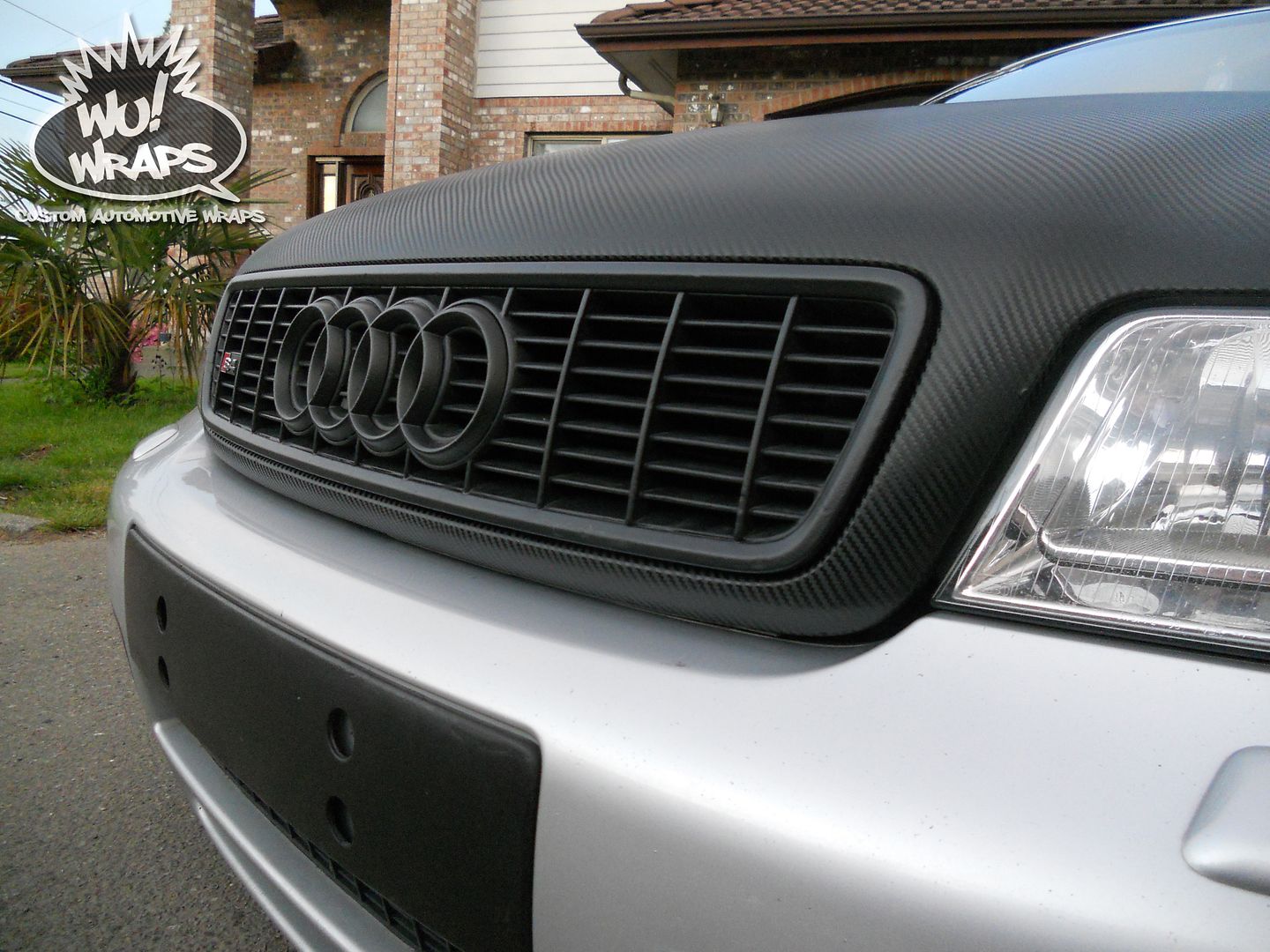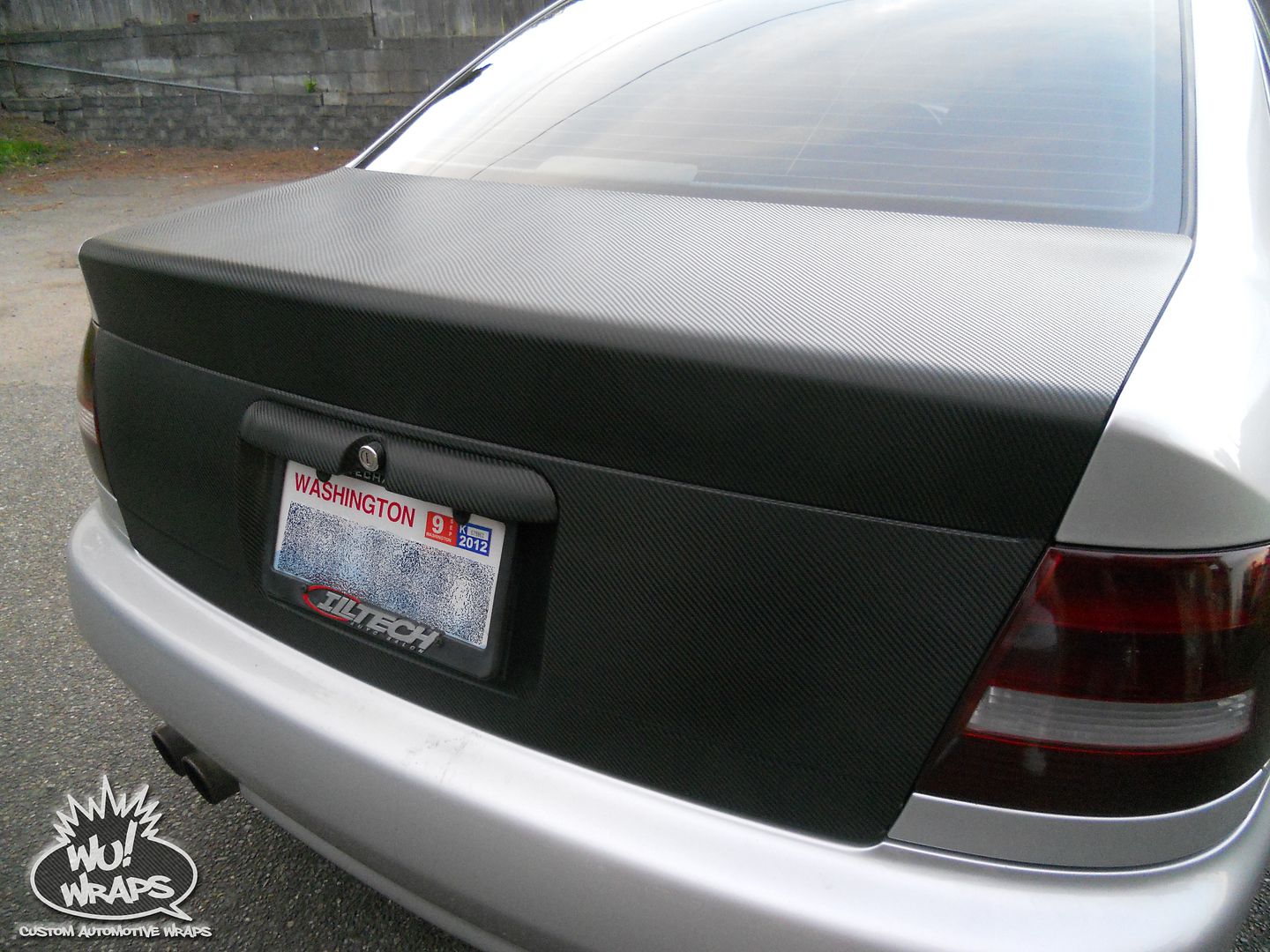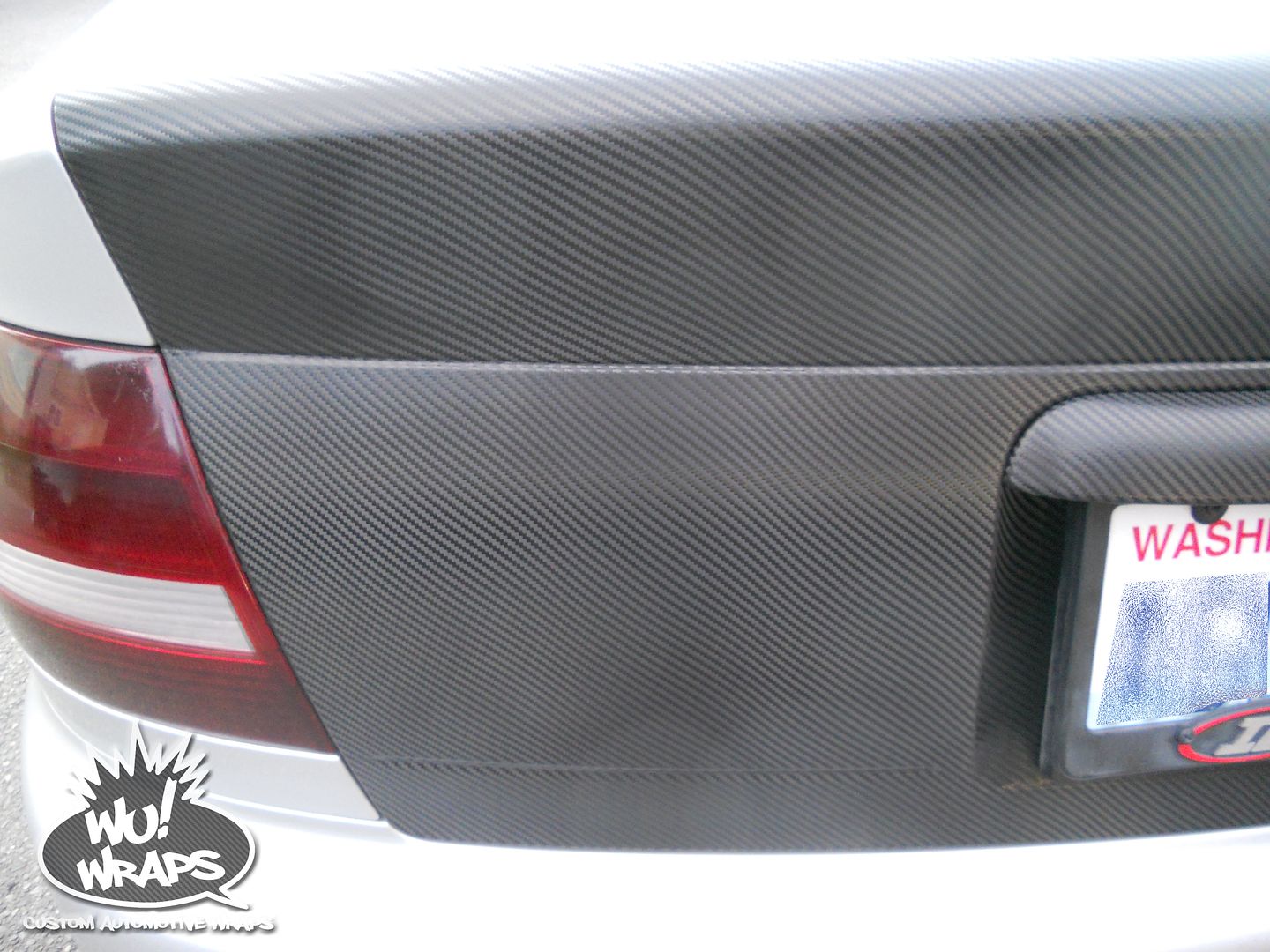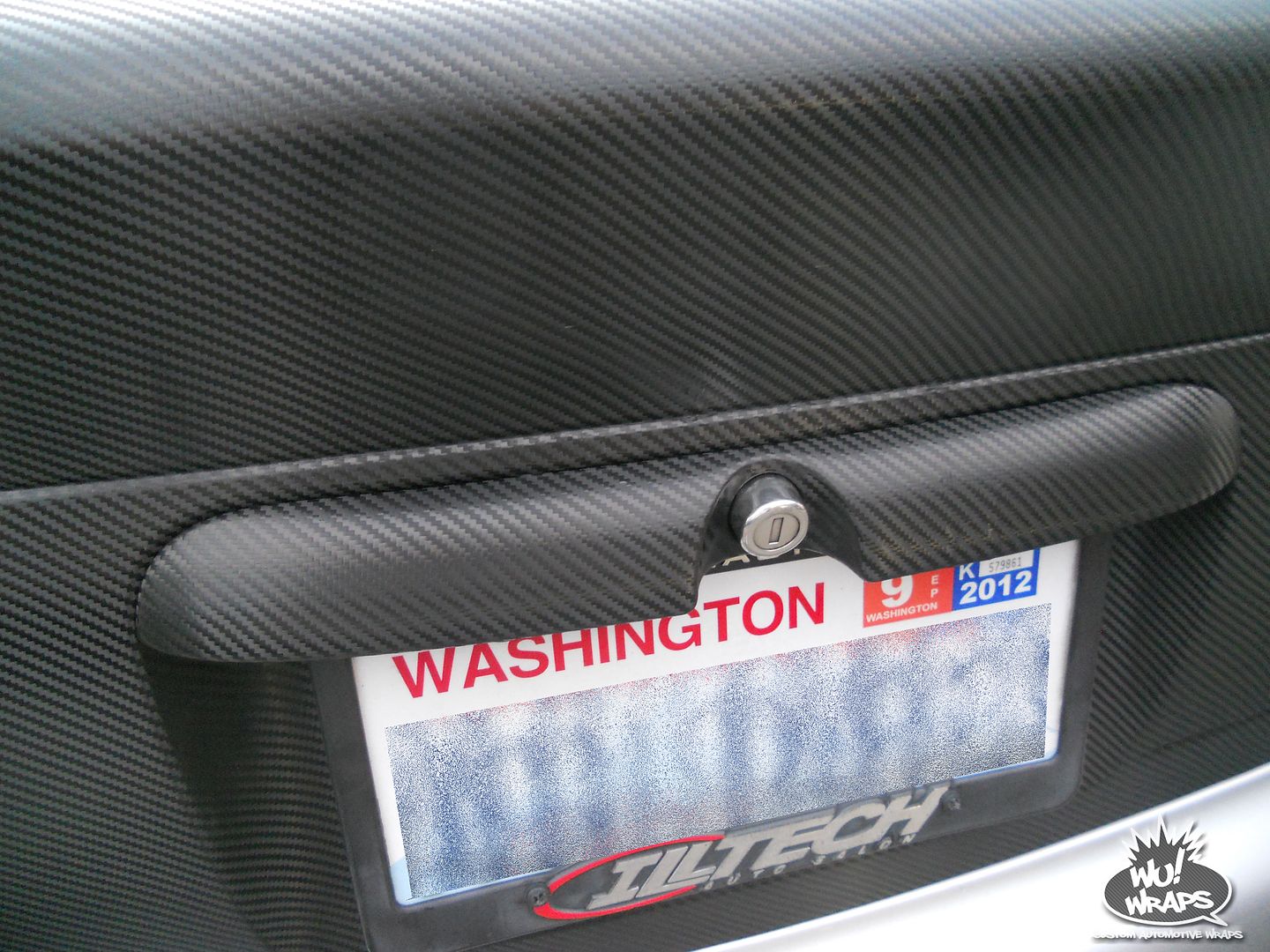 ---
RE: Wu! Wraps work done by me! check it out! - Wu! Wraps - 05.10.2012 02.49 PM

bmw e92 335xi interior trim. so owner bought this trim locally off someone but it was not complete. also the edges were BAD!... no relief cuts, just big chunks of vinyl wrapped over the edges, this caused the vinyl to lift on all edges of the wrapped trim. also no 3m primer 94 was used on the edges to secure the vinyl down. the good thing is that whoever did this did use 3m di-noc & not the cheap stuff. so i was able to heat it up, get it soft/relaxed, trimmed back as much excess as possible, made my relief cuts, & added some primer 94 and most of the edges came out good! ended up wrapping the center console and rear vent bezels in 3m 1080 cf. i might be redoing the rest of the parts in the 3m 1080 cf material in the future! owner is very happy with what i could do with the bad parts & the newly wrapped parts! Wu! Wraps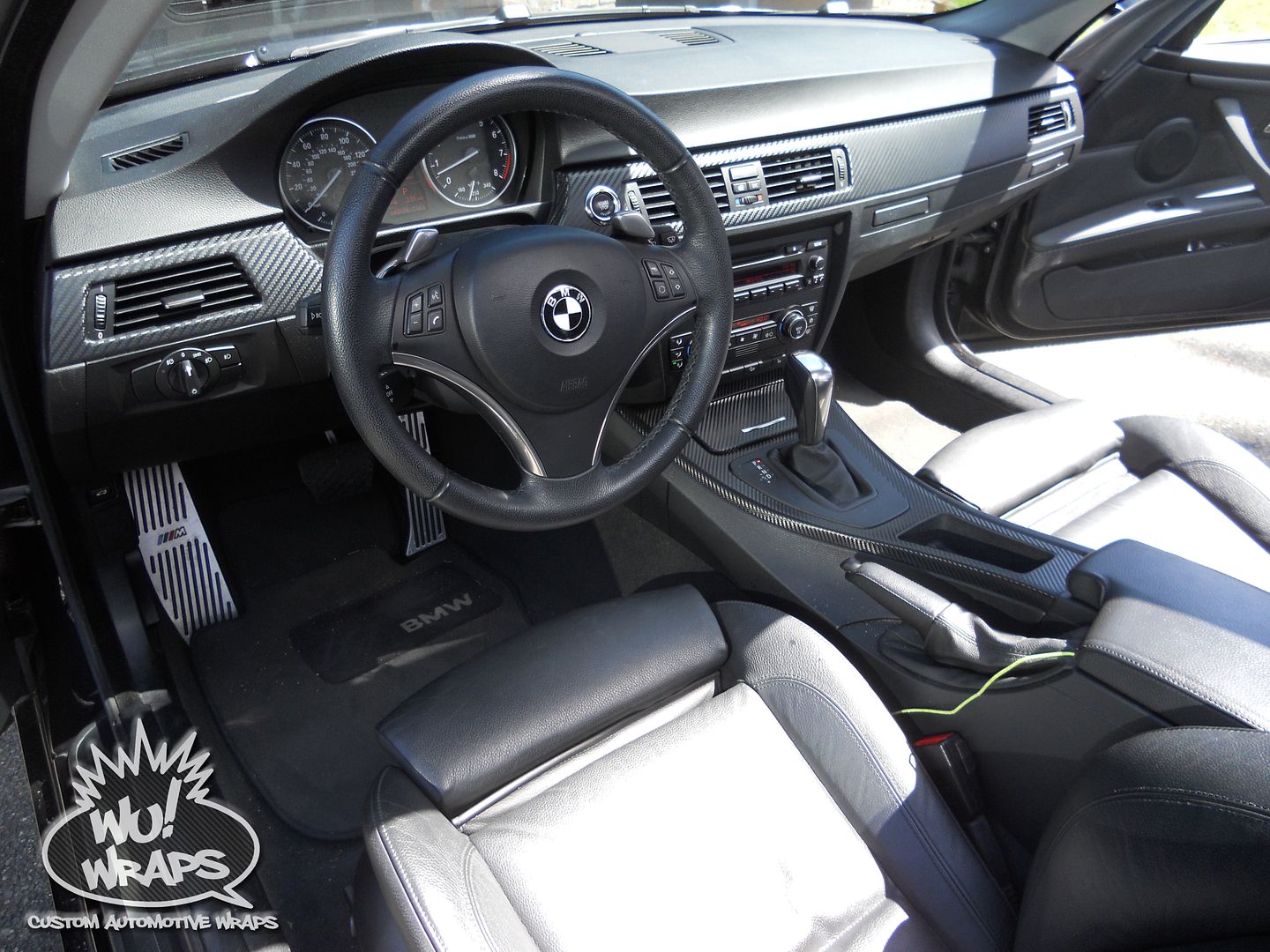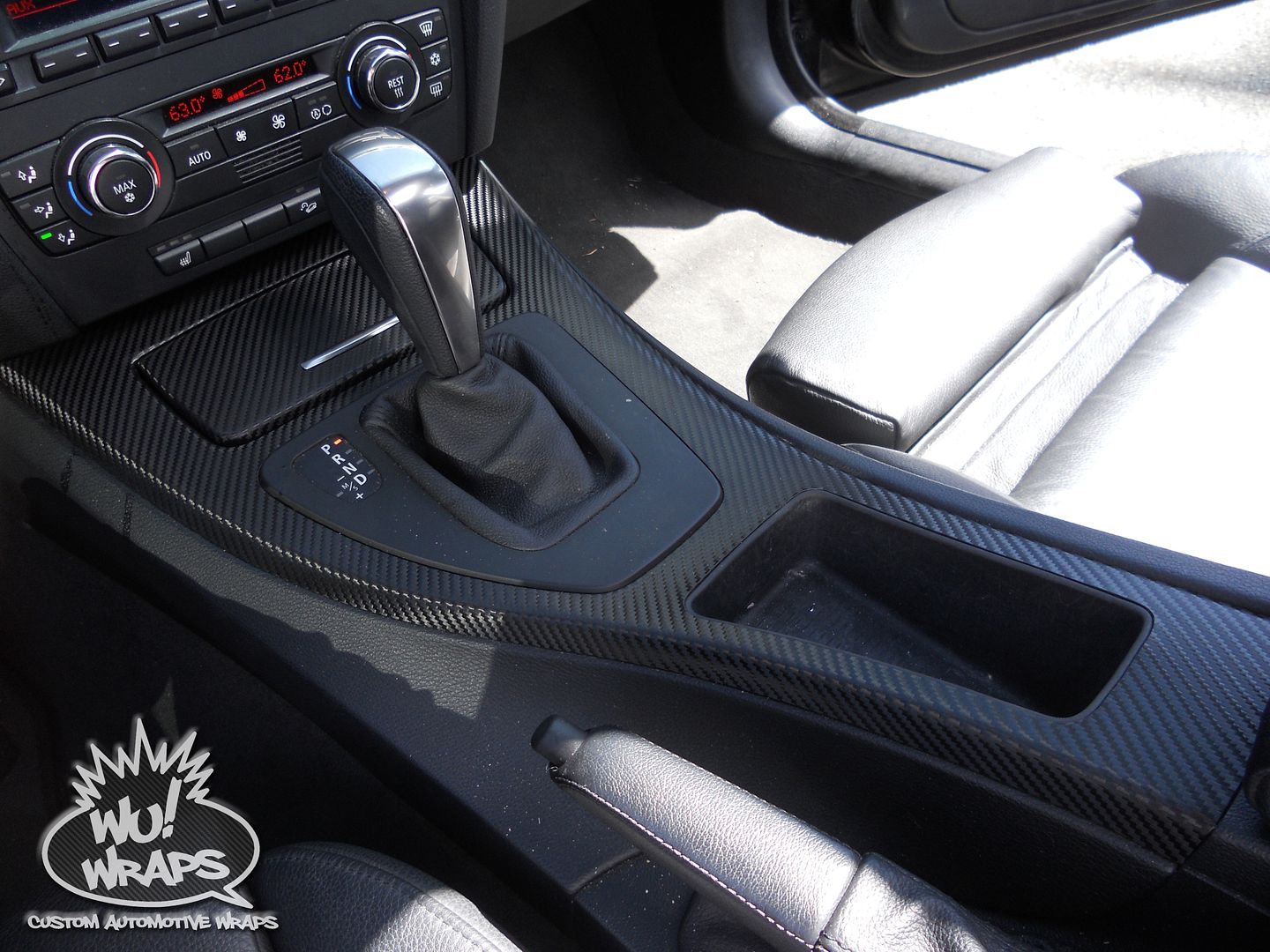 BAD CORNERS: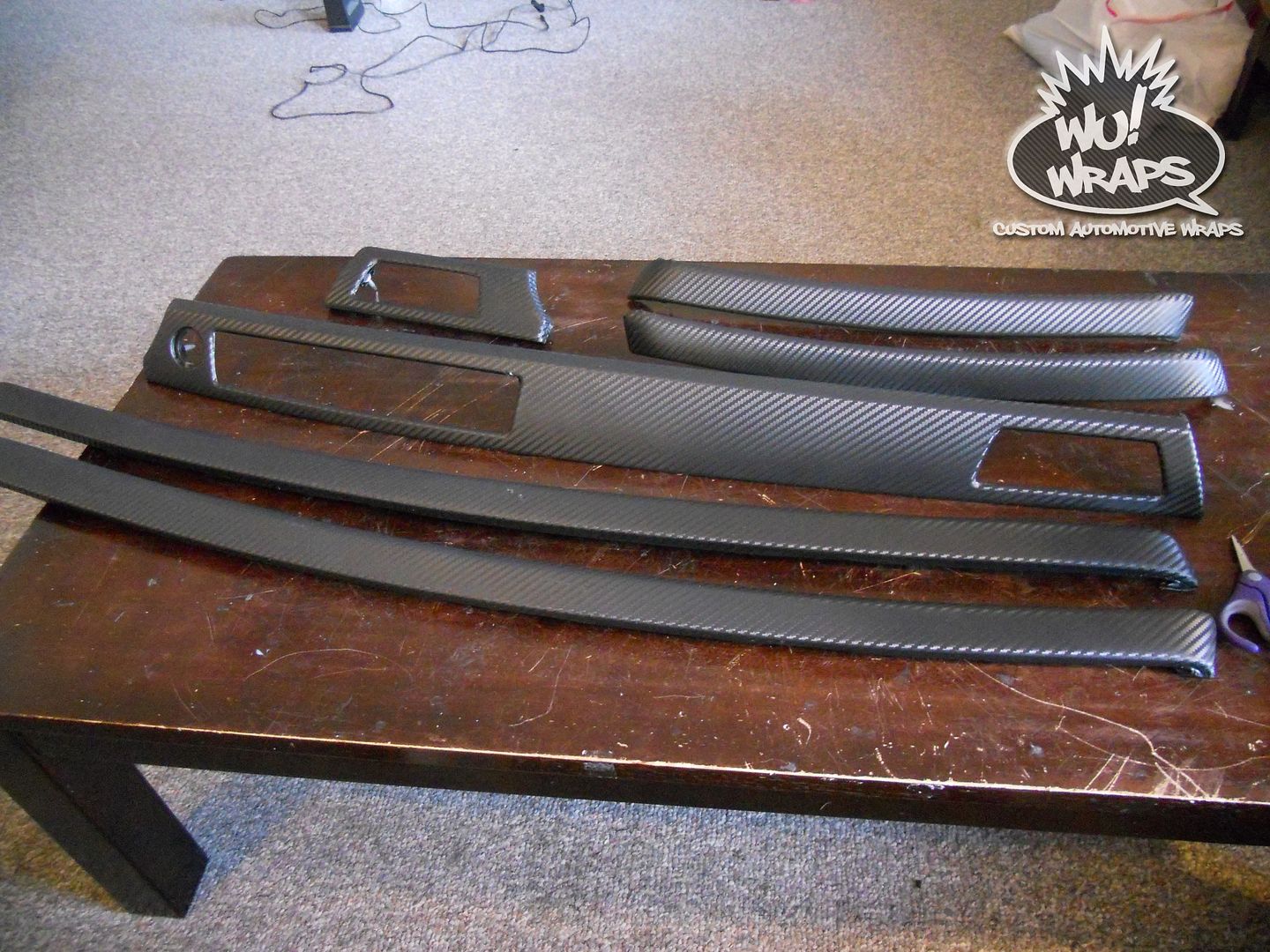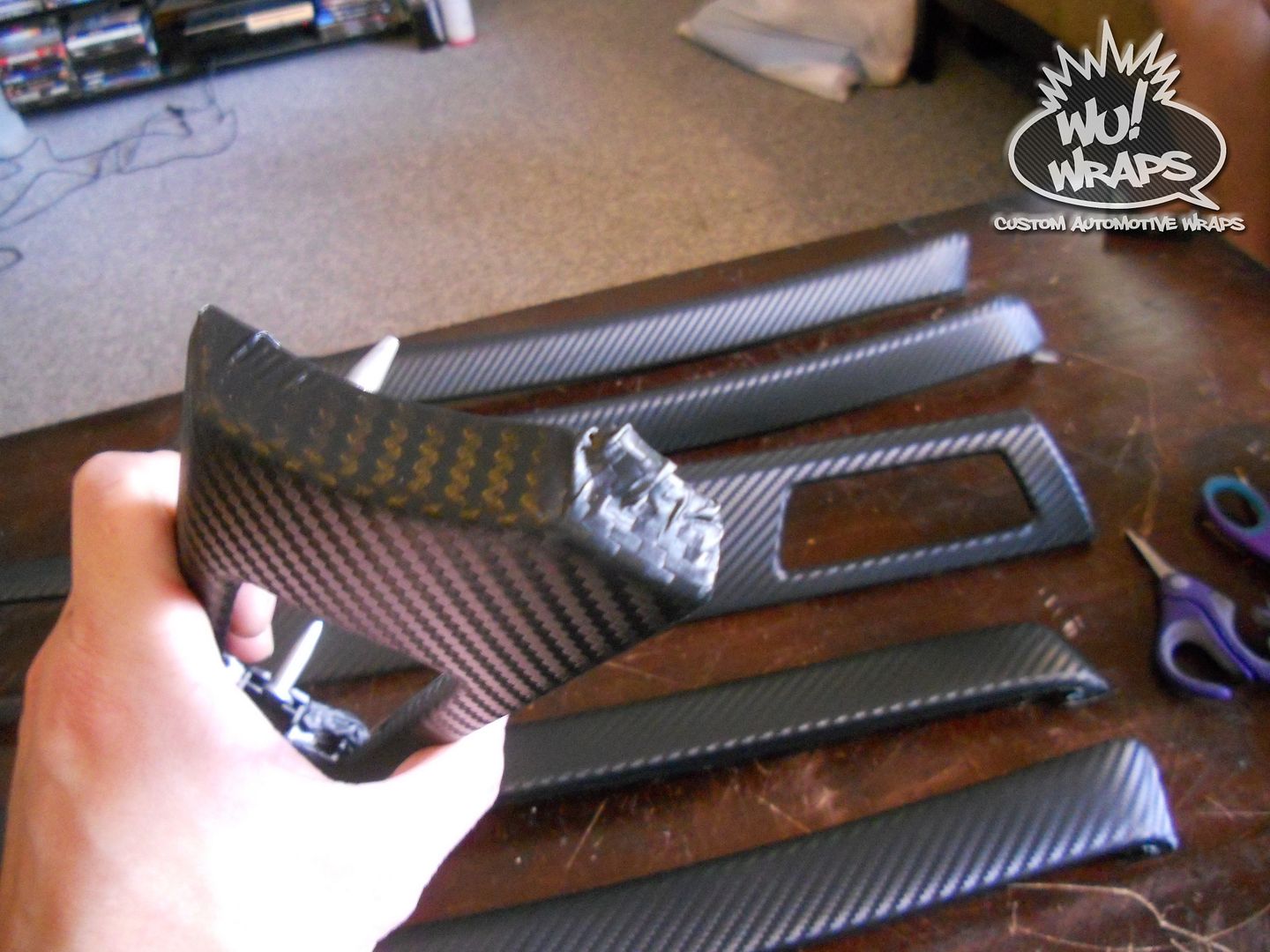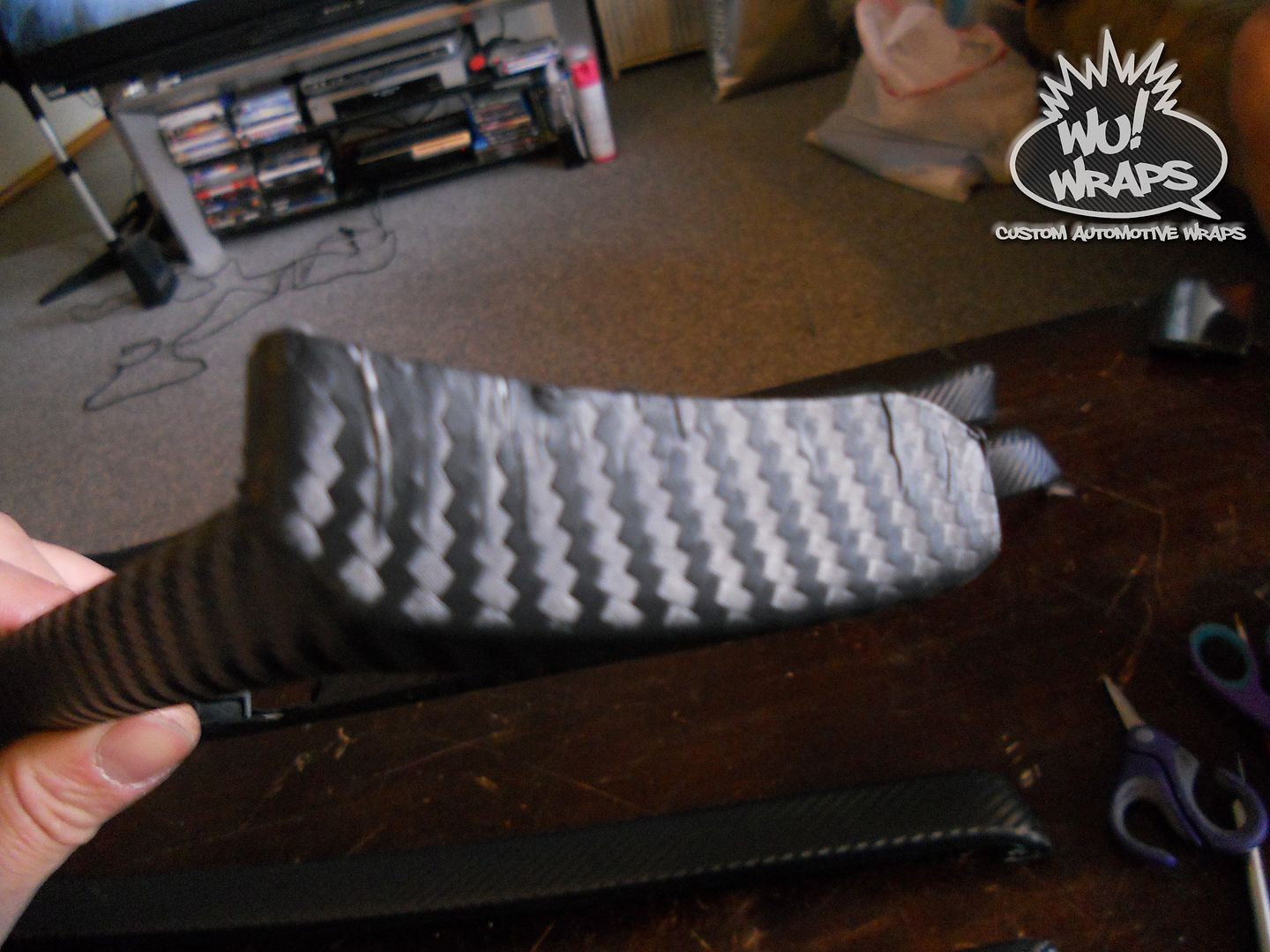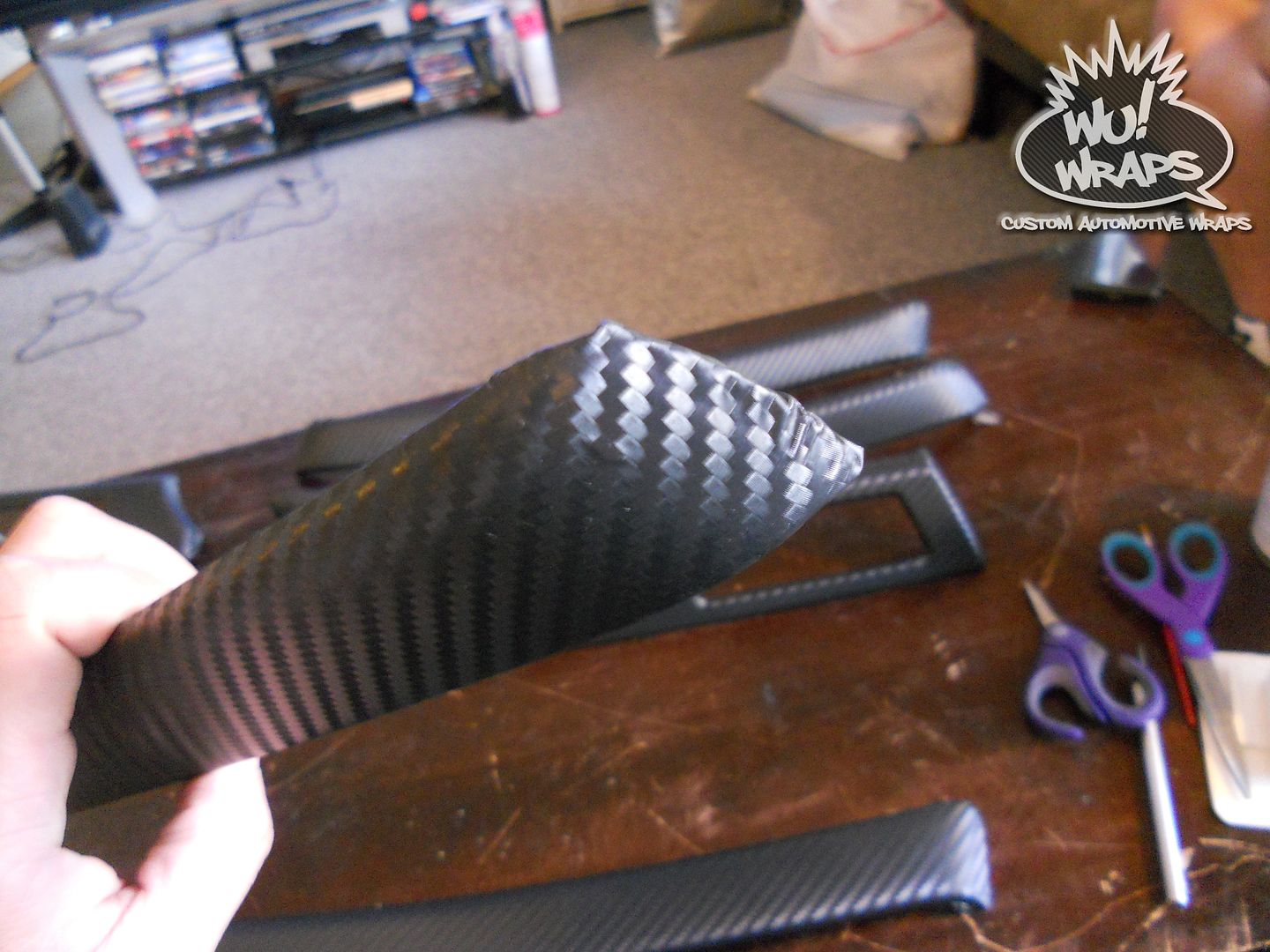 NEW WRAPPED PARTS BY ME:

]

---
RE: Wu! Wraps work done by me! check it out! - Wu! Wraps - 05.10.2012 02.49 PM

vw r32 mk4 gloss black hood using 3m 1080. came out great! the hood was reallllyyyy chipped up and chunks of paint were just coming off... took it down to my local bodyshop "Skyway Auto body" and got it sanded down with 280grit & finished off with a 320 grit. also smoked out the sidemarkers & front bumper reflectors with oracal 8300 dark gray smoke film. owner is very happy with the new look. will be smoking the taillights soon. Wu! Wraps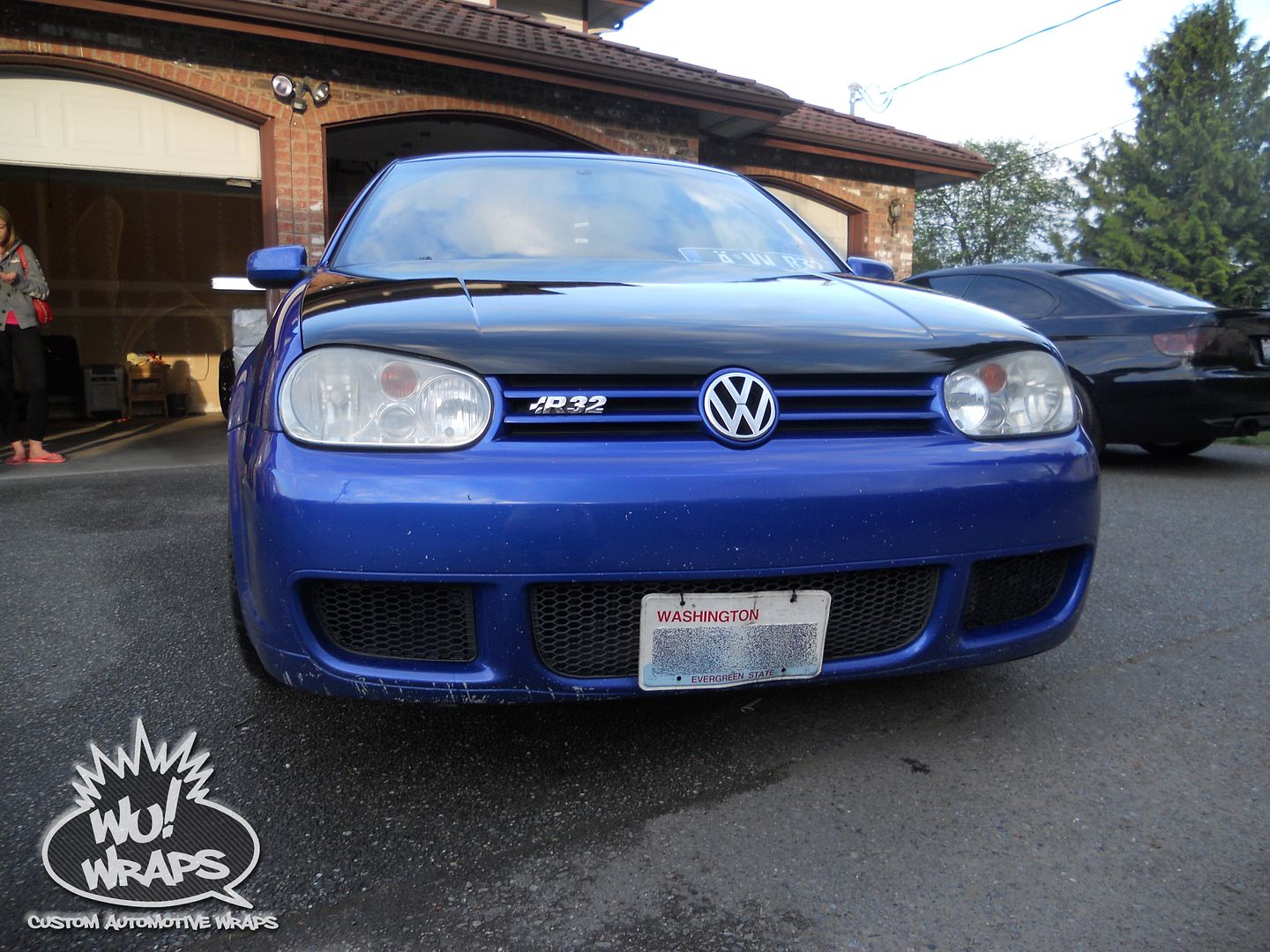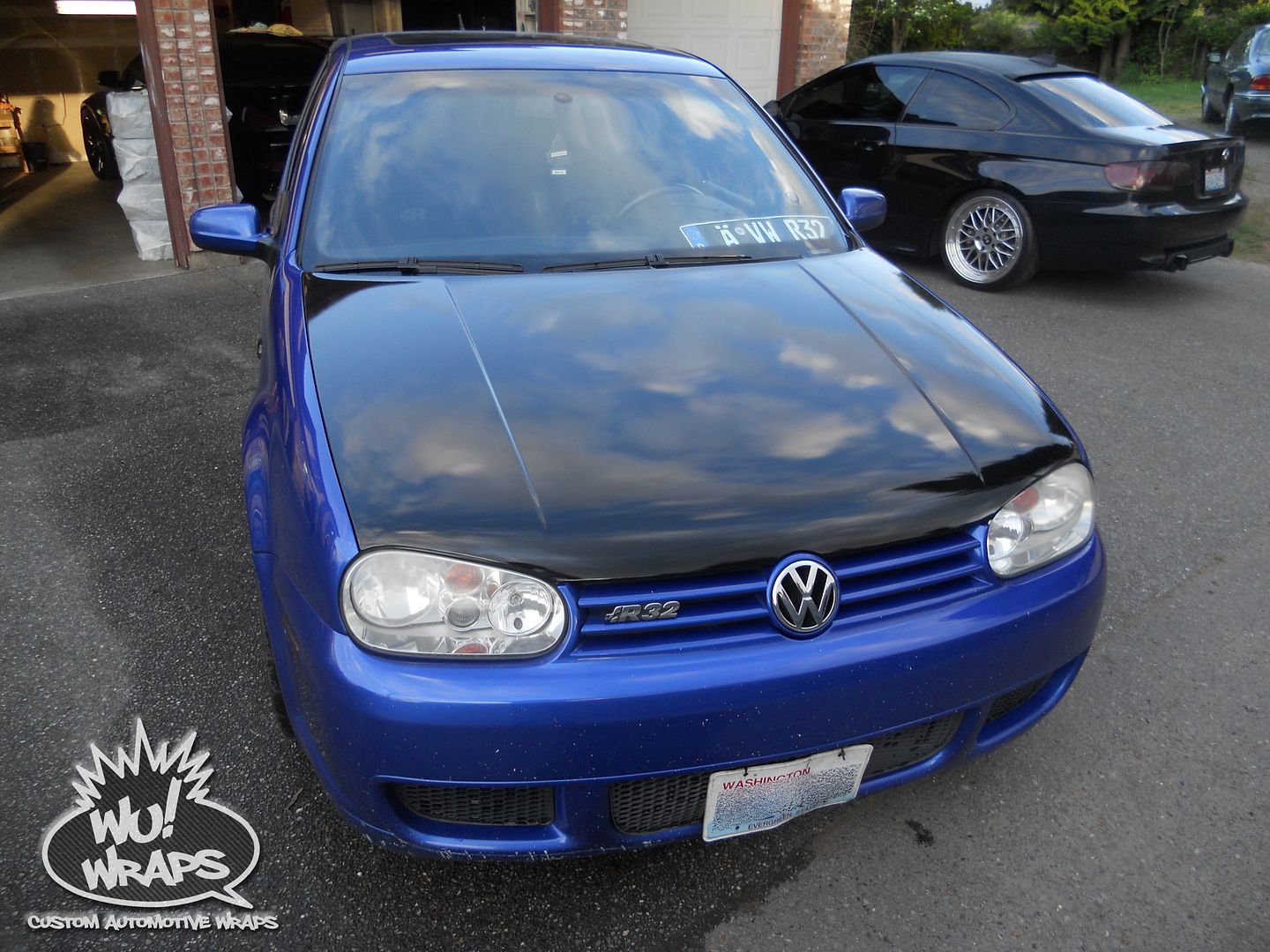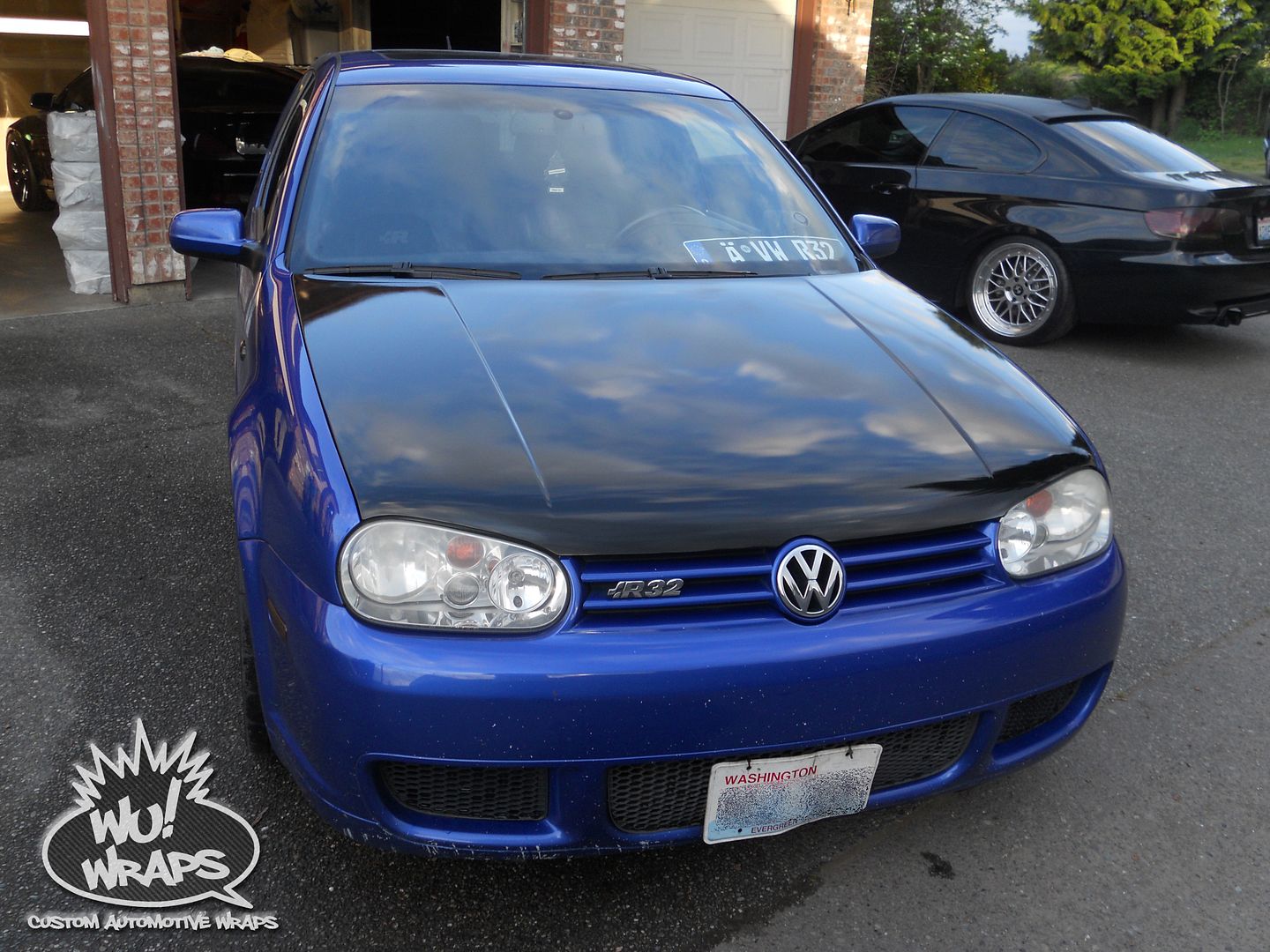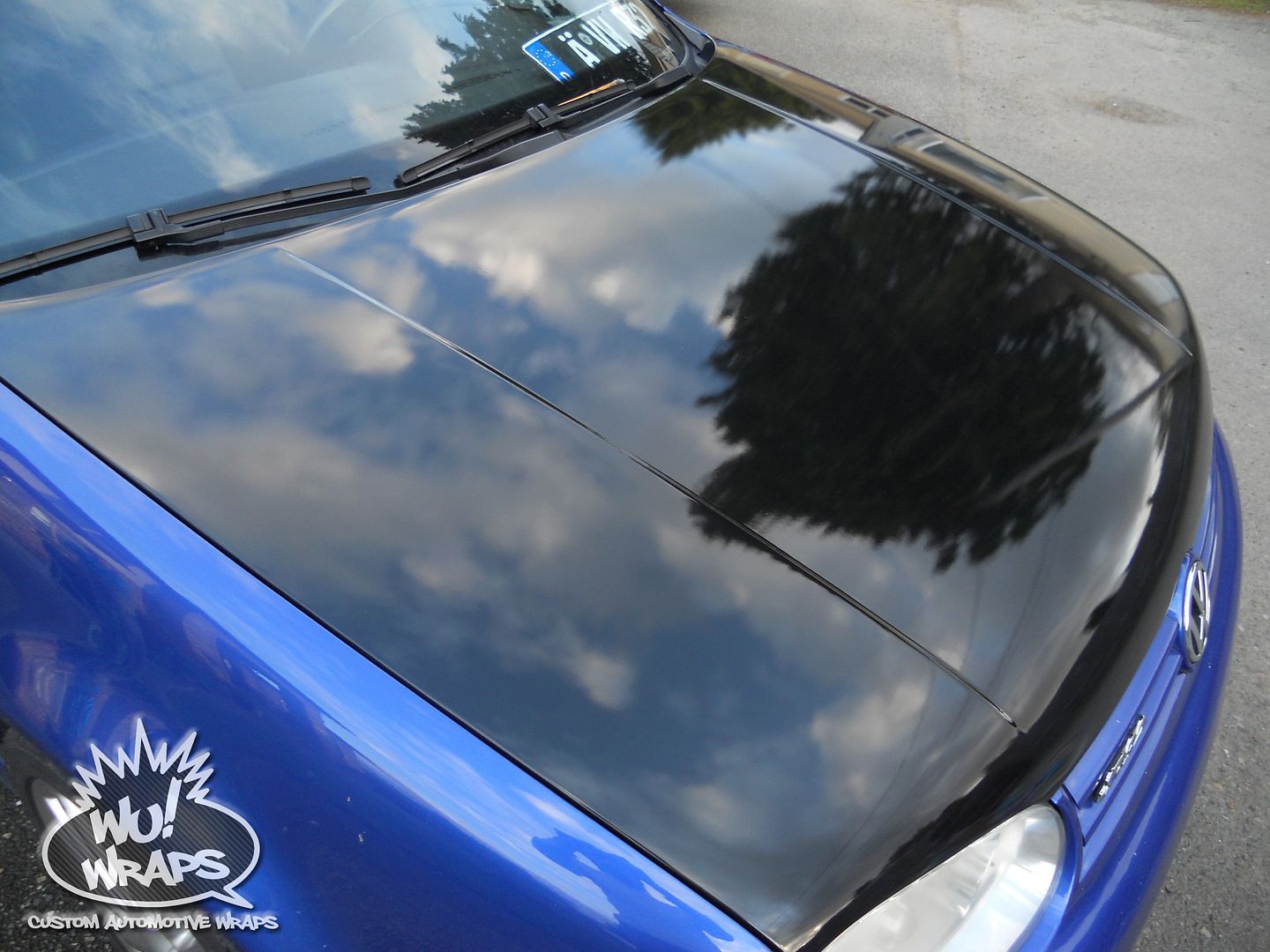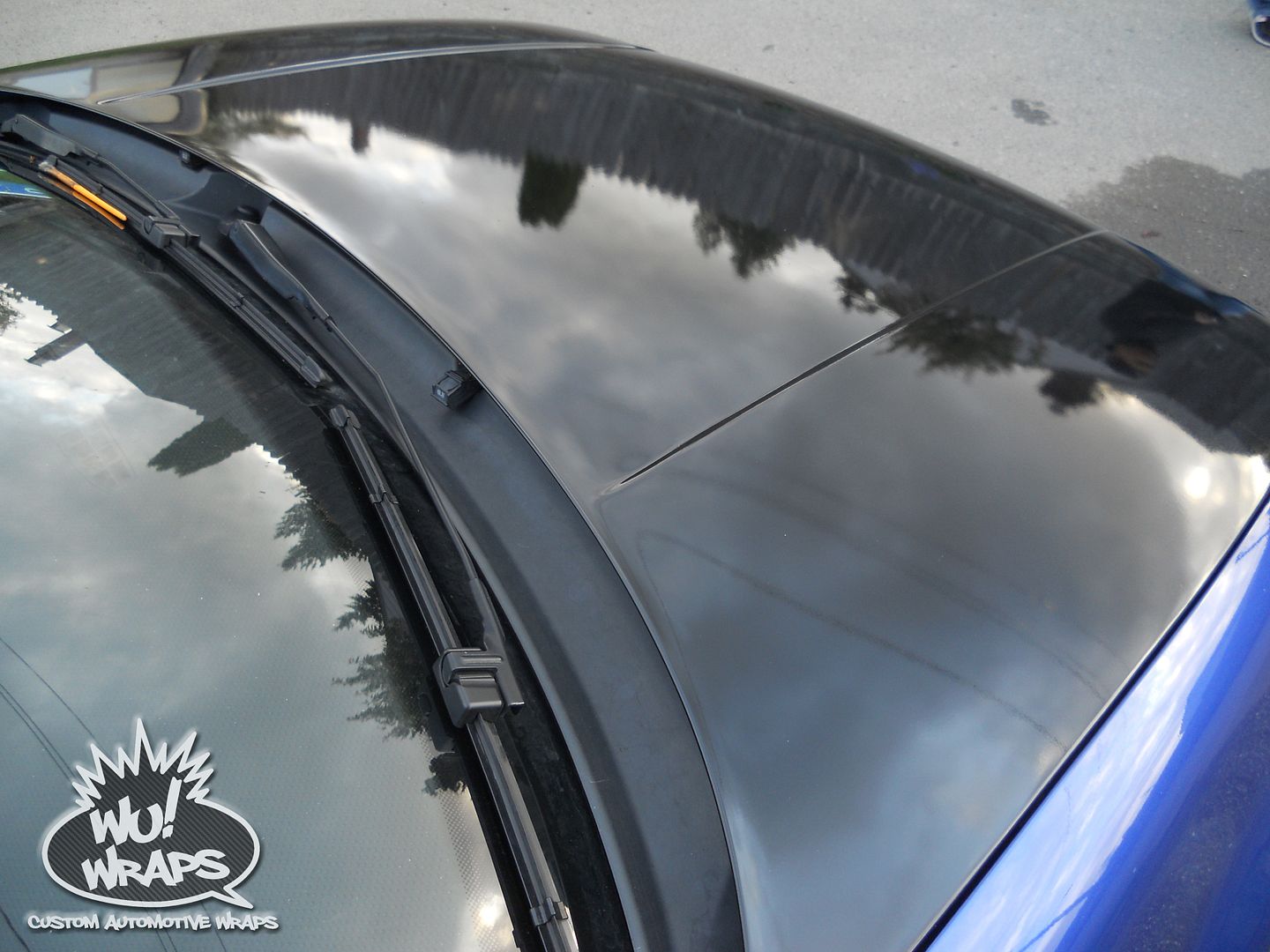 ---
RE: Wu! Wraps work done by me! check it out! - Wu! Wraps - 05.13.2012 07.37 PM

EAS Children's Hospital Charity Show @ Griot's Garage Wu! Wraps

so here's some coverage of us from the EAS show. both my cars & my partner Jackie's e46 330i sport package. was a great event and we had a lot of fun! Thanks again everyone for coming by to say wasssup & check us out! Wu! Wraps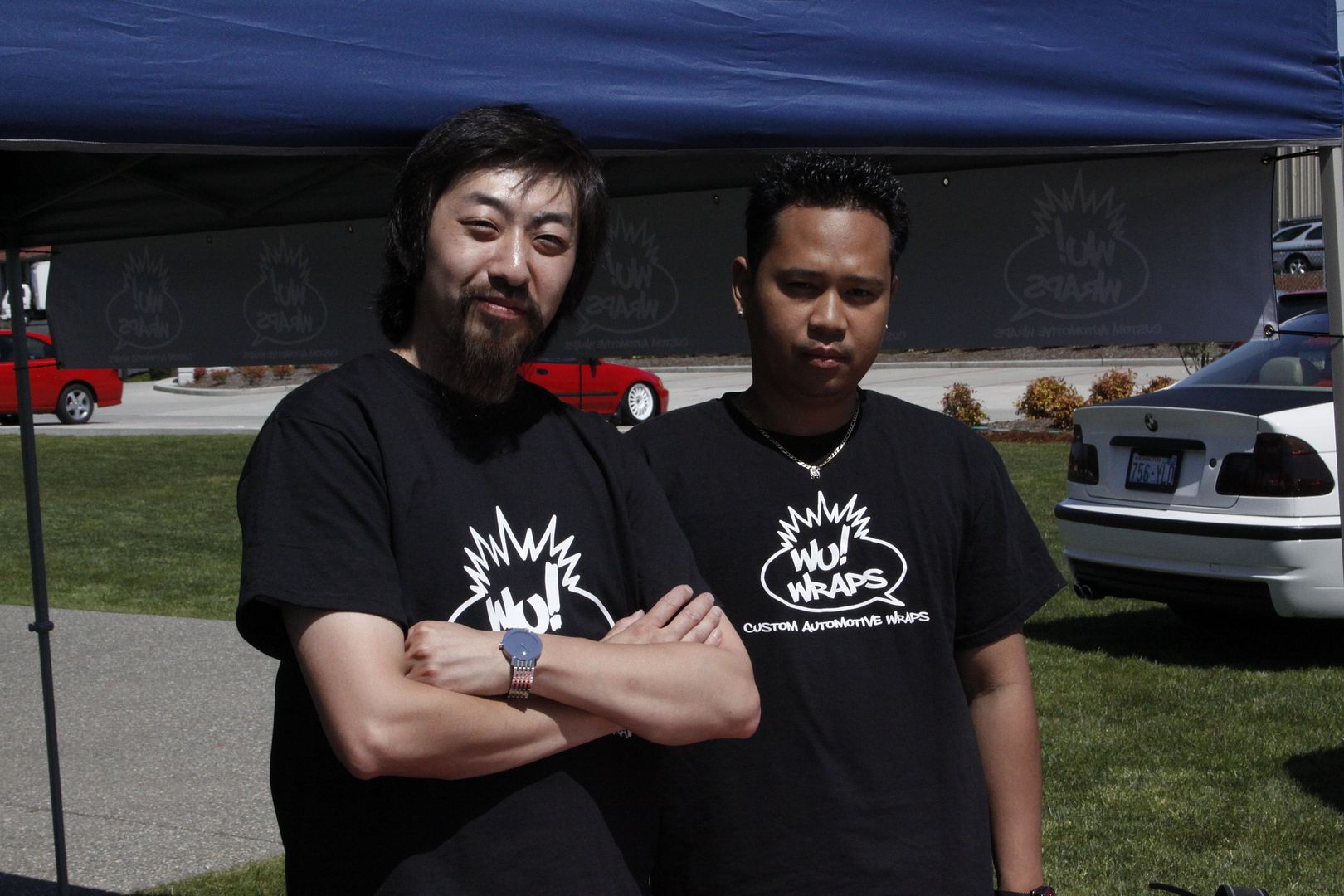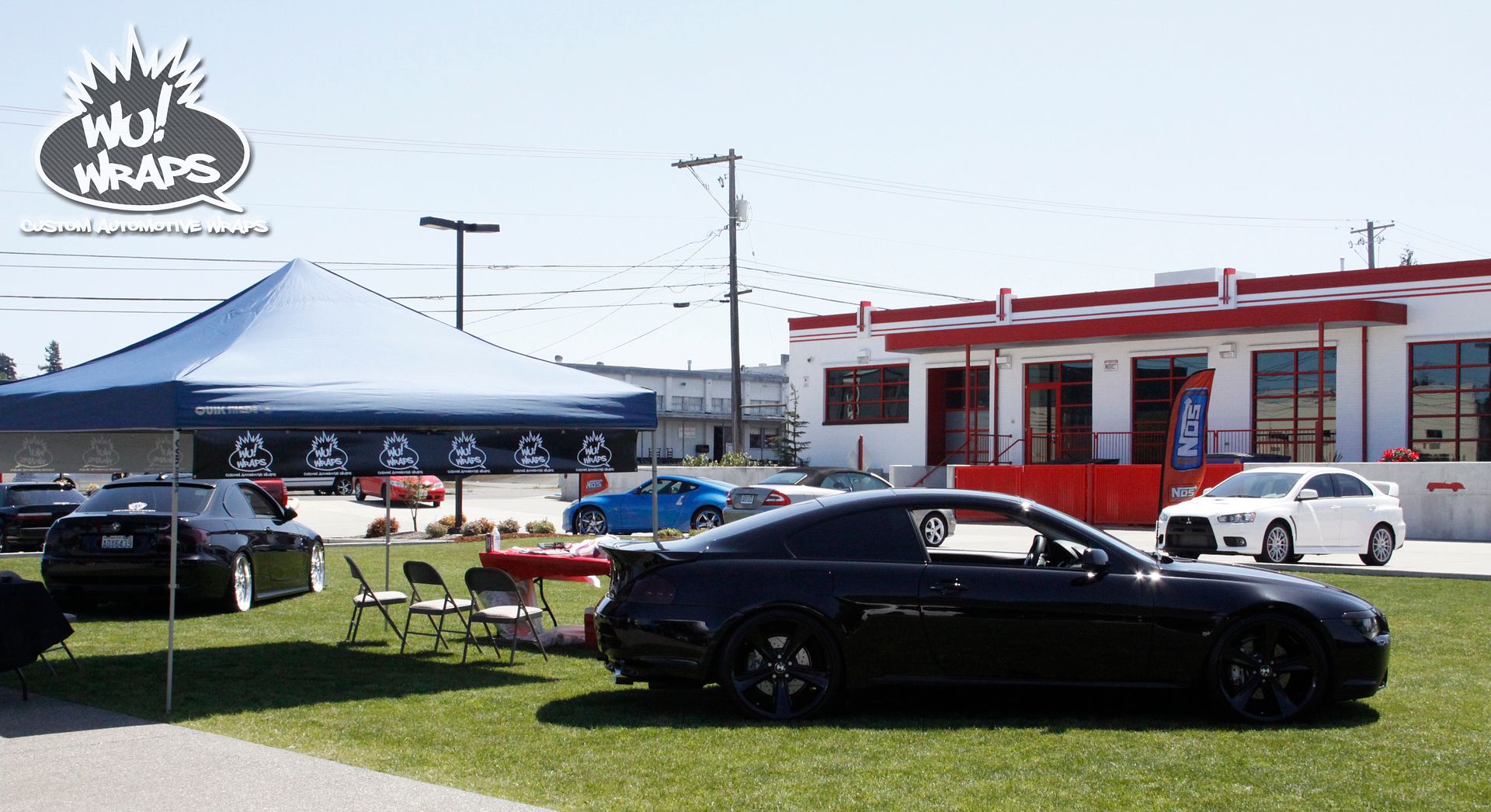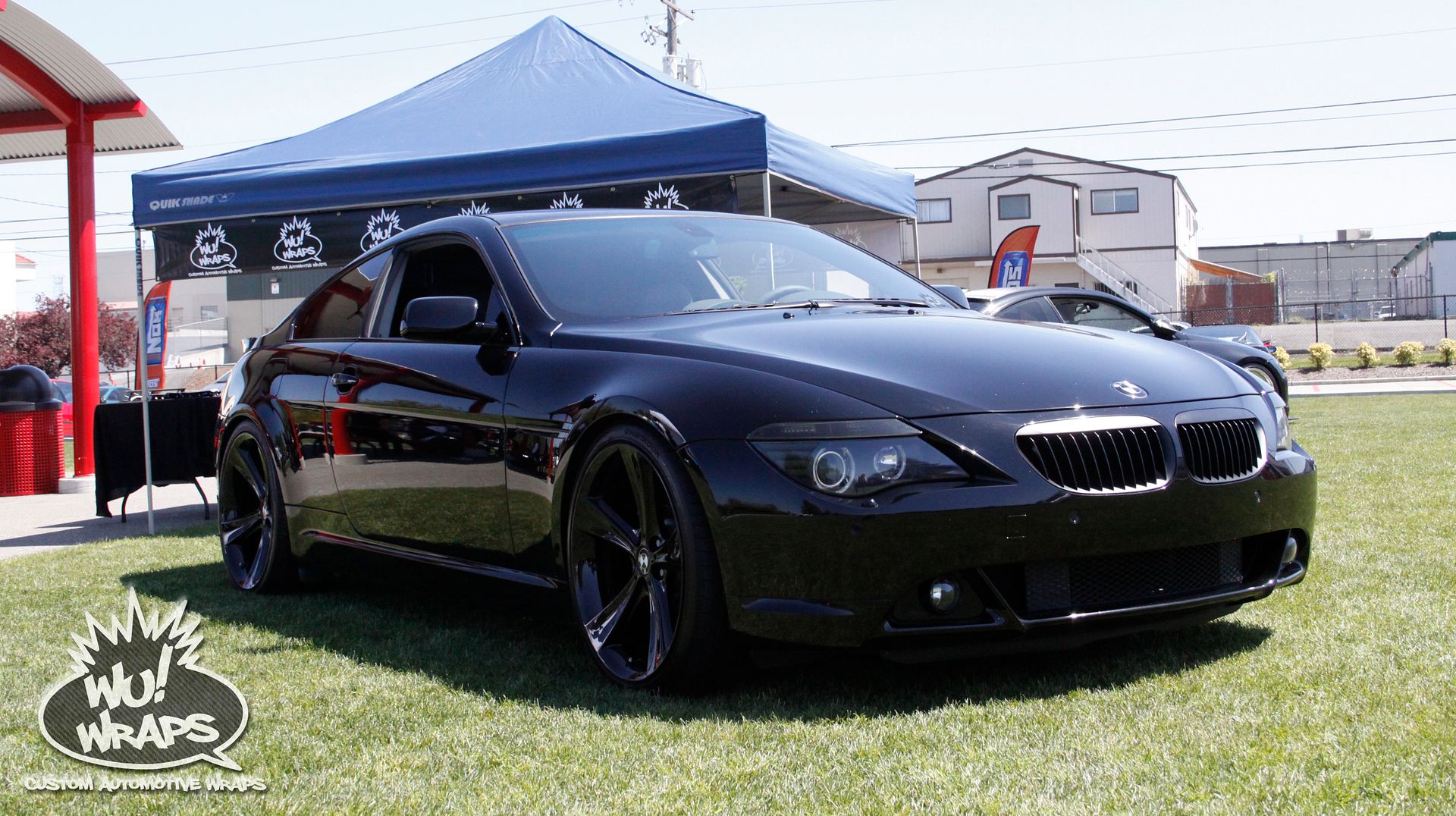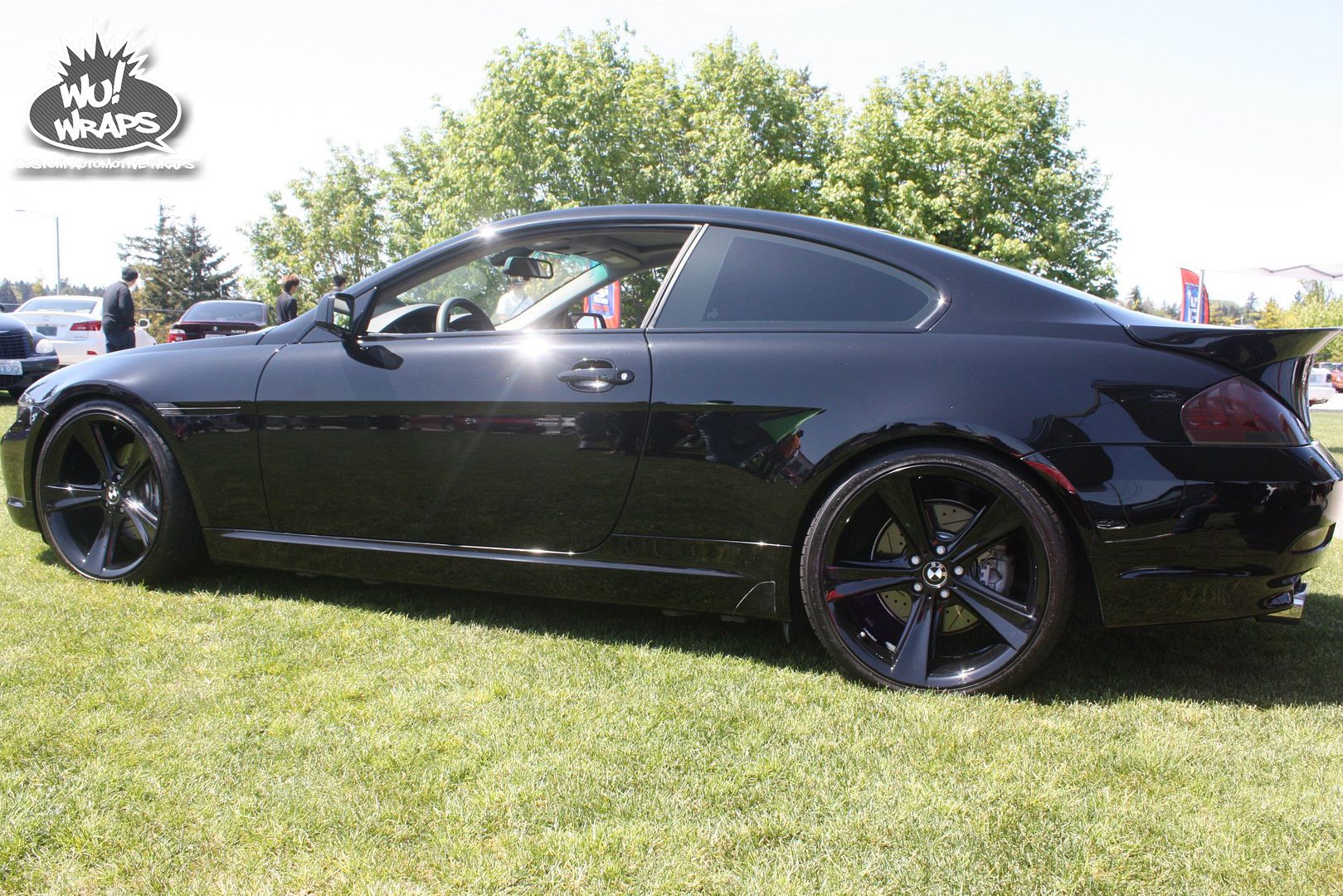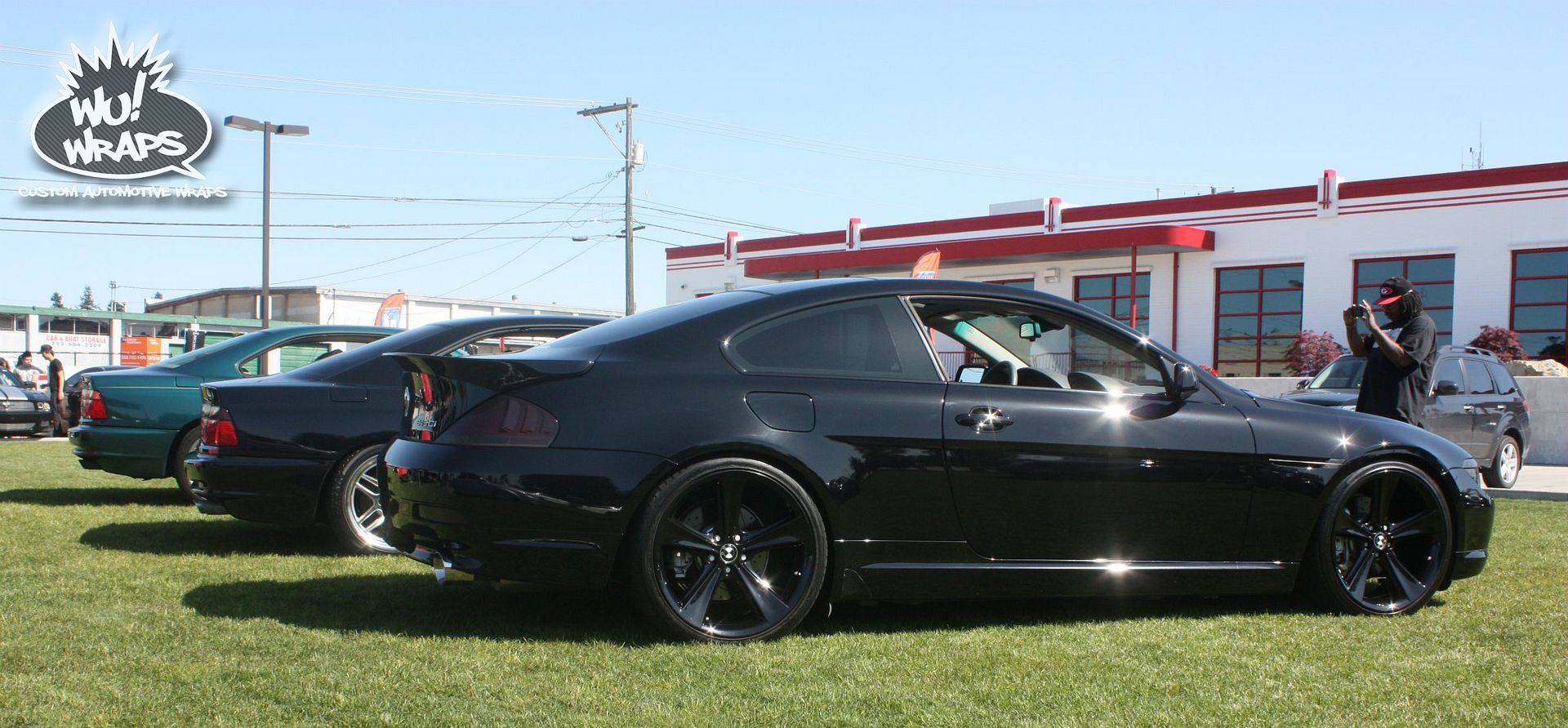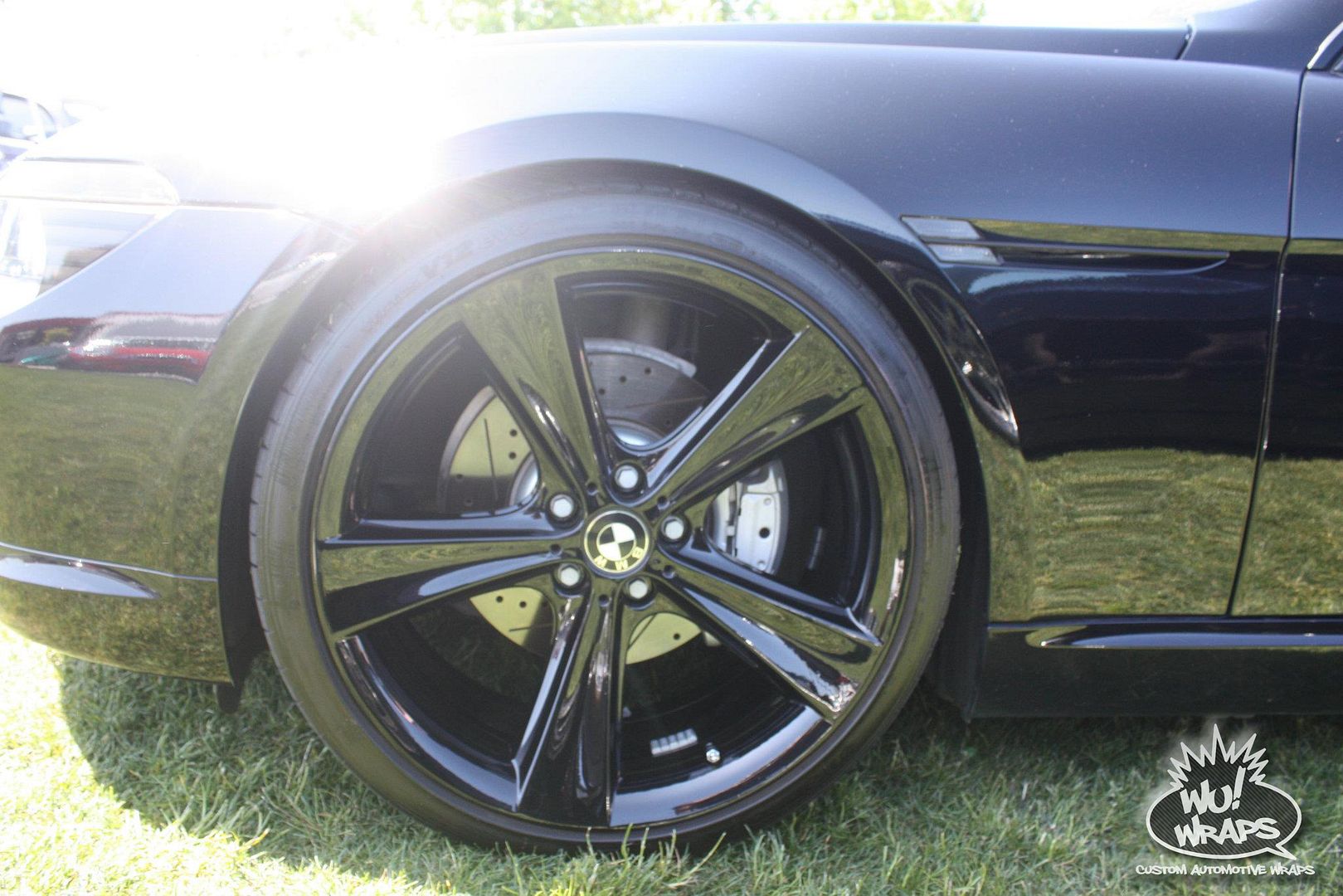 3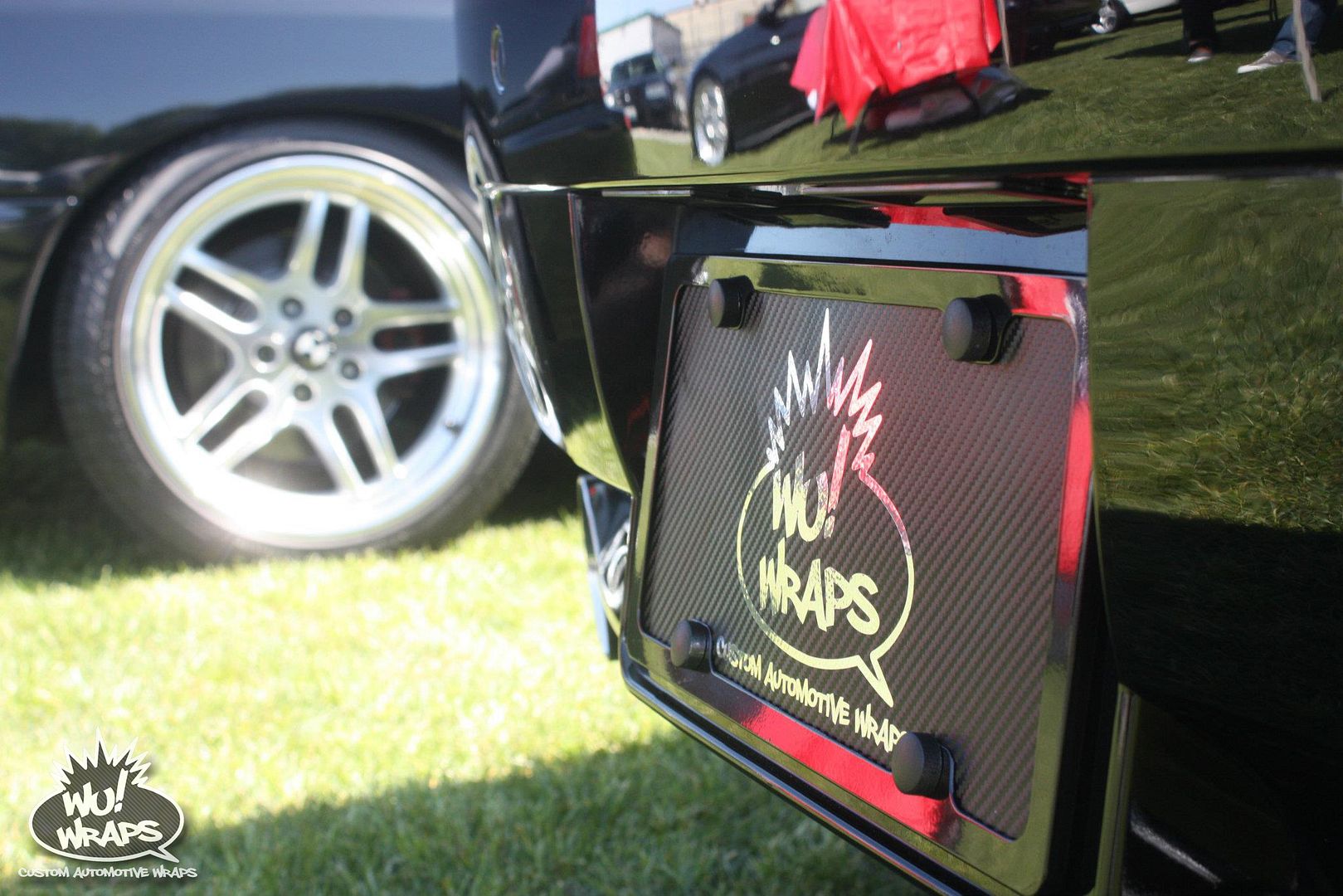 ---
RE: Wu! Wraps work done by me! check it out! - Wu! Wraps - 05.13.2012 07.38 PM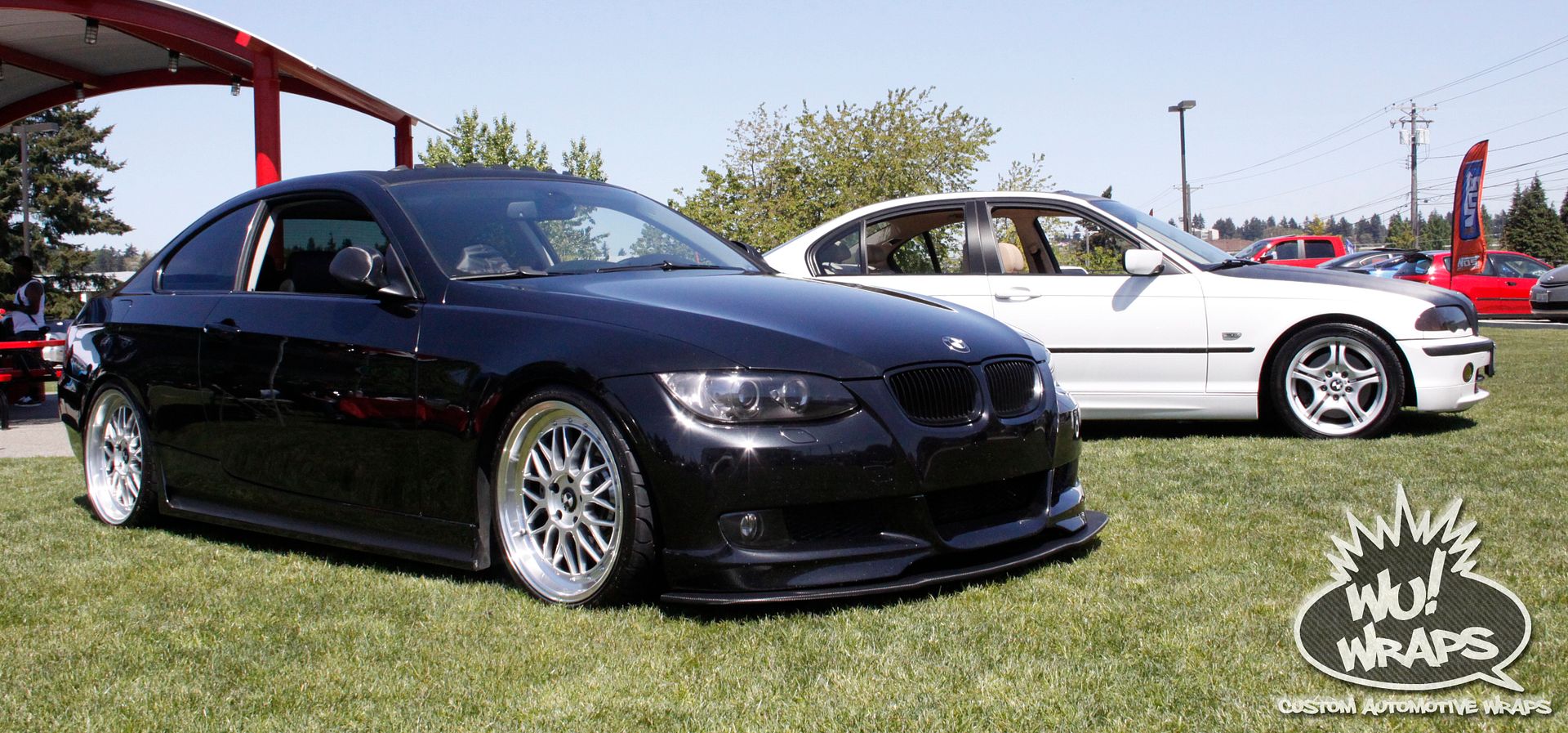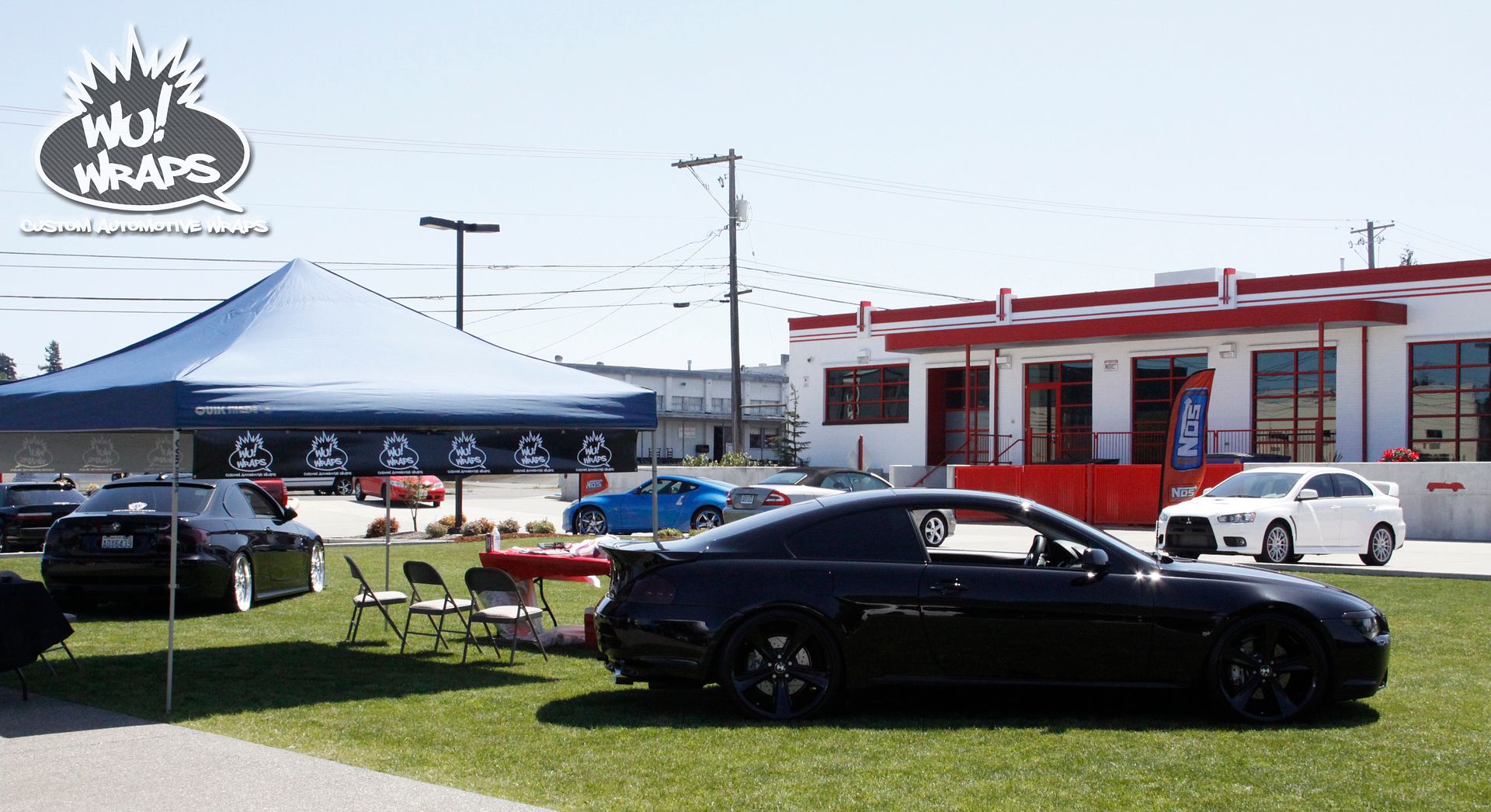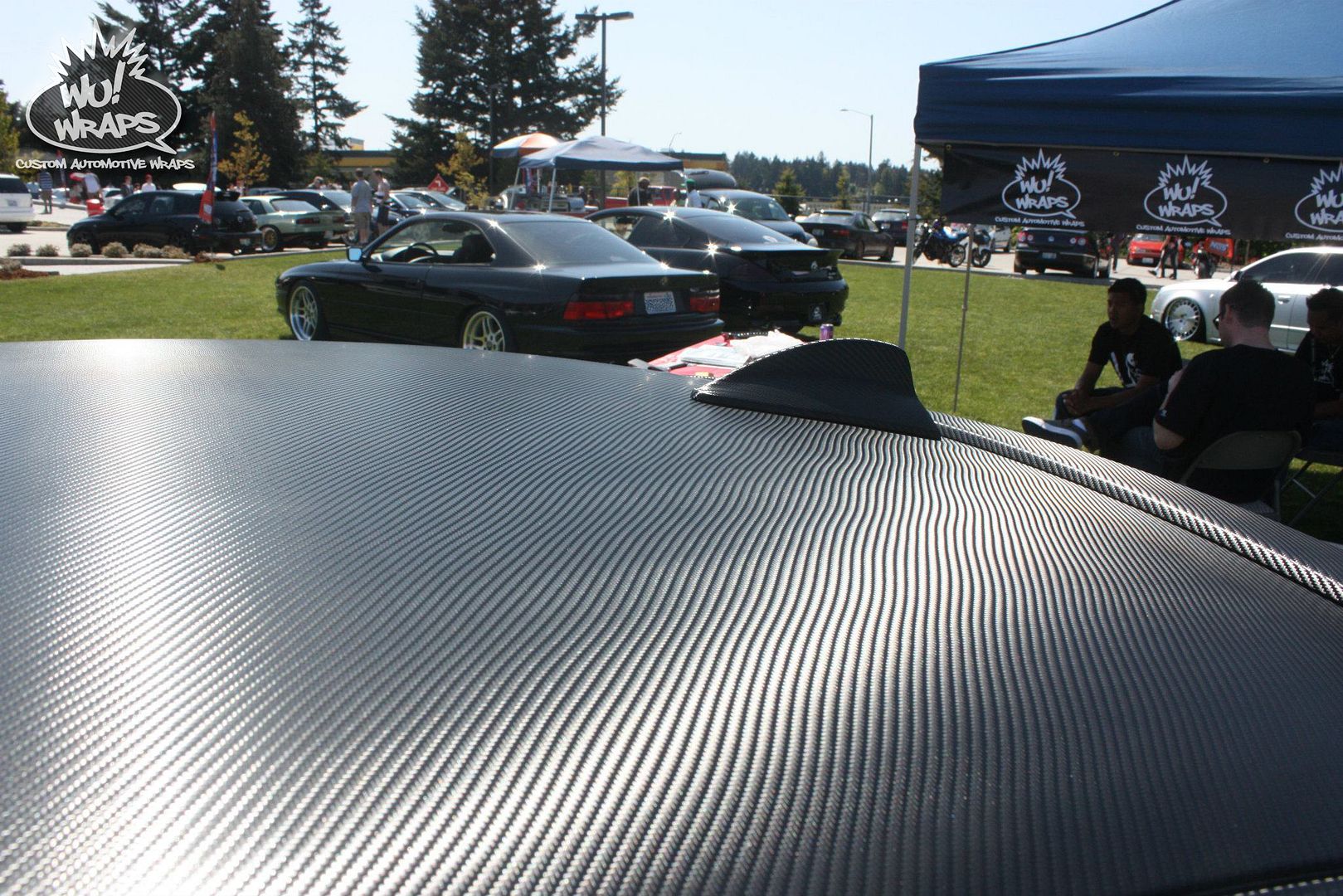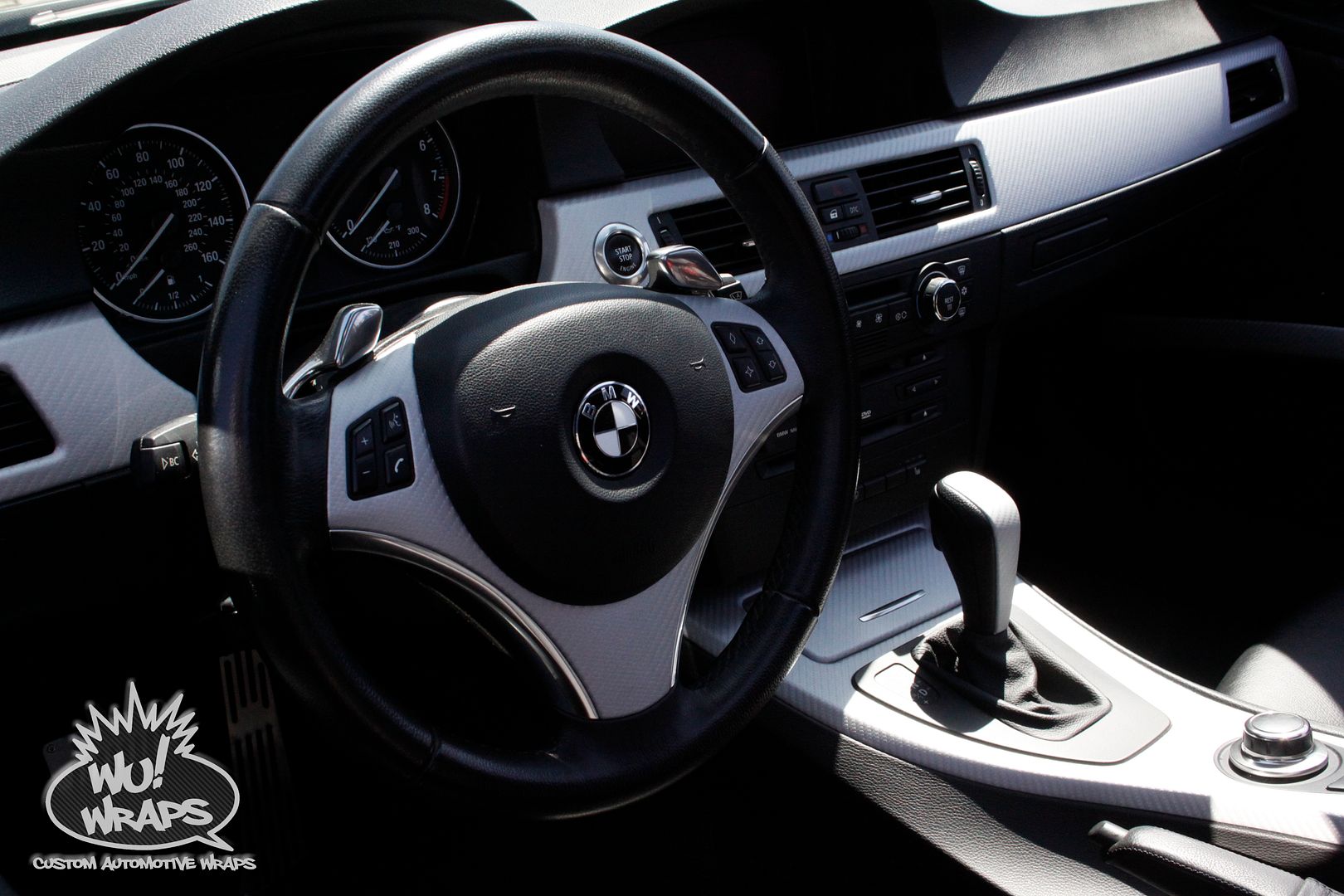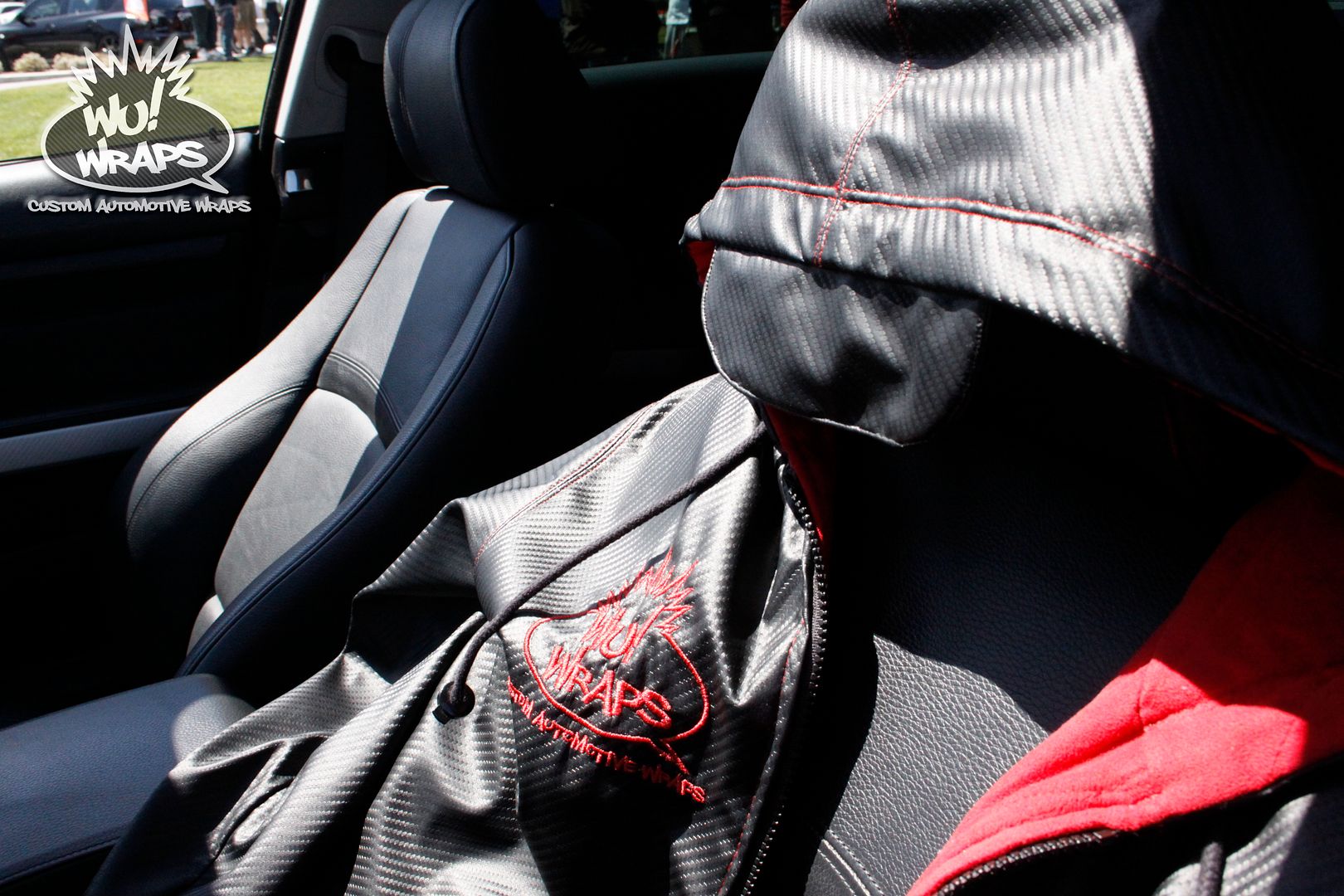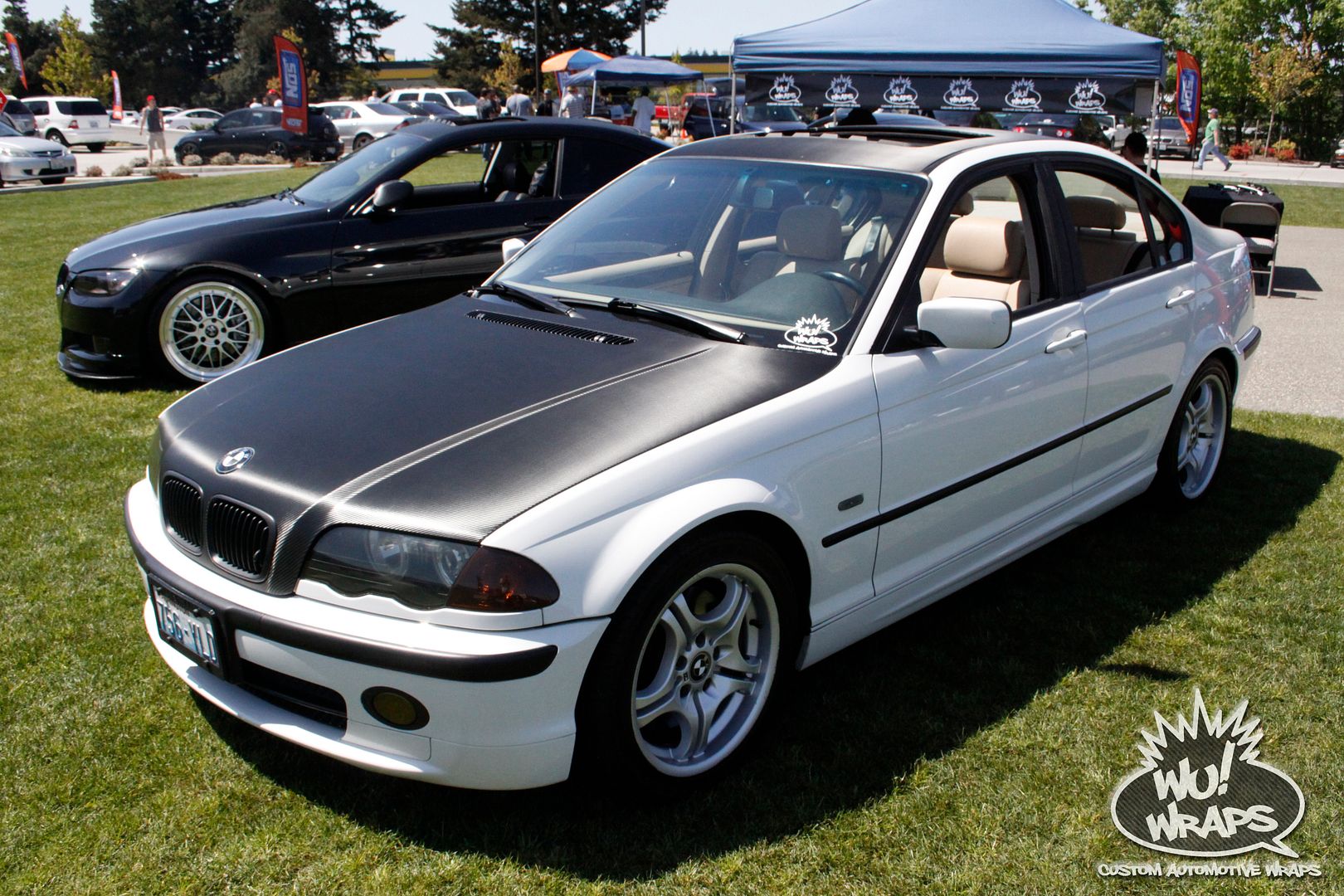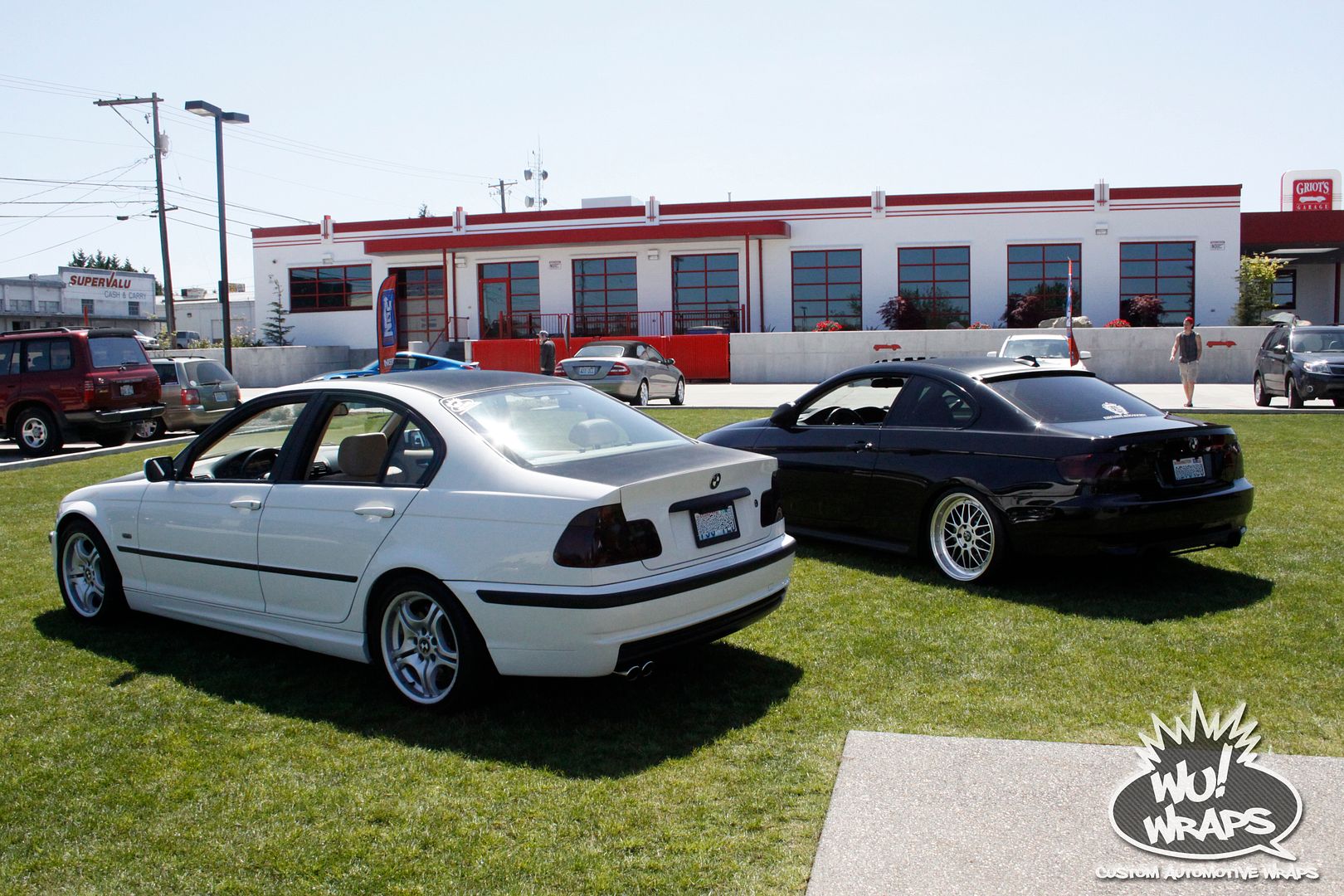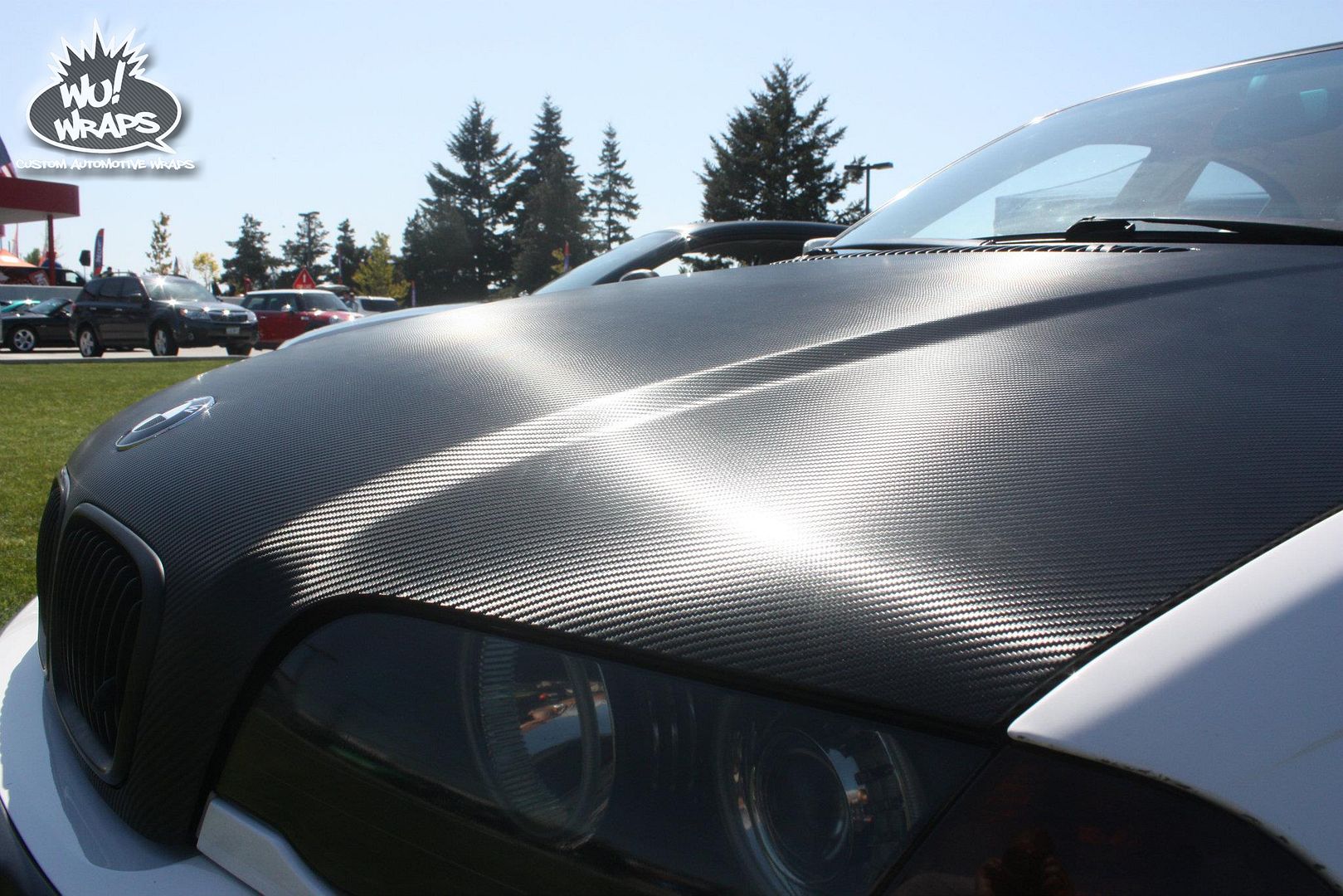 ---
RE: Wu! Wraps work done by me! check it out! - Wu! Wraps - 05.14.2012 08.06 PM

just finished this up for my buddy. long story short the lip was cracked/fixed/wrapped, then recently cracked again/fixed/ and now re-wrapped in 3m 1080 cf. hopefully this time it doesn't get destroyed again! buddy at the body shop had to build it up a lil bit where it bends around so what looks a bit like a bubble is actually some thick areas of bondo or whatever he uses. came out great again, will prob get this back on the s2k on fri evening! Wu! Wraps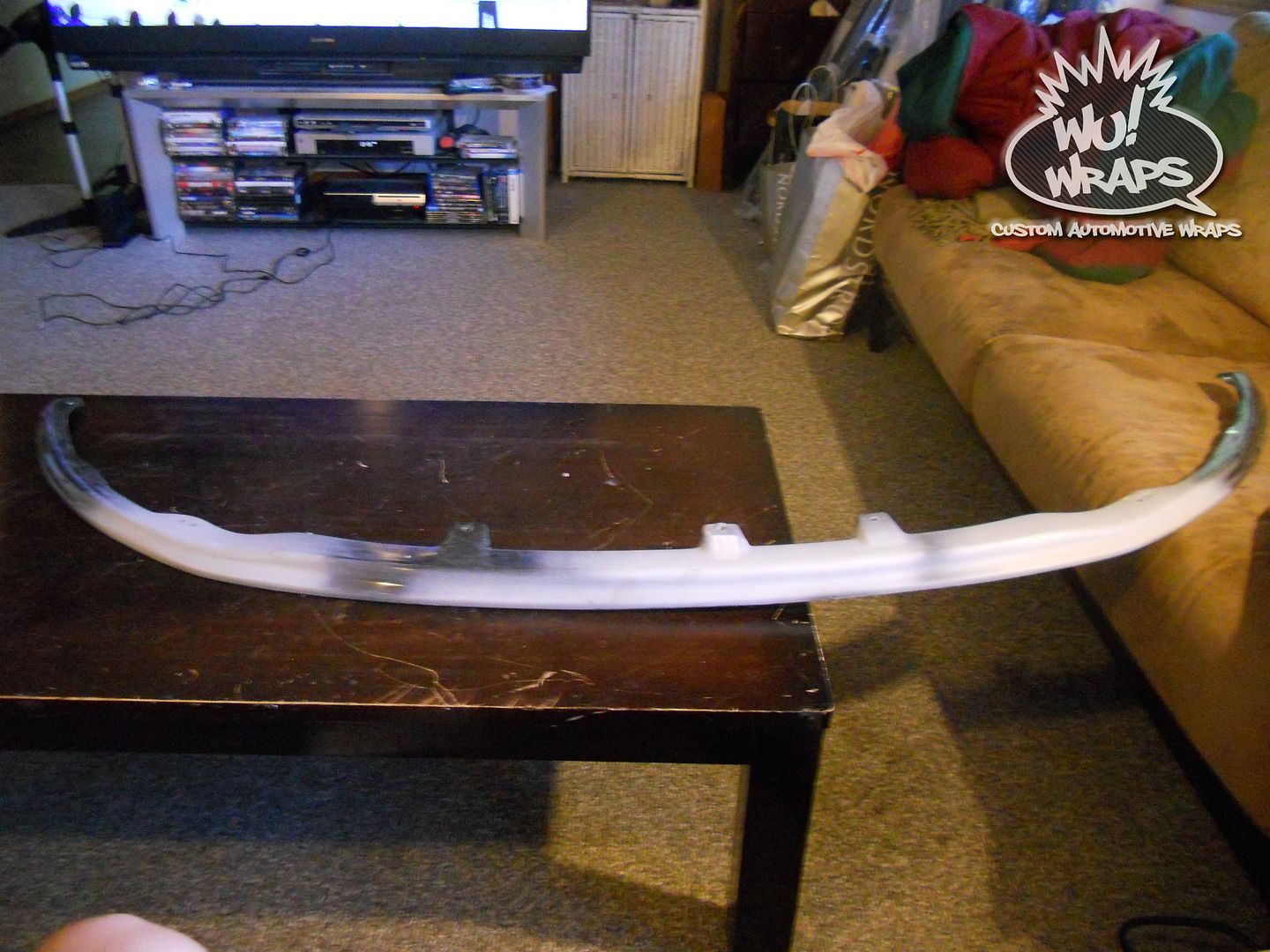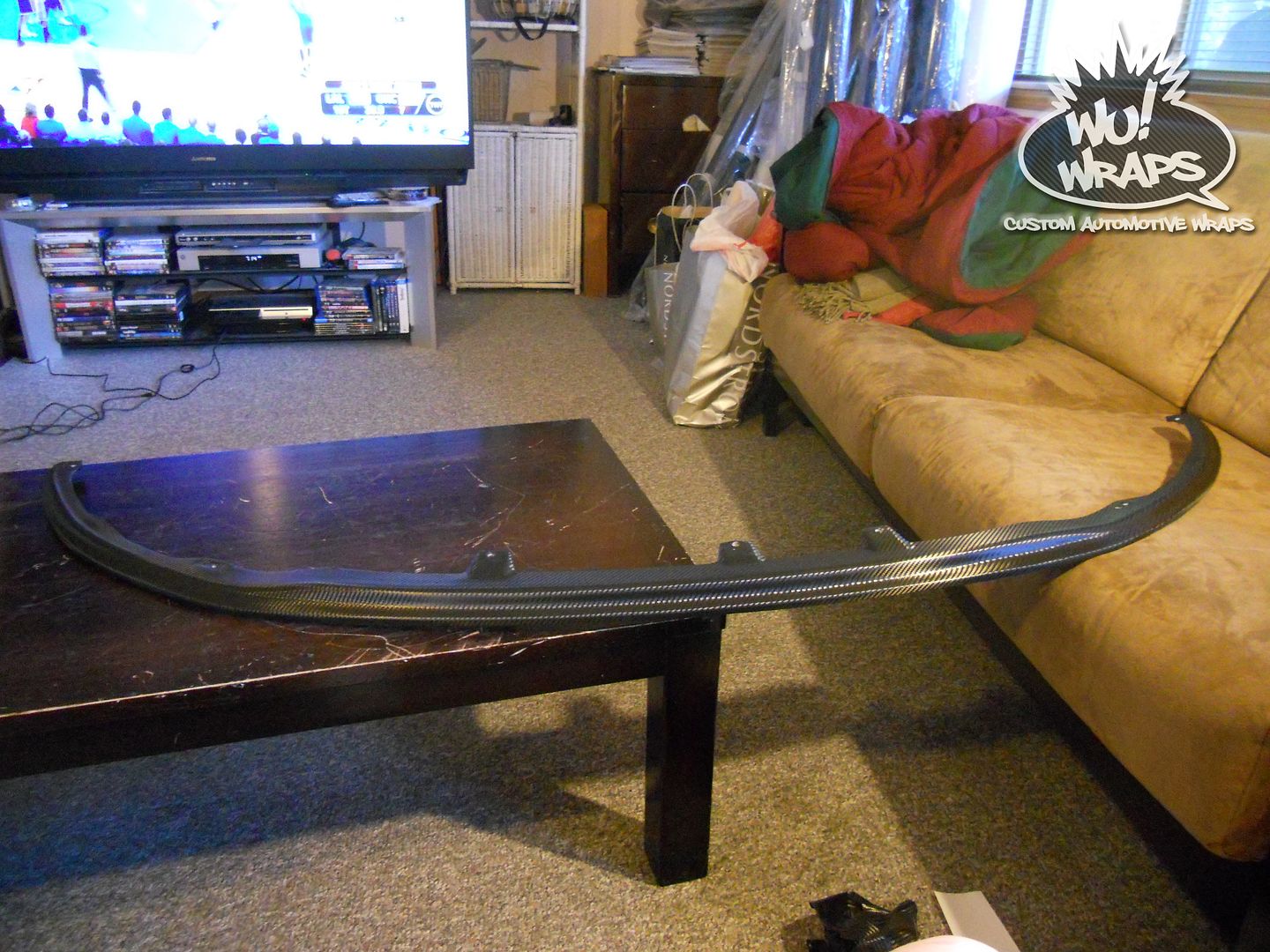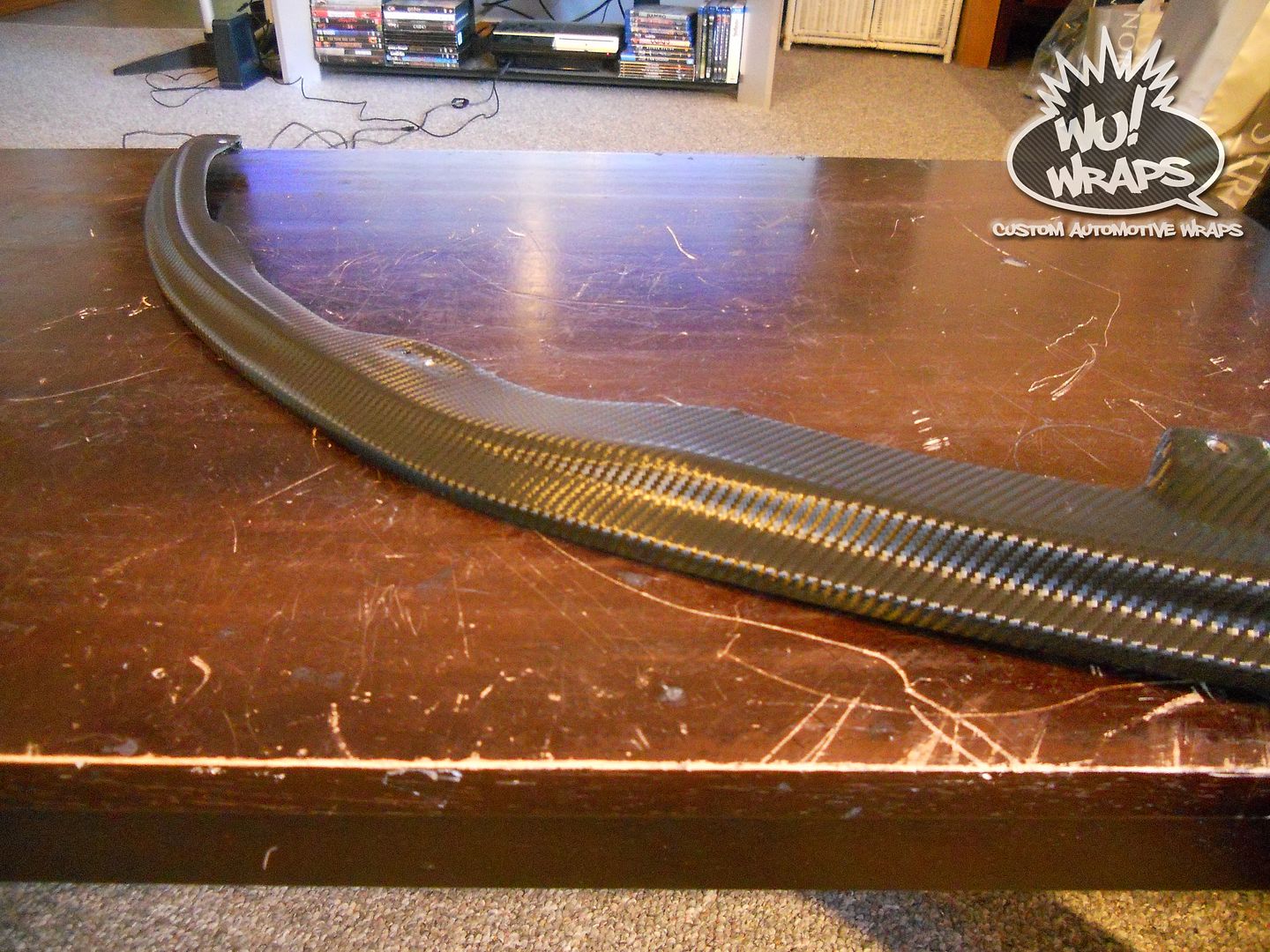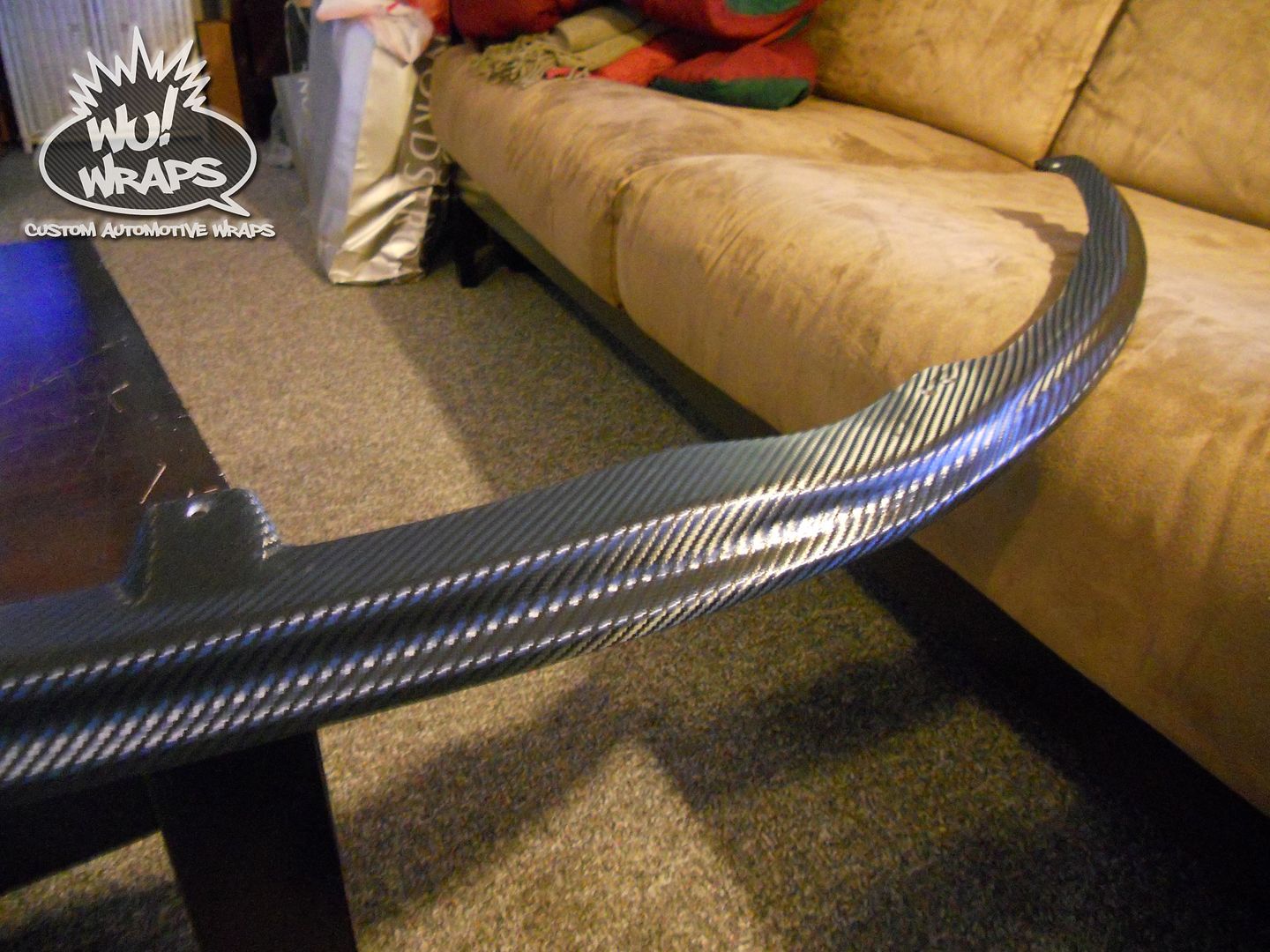 ---
RE: Wu! Wraps work done by me! check it out! - Wu! Wraps - 05.14.2012 08.07 PM

worked on this car today. 2006 mini cooper s. i did the grils, foglight accents, rear bumper accents, & interior colums that frame the center console in 3m 1080 cf. also helped instal a precut flag decal along the sides of the car. lastly i helped pull the old silver plastic interior trim and installed the new gloss black trim pieces. everything came out great! will probably be doing the door cards in the near future along with a custom cf "Cooper RS" decal for the doors. Owner is diggin the new look! Wu! Wraps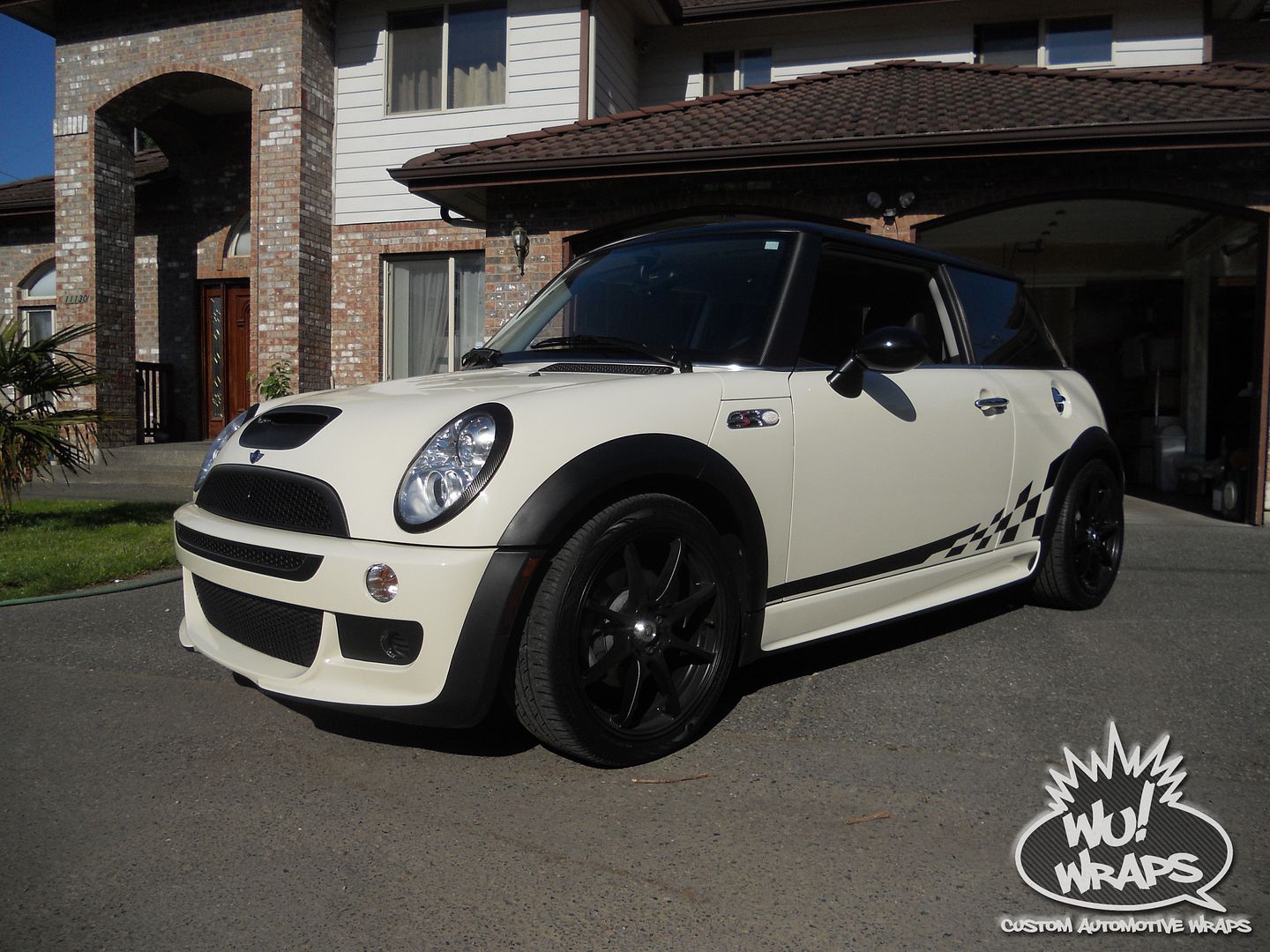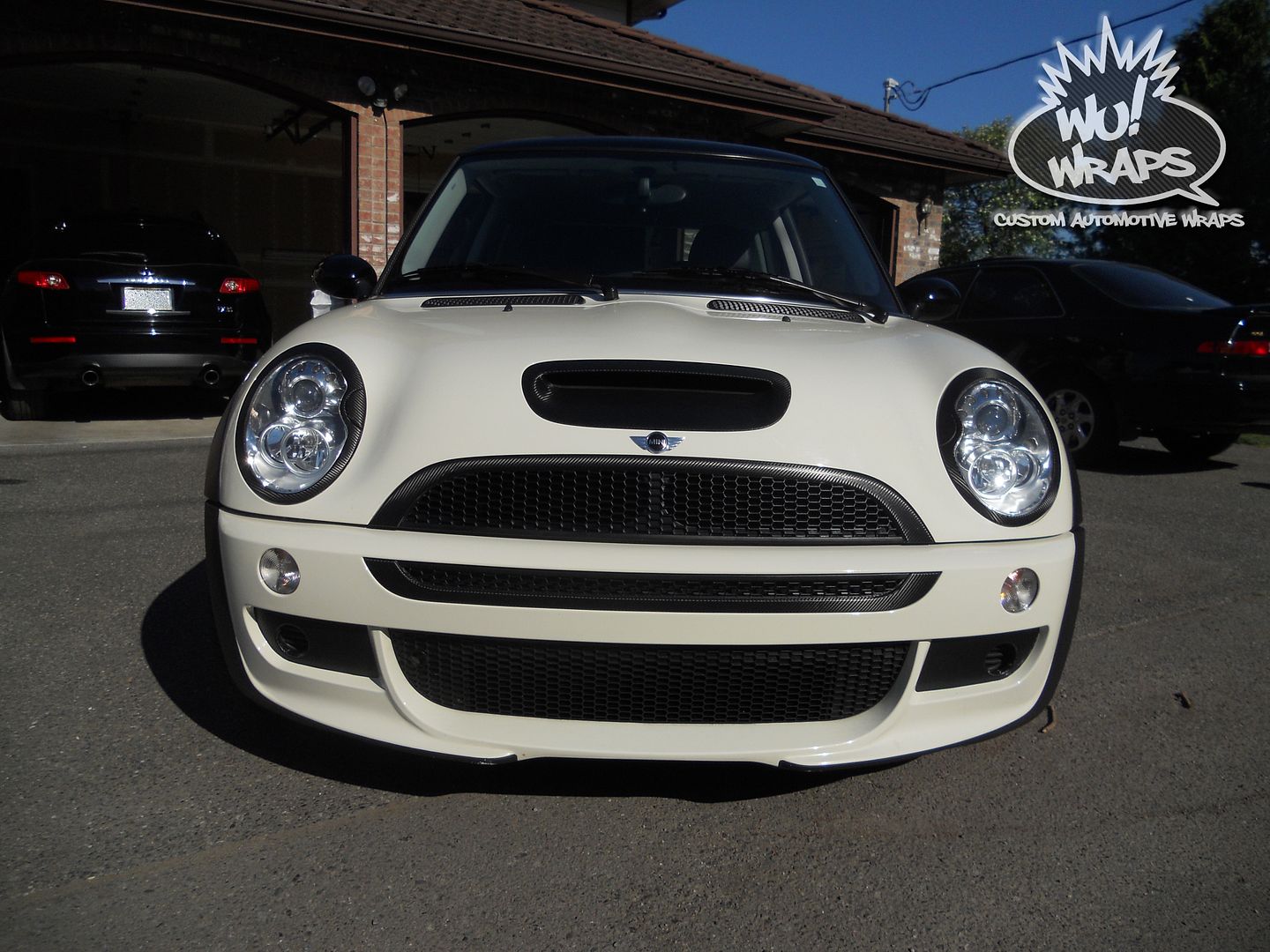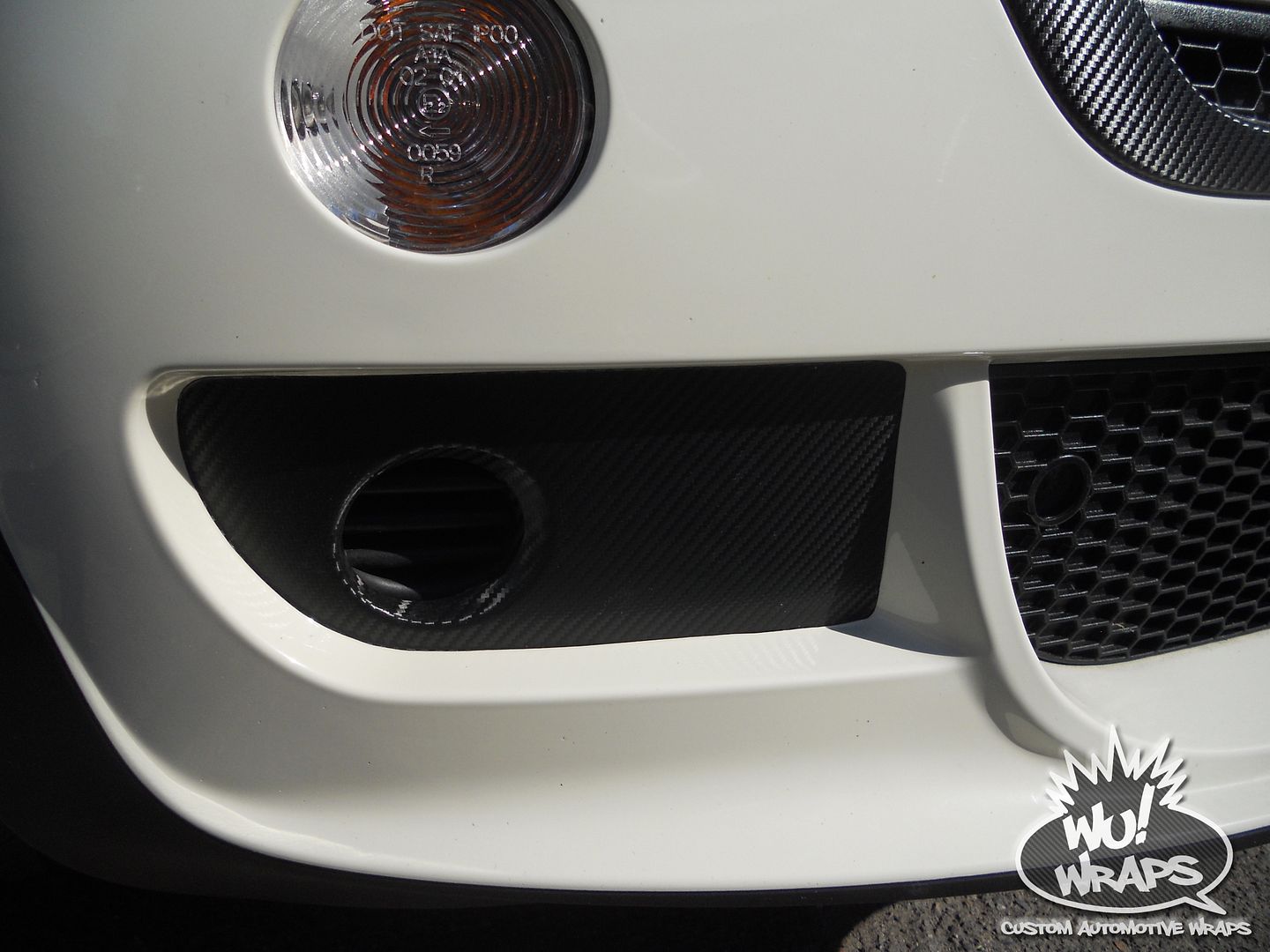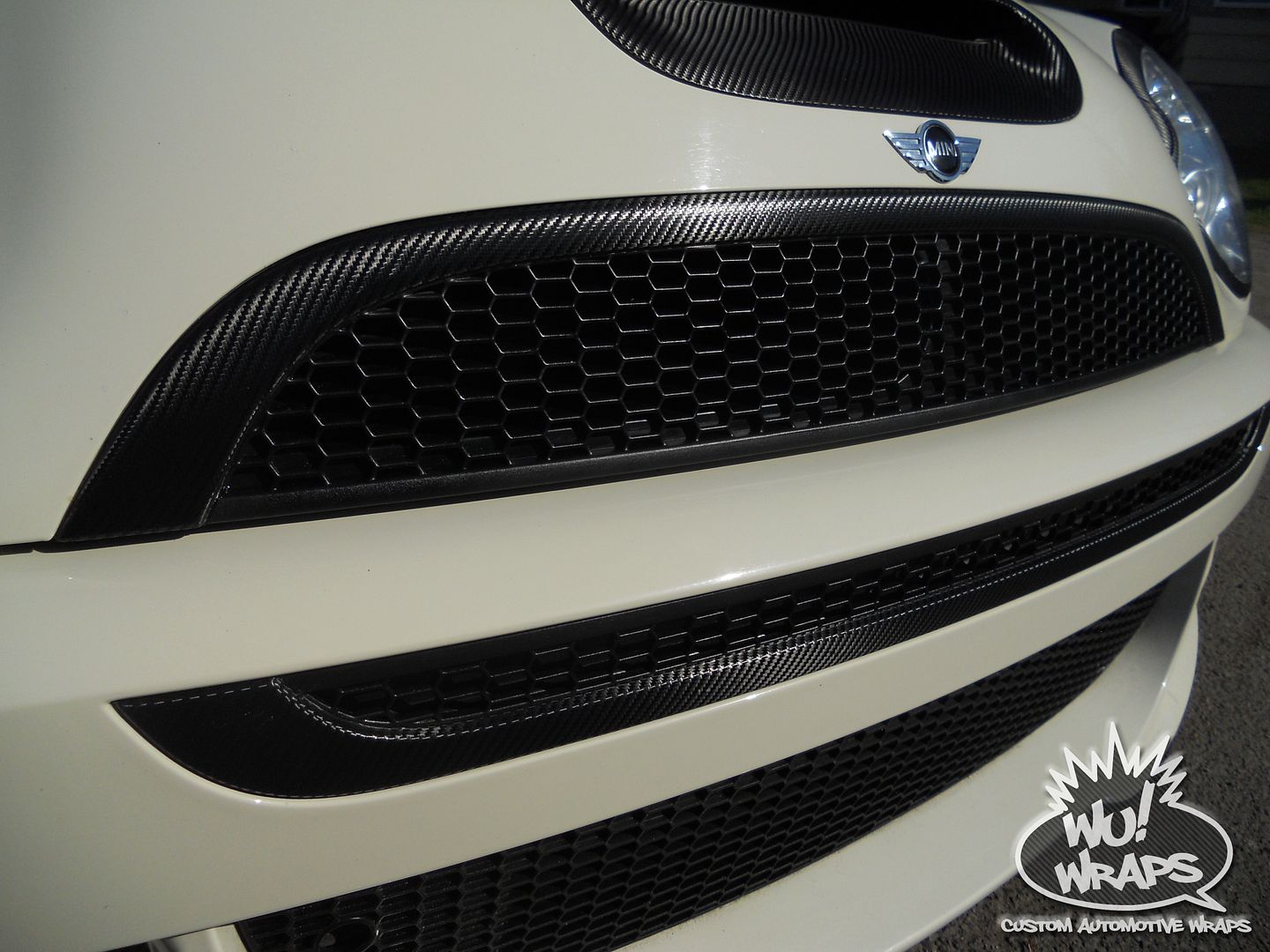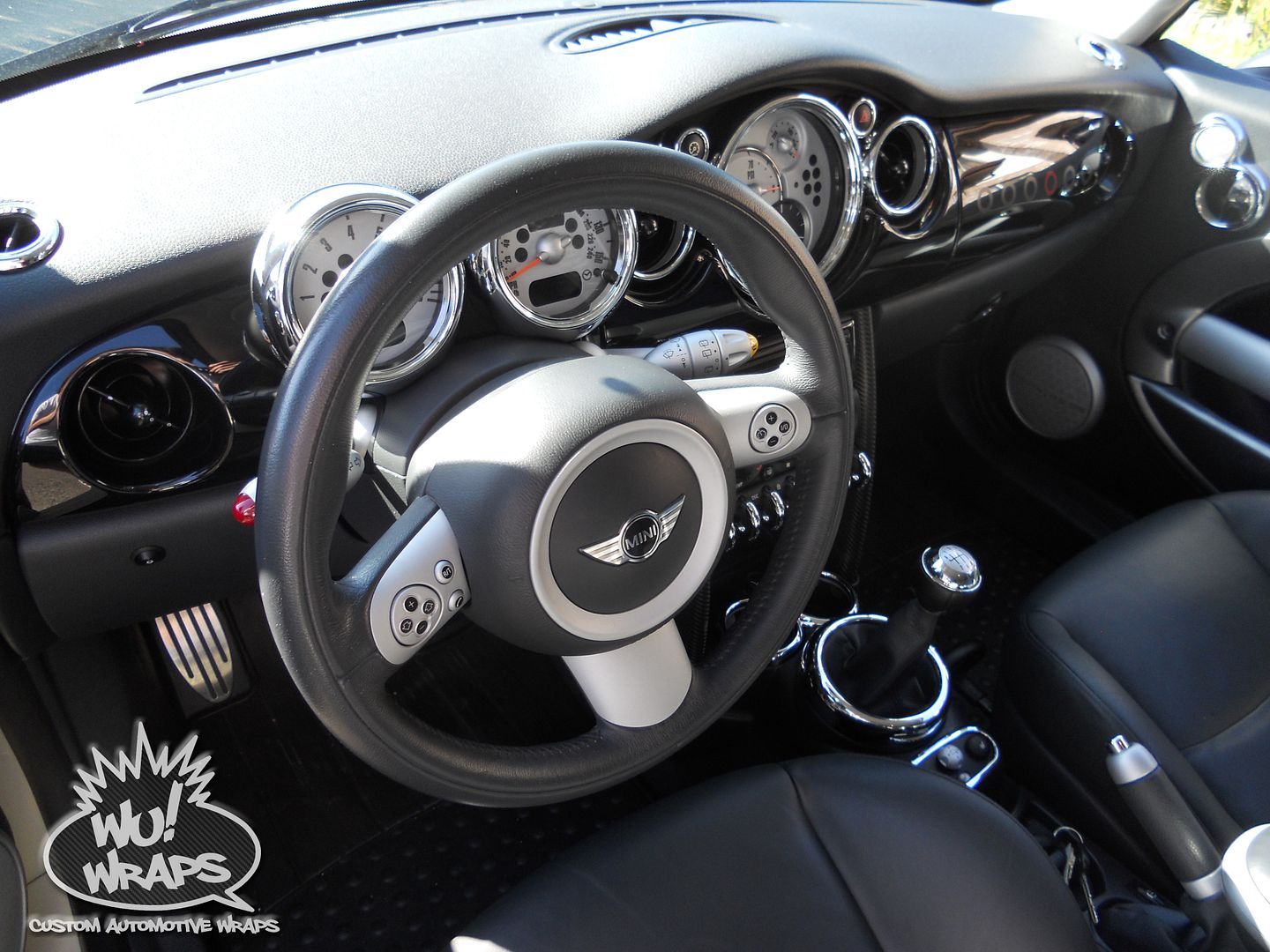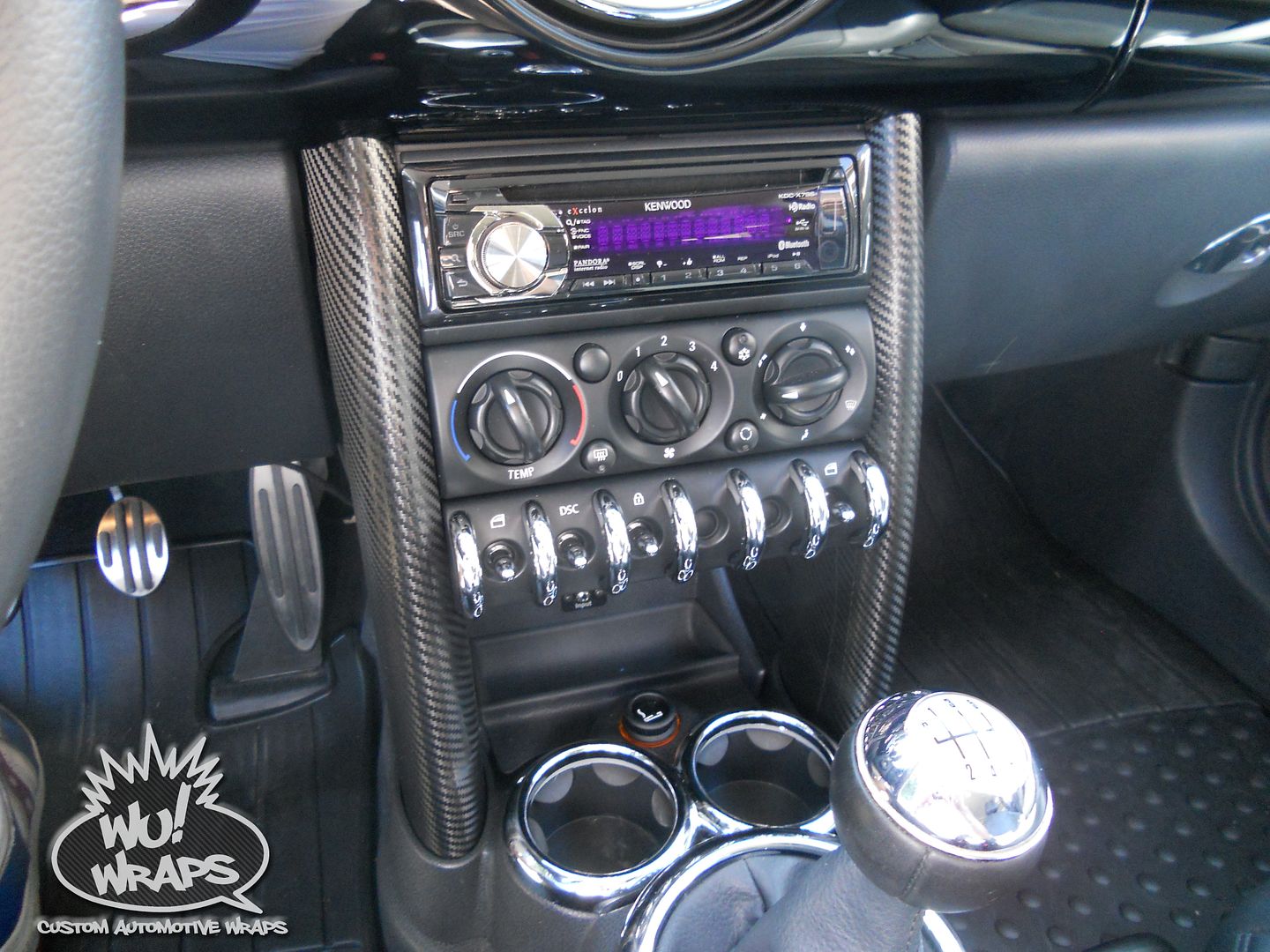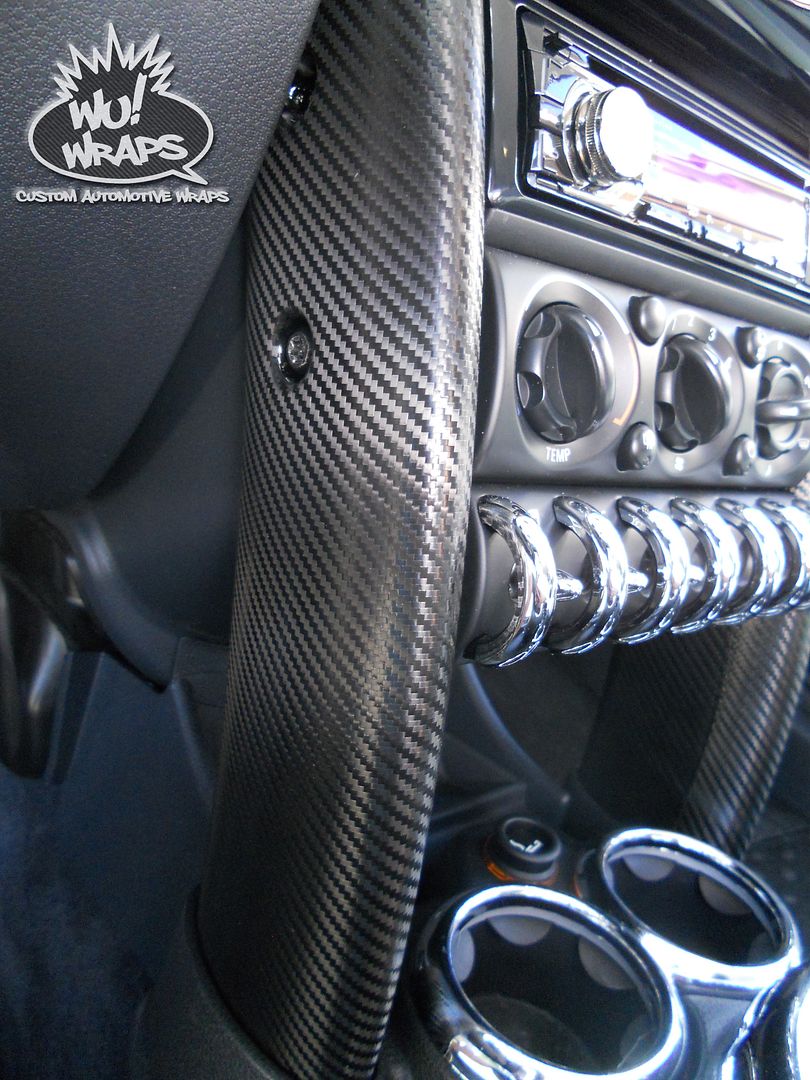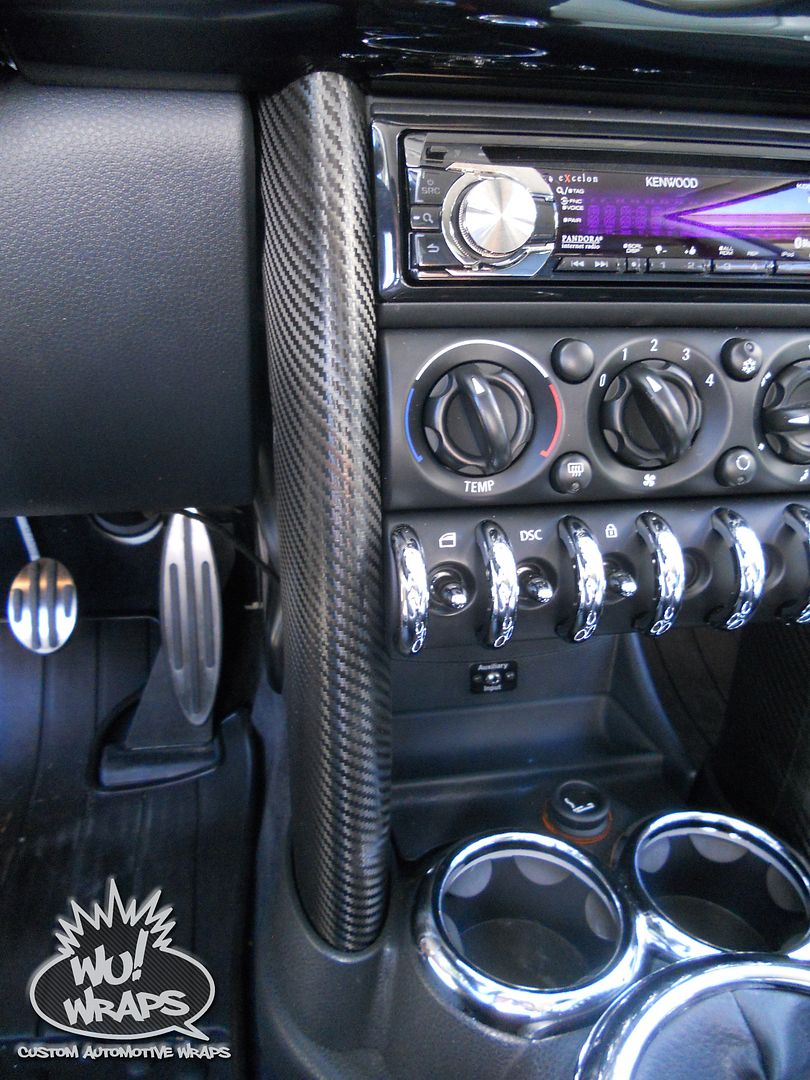 ---
RE: Wu! Wraps work done by me! check it out! - Wu! Wraps - 05.15.2012 09.46 PM

vw passat b6 fellow EAS member! welcome to the club! so we did cf hood, roof, trunk, mirror cap accents, and matte smoke on the front amber reflectors. everything came out great! used the knifeless tape for the hood cuts, roof cuts (no rails on this ride), and the mirror cap accents. knifeless tape is GREAT! also got the trunk lid done in 1 piece! for those who have installed vinyl know it is very hard to come flat with the material from a 90degree bend that is also curved. finished car off with the carbon fiber Wu! Wraps decal! Owner is diggin the new look! might be matte smoking the taillights & blacking out all the chrome in the near future! i think it is in need of some matte black on all the chrome parts... Wu! Wraps
'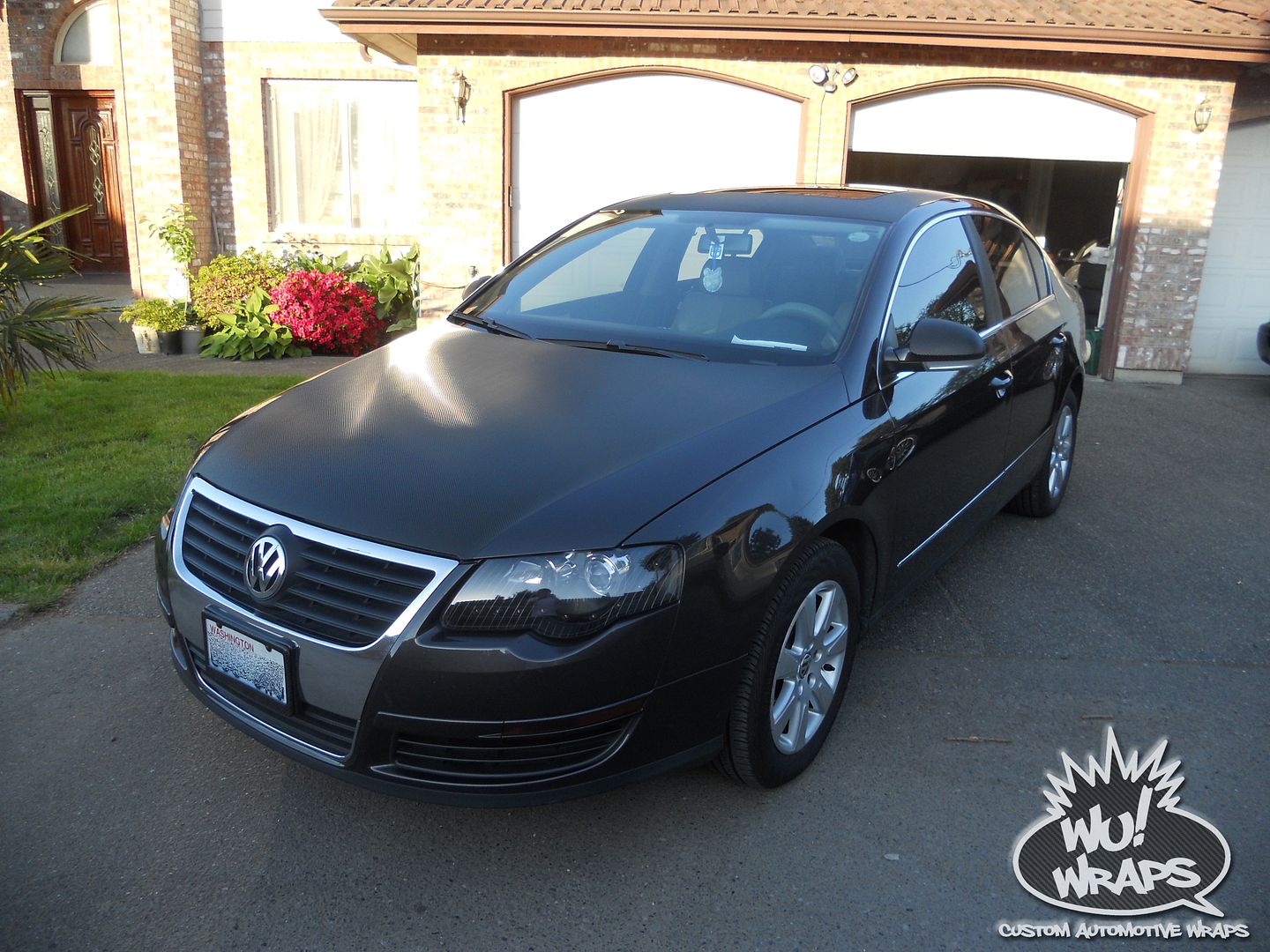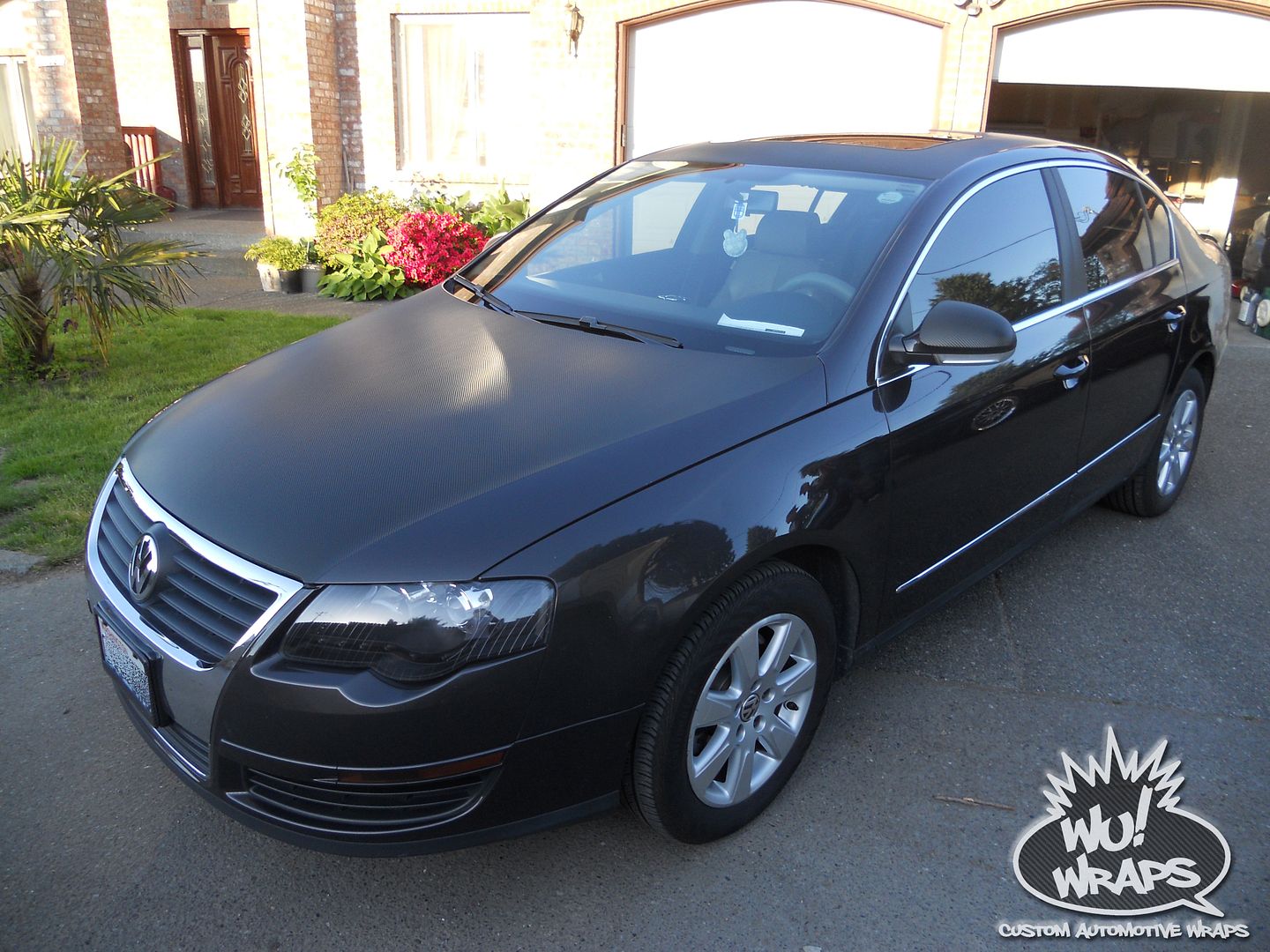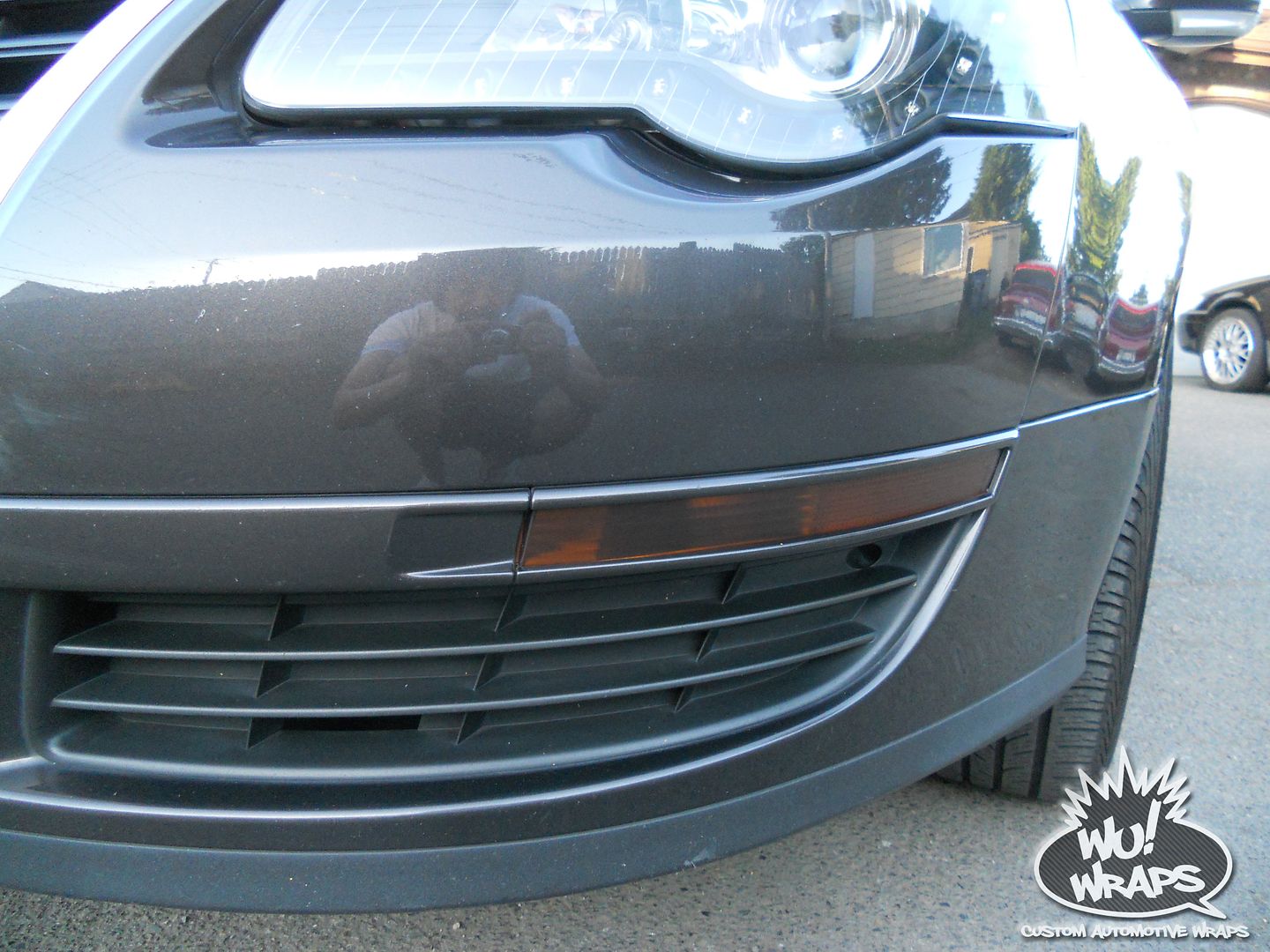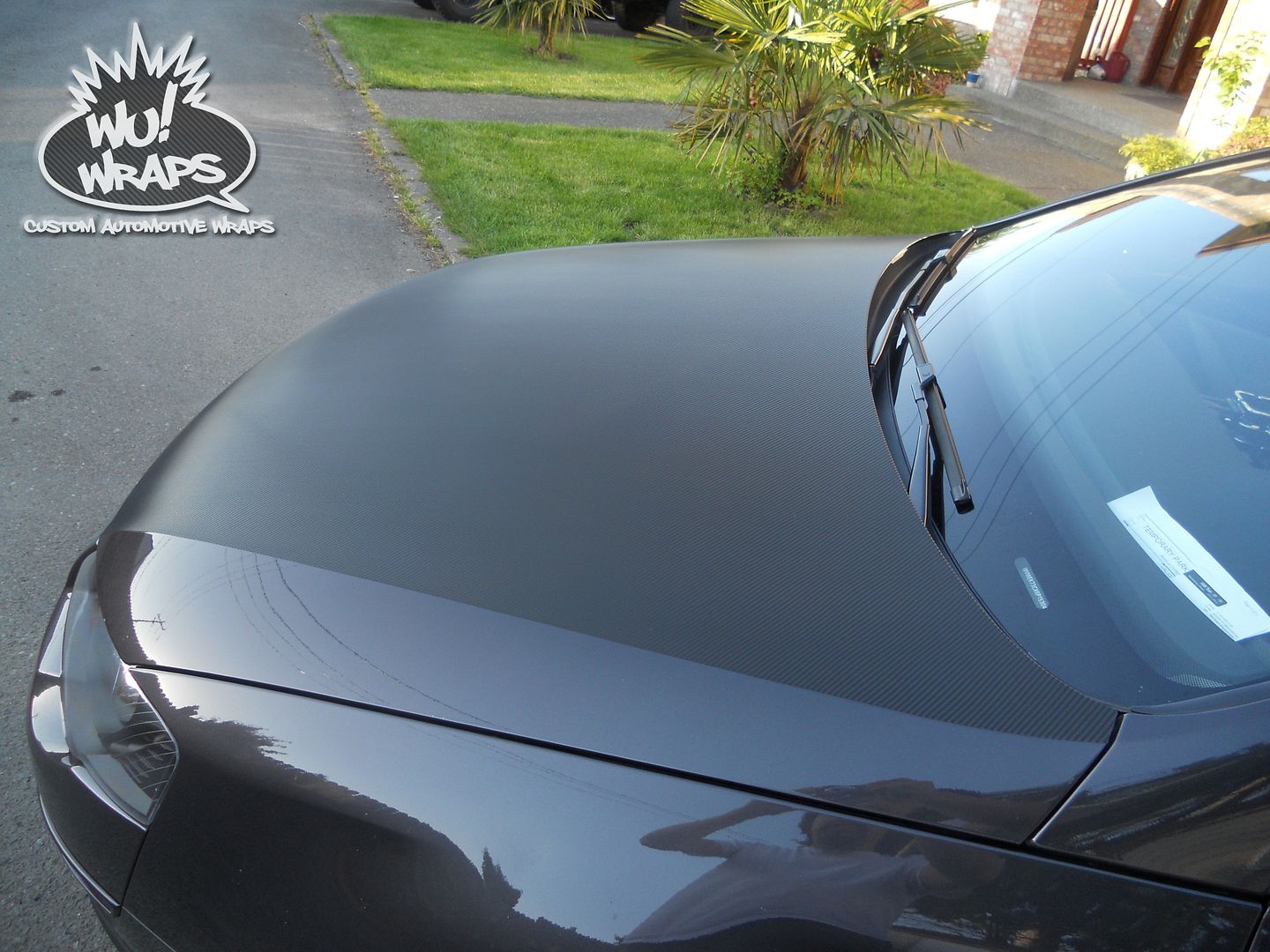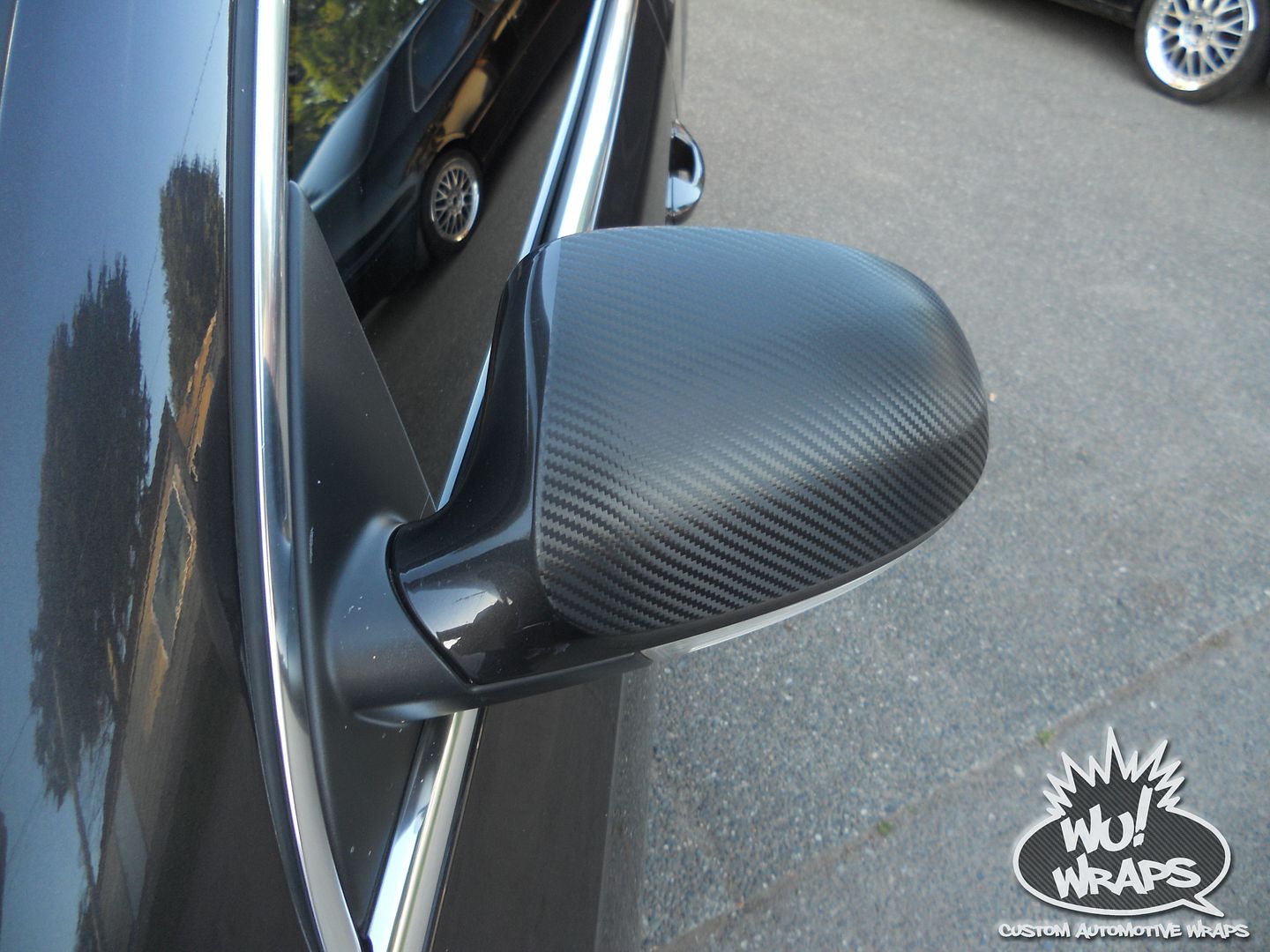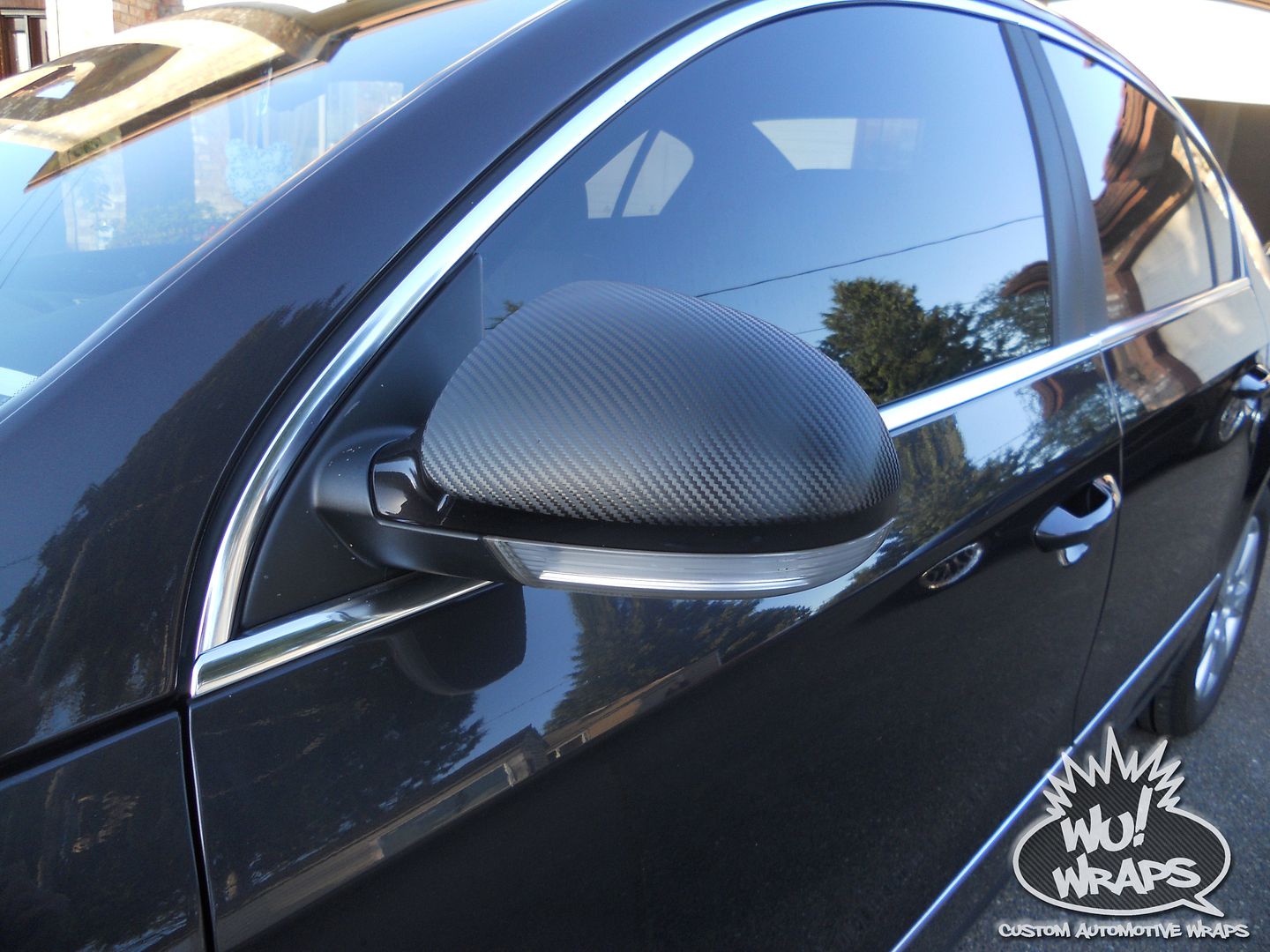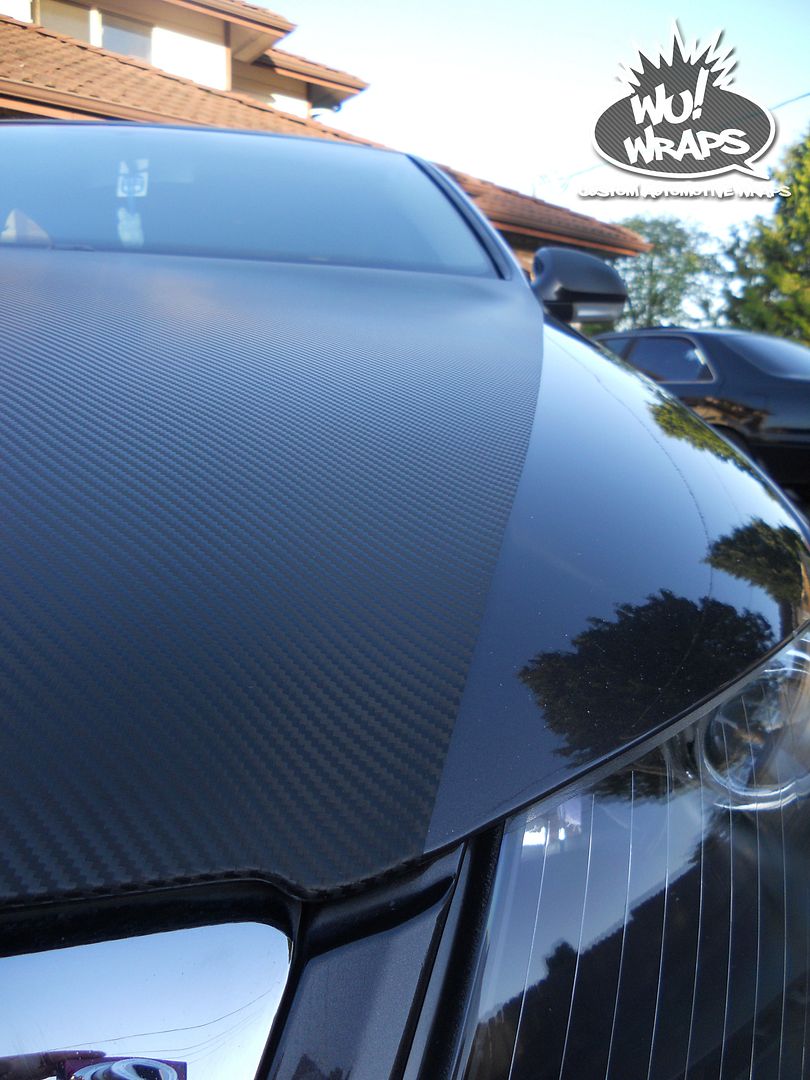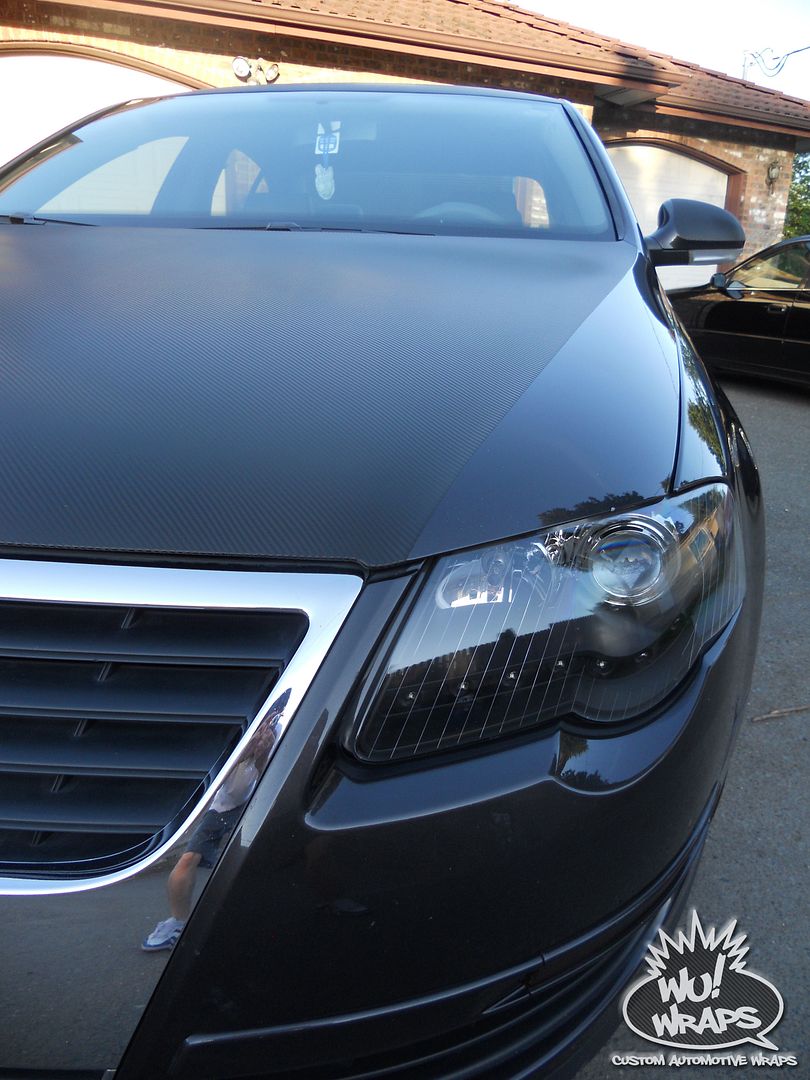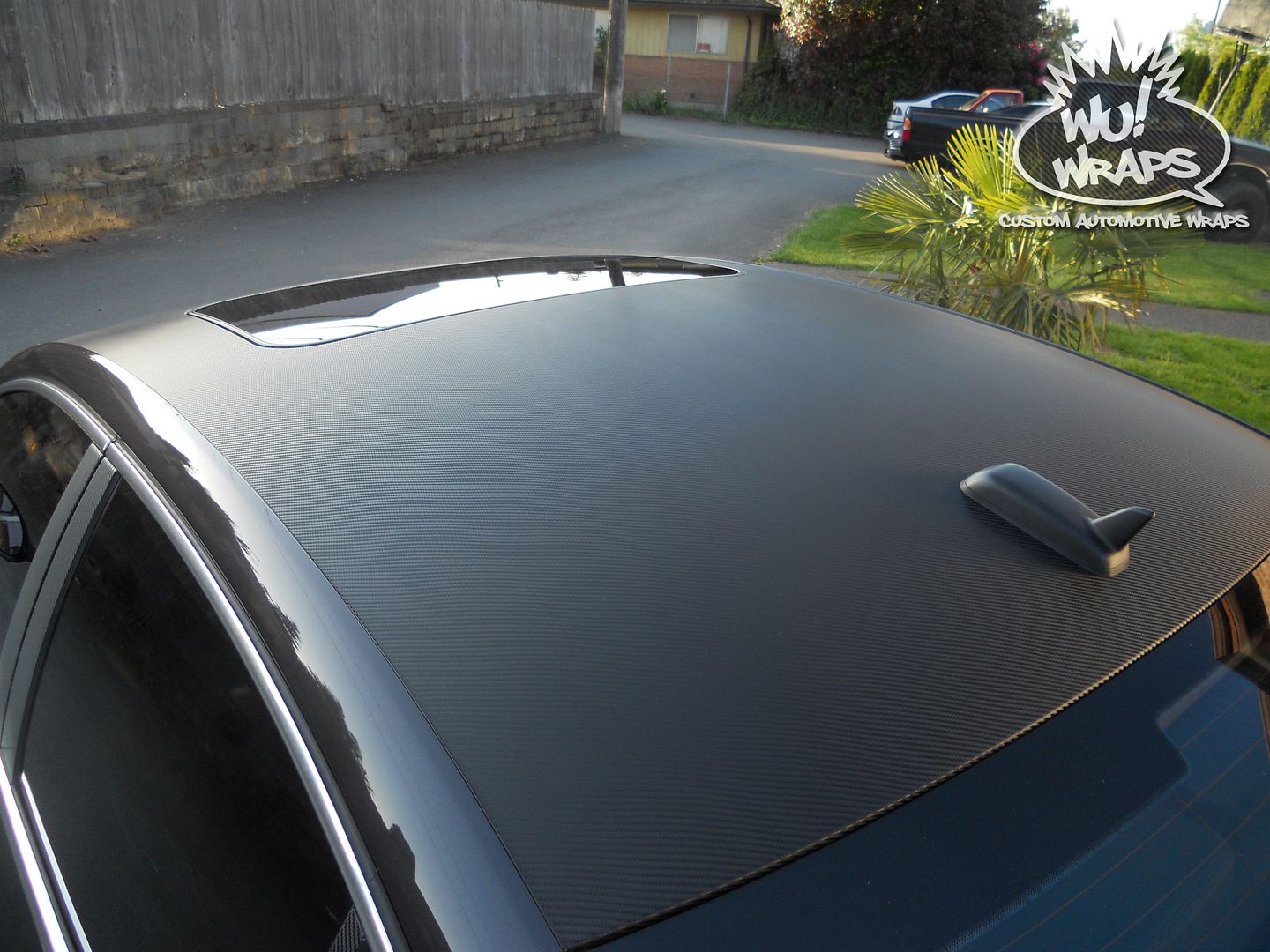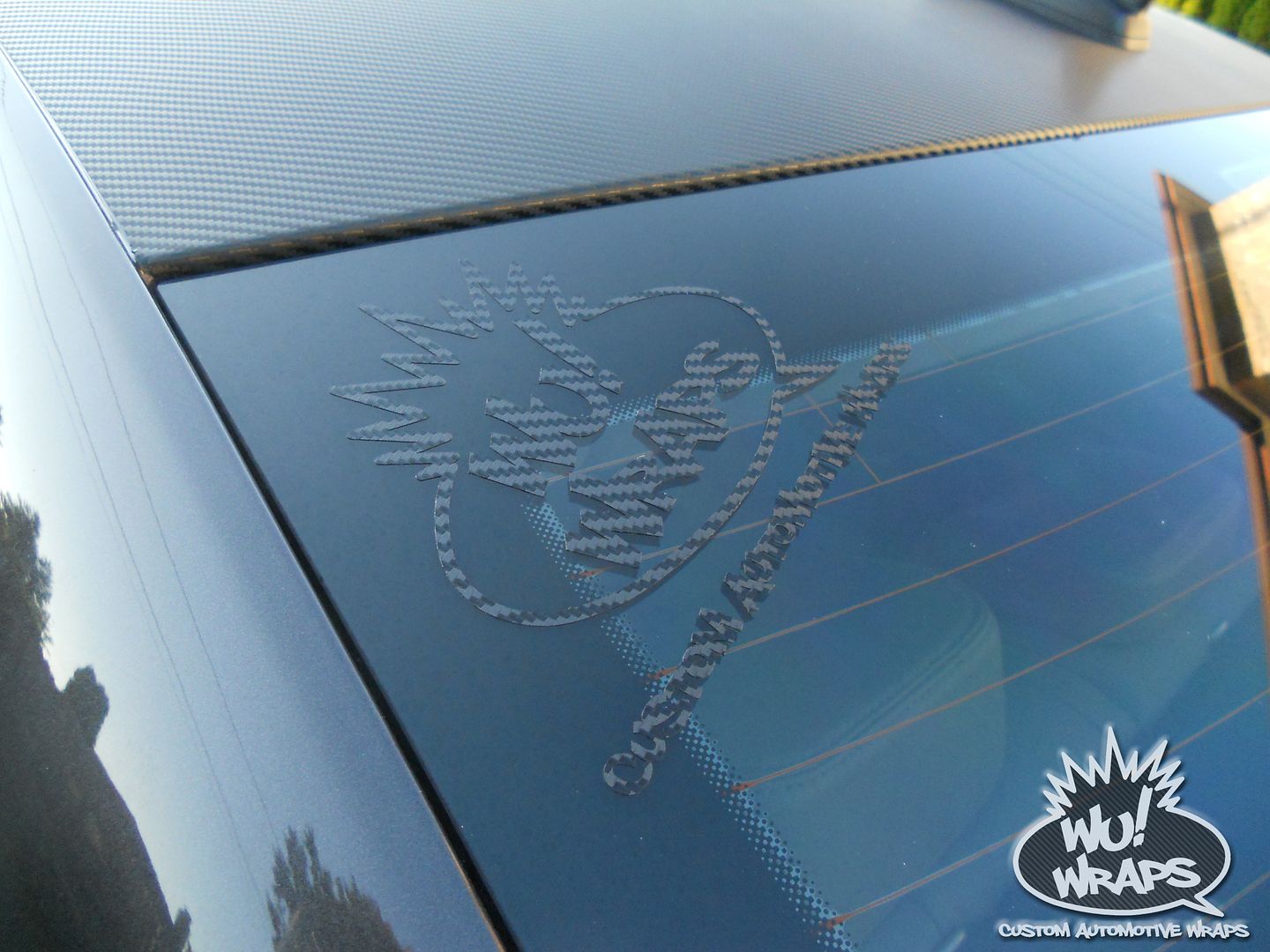 ---
RE: Wu! Wraps work done by me! check it out! - Wu! Wraps - 05.15.2012 09.47 PM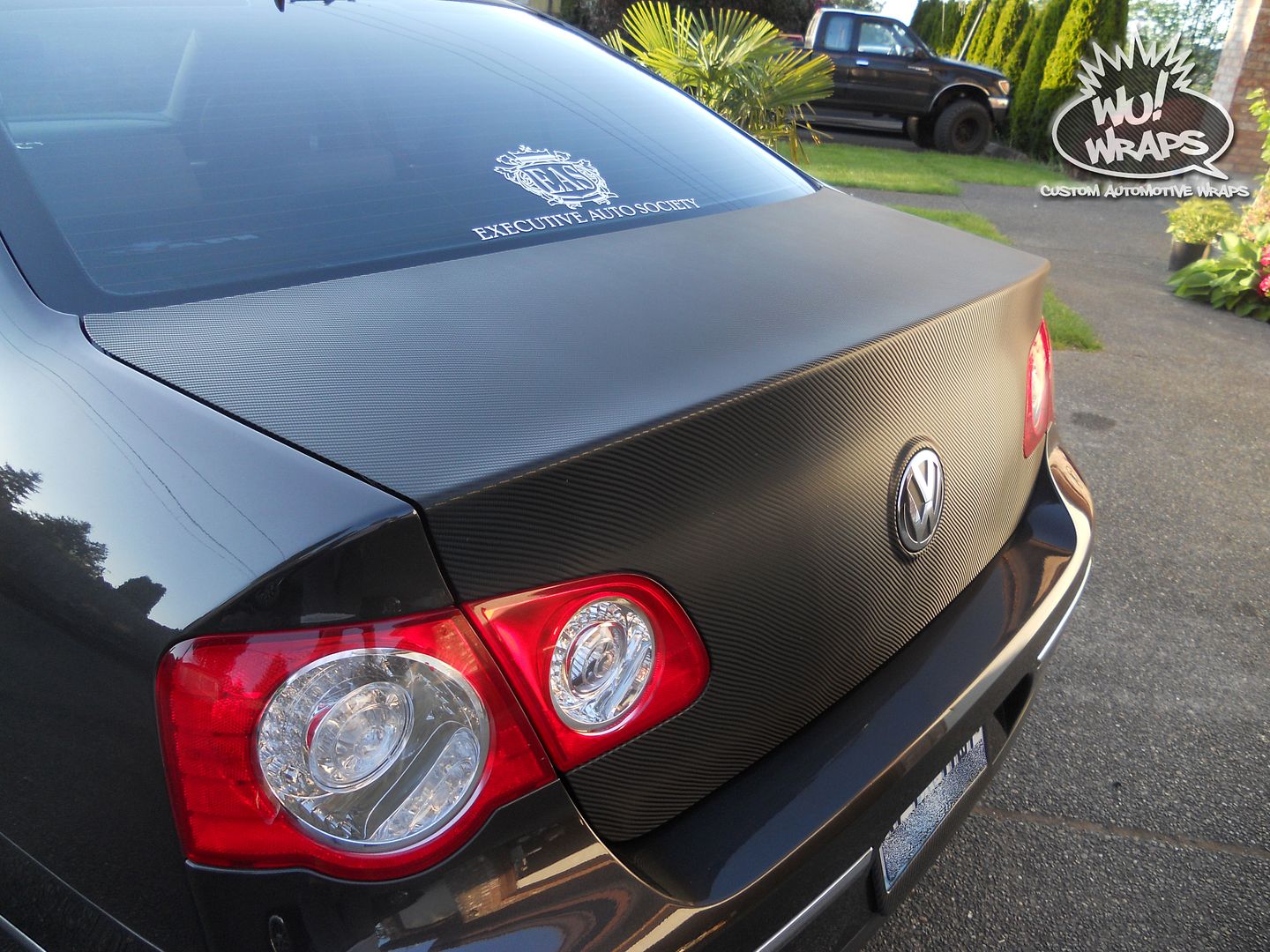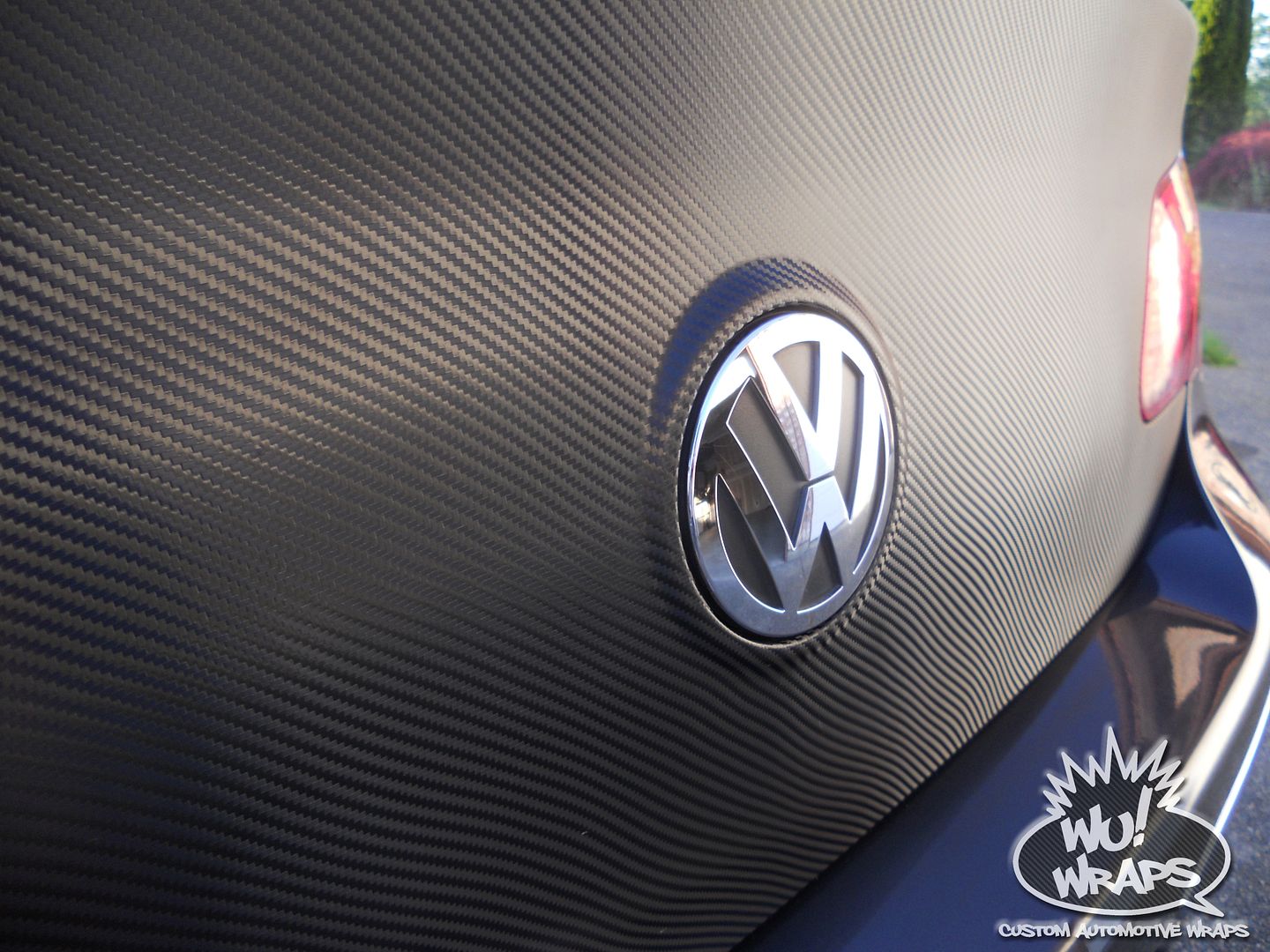 ---
RE: Wu! Wraps work done by me! check it out! - Wu! Wraps - 05.16.2012 06.53 PM

bmw e93 vert gloss black window trim with oracal 970ra. came out great! the verts are alwasy a bit harder to wrap since there are more breaks and pieces to wrap. need to open and suspend the top quite a bit to get it all nicely tucked. owner is diggin the new look! possibly doing the interior trim in the near future & steering wheel trim and door handles. the black parts are peeling pretty bad (common on bmw black interior parts). Wu! Wraps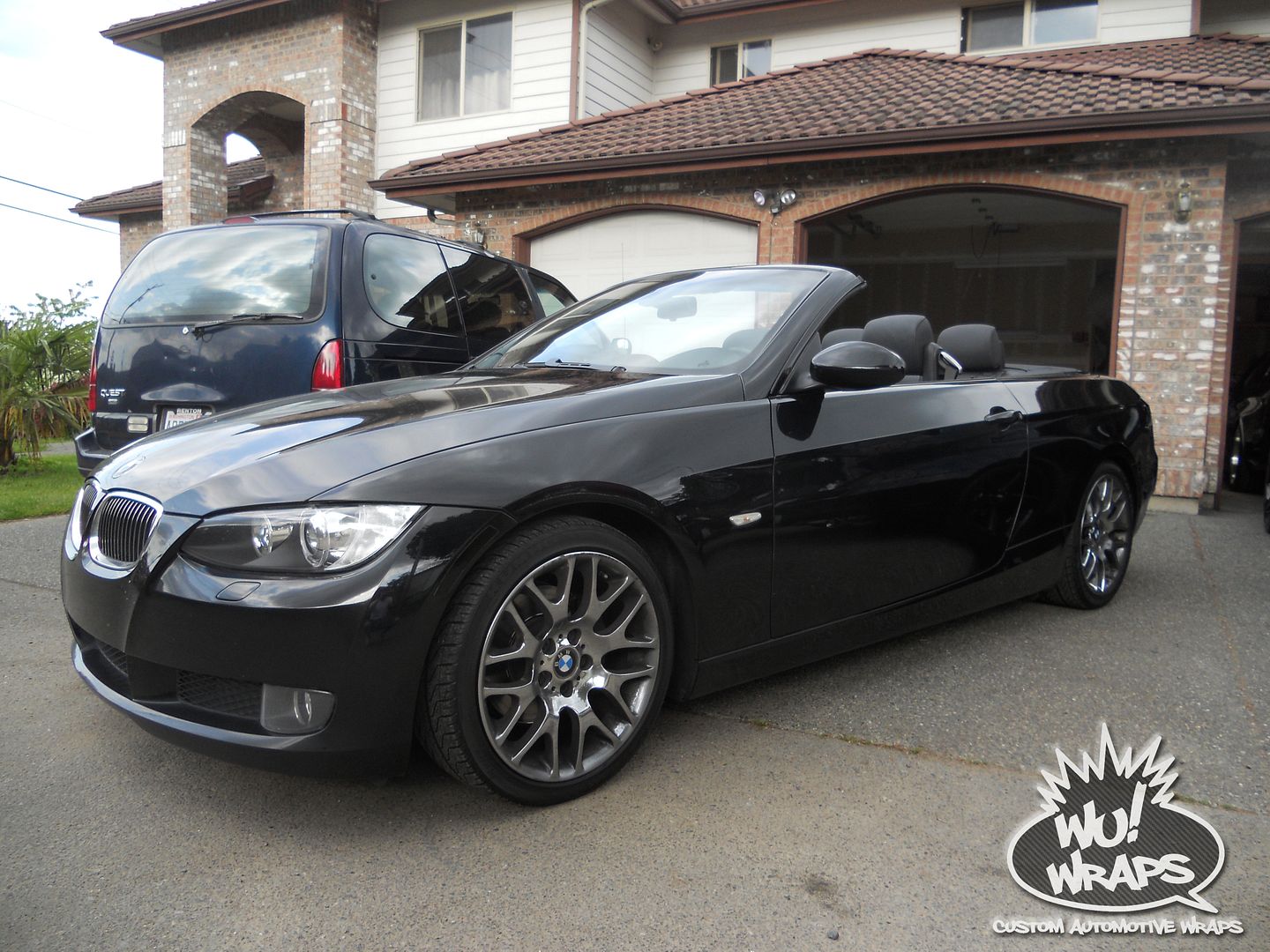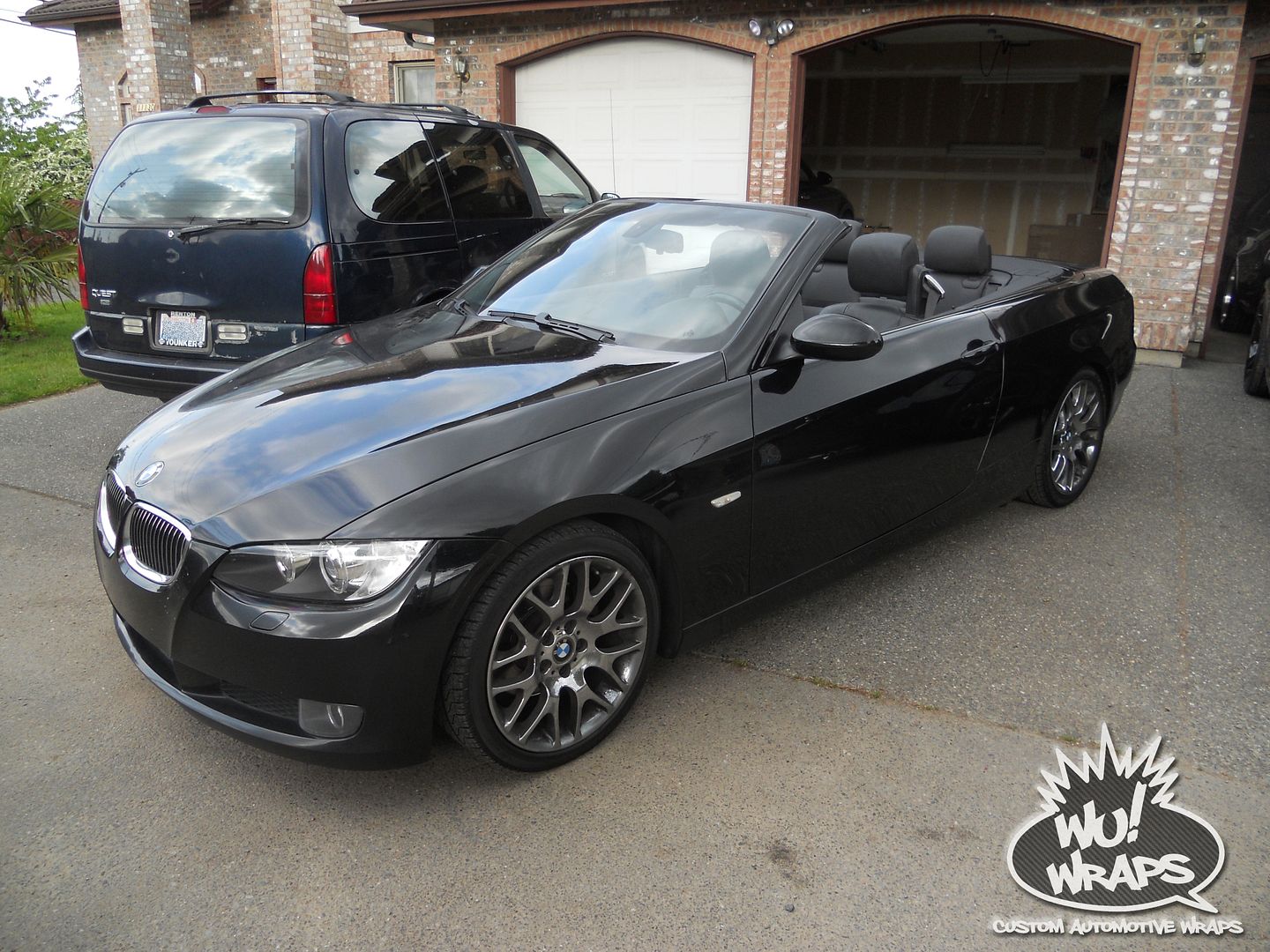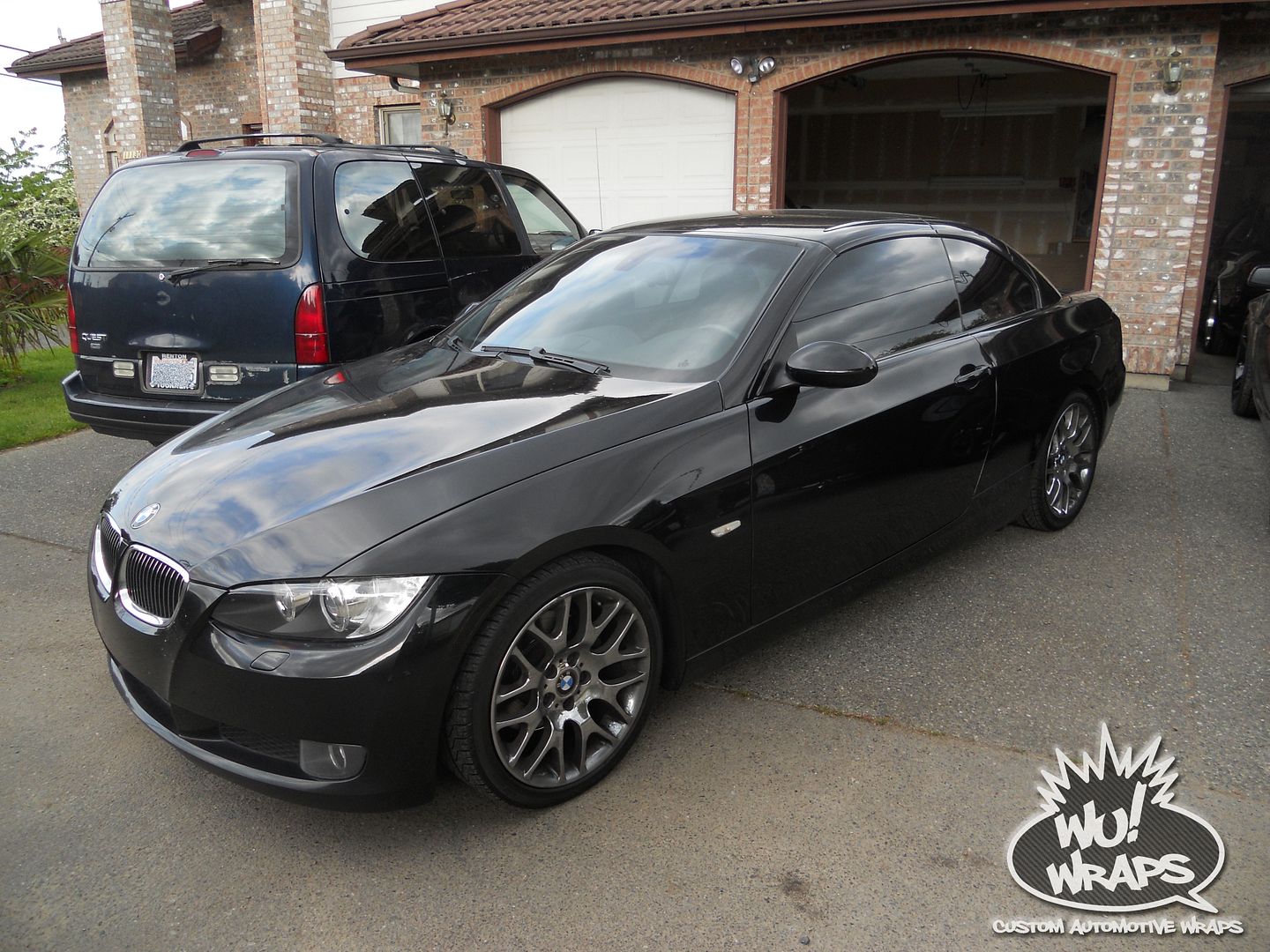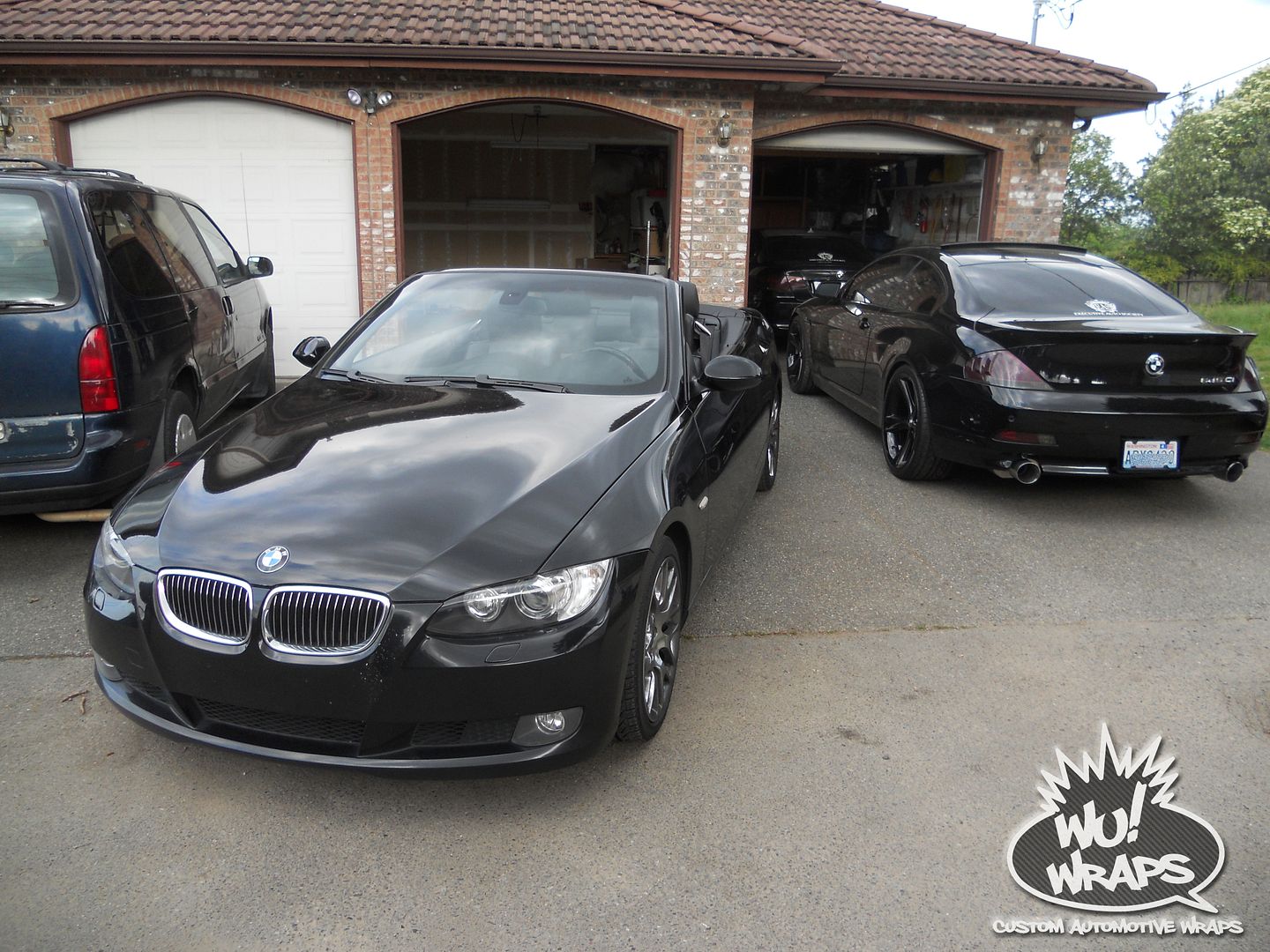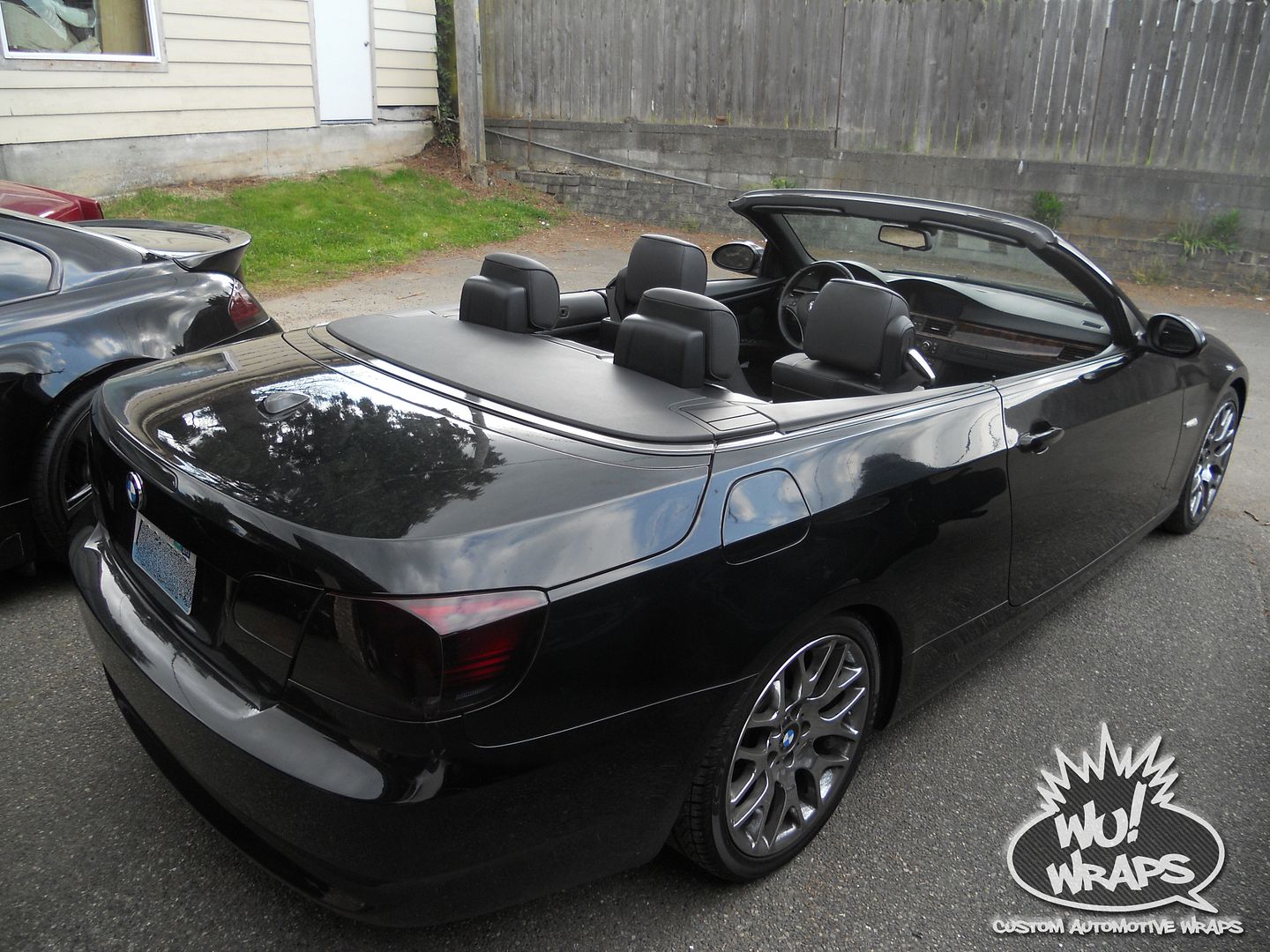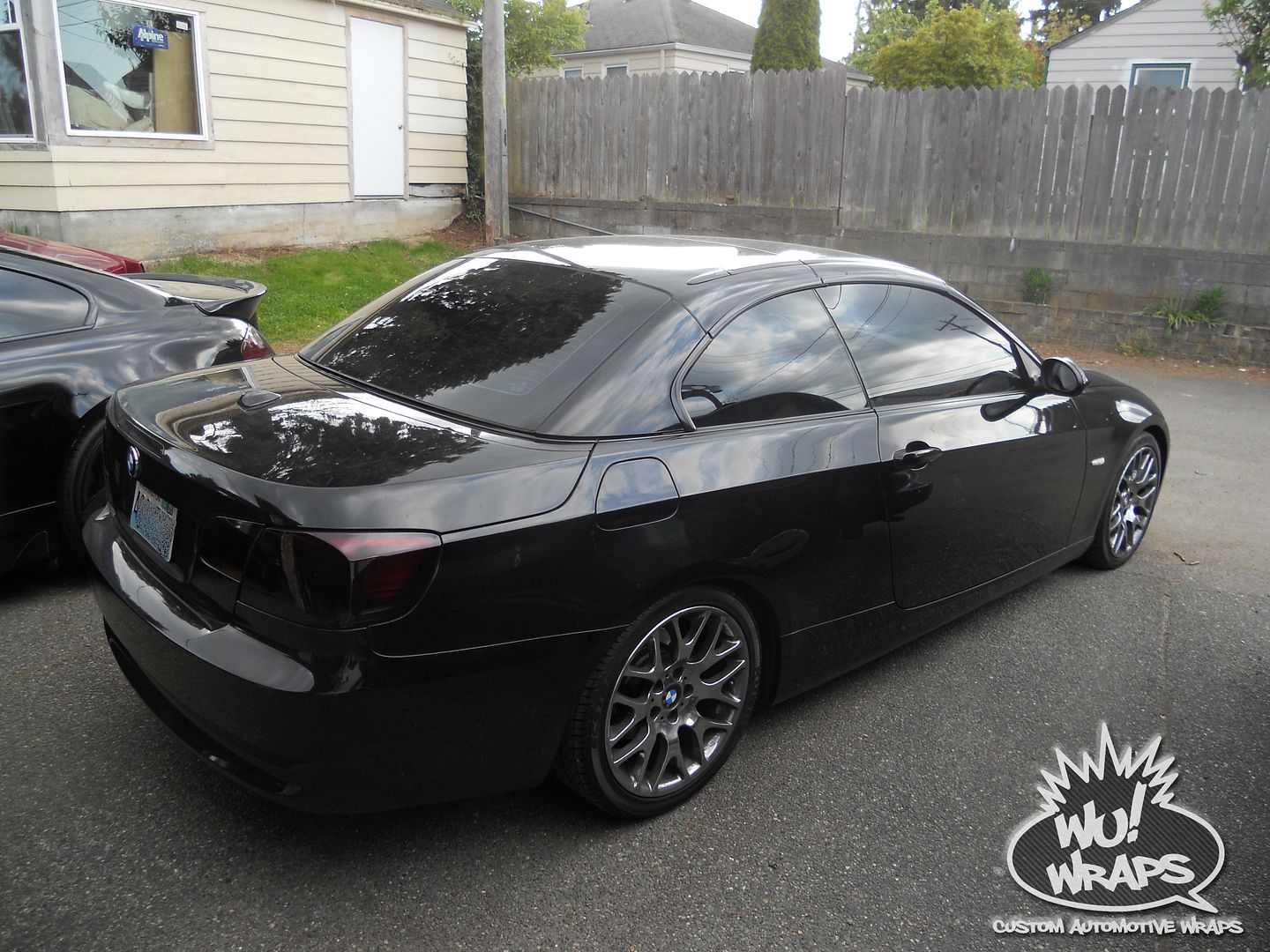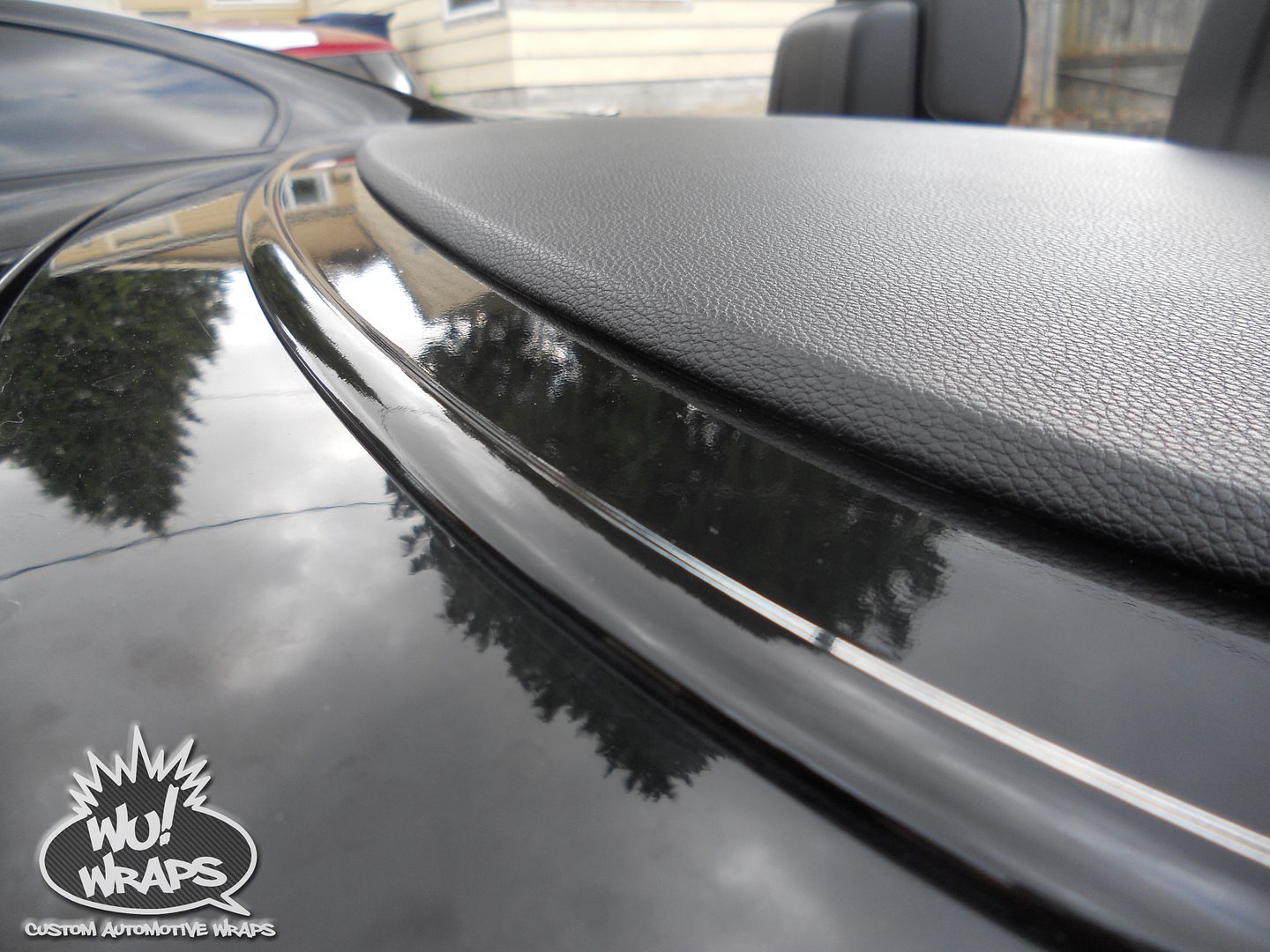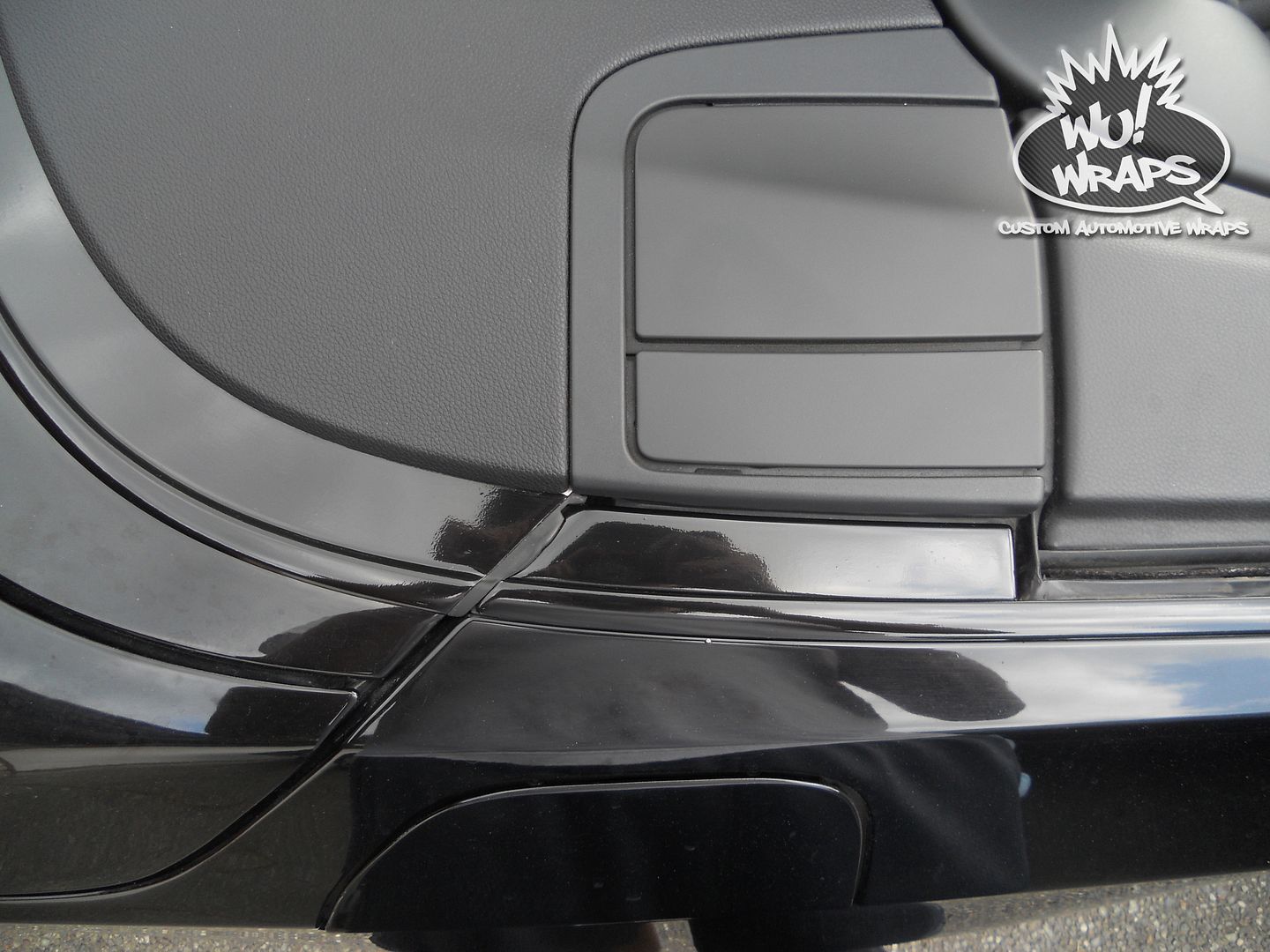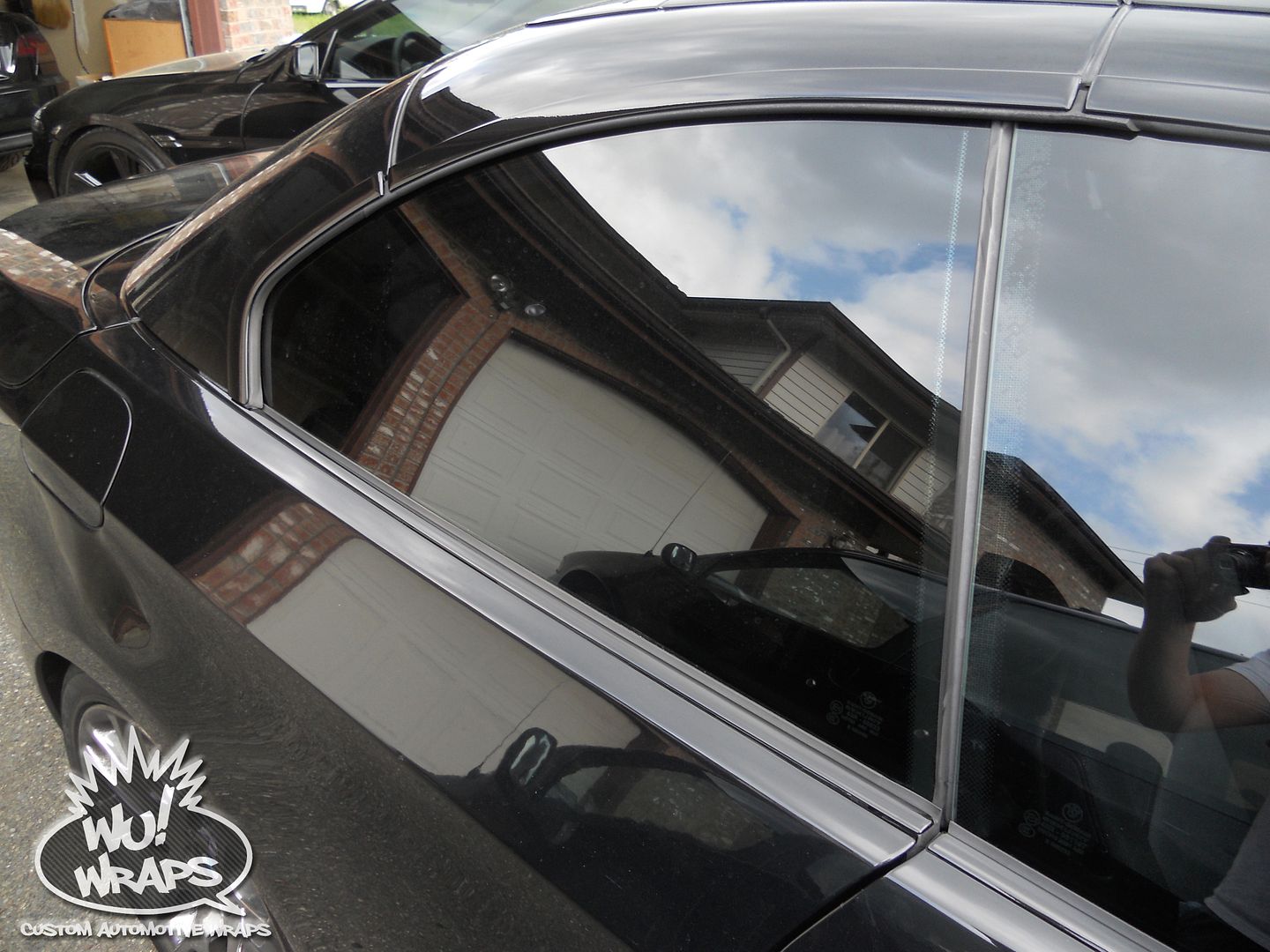 ---